12 Things That Only Ahrefs Can Do
February 24, 2023
What makes Ahrefs better than the competition?
It's a fair question but a tough one to answer because there are just so many things to compare.
So instead of filling out one of those classic "us" vs. "them" comparison tables, we decided to go a different route and showcase some of Ahrefs' unique features and functionalities.
Note
These features were selected by comparing Ahrefs to other similarly priced all-in-one SEO tools. It's quite possible that some of the lesser-known, more specialized SEO tools have one or more of these features.
With Ahrefs, it's possible to specify an exact date when working with historical data. This opens up the space for a handful of actionable use cases.
The first use case is to access the Organic keywords report to see how ranking fluctuations have affected search traffic over time.
For example, going up three ranking positions for the keyword "affiliate marketing" has brought us ~3,000 more search visits in a matter of three months.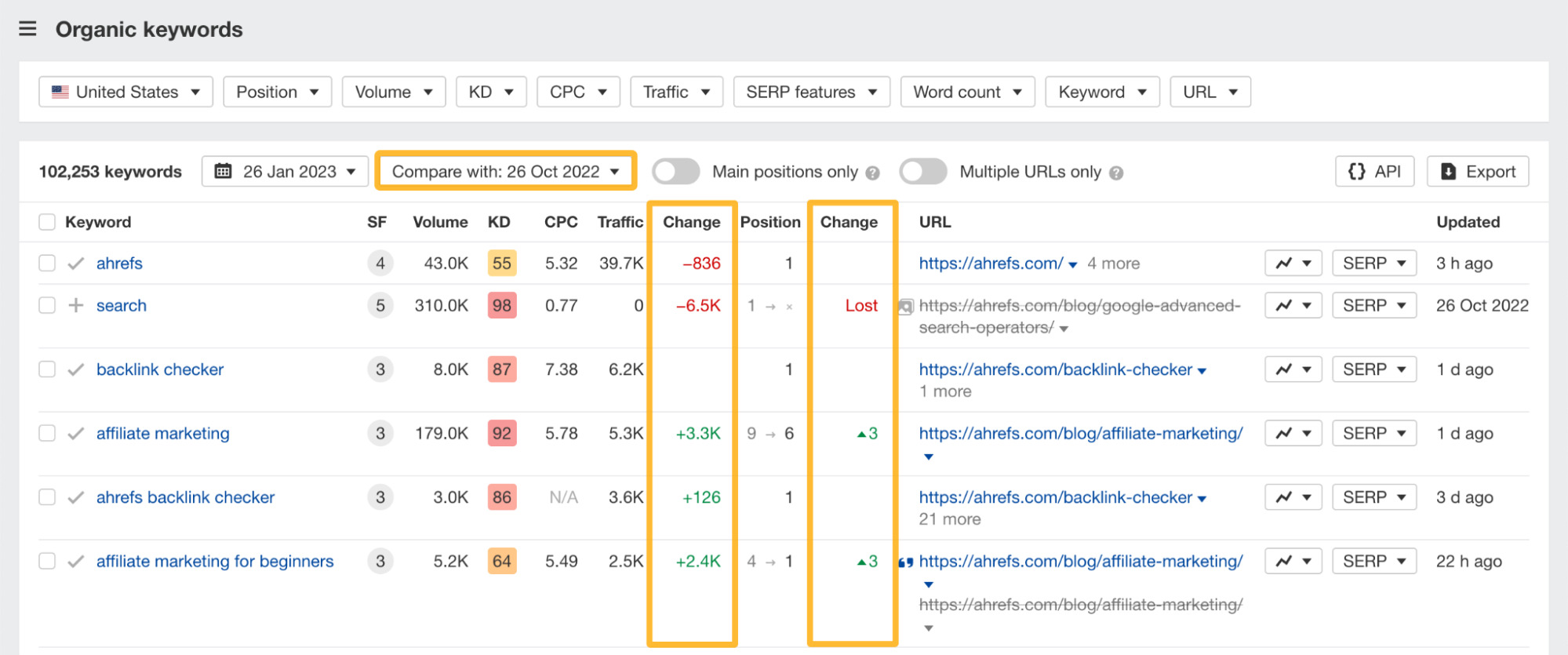 Second, you can open the Top pages report and filter for newly created pages to see how much content your competitors are publishing each month.
For example, our content team has created over 200 pages for our blog in the past three months.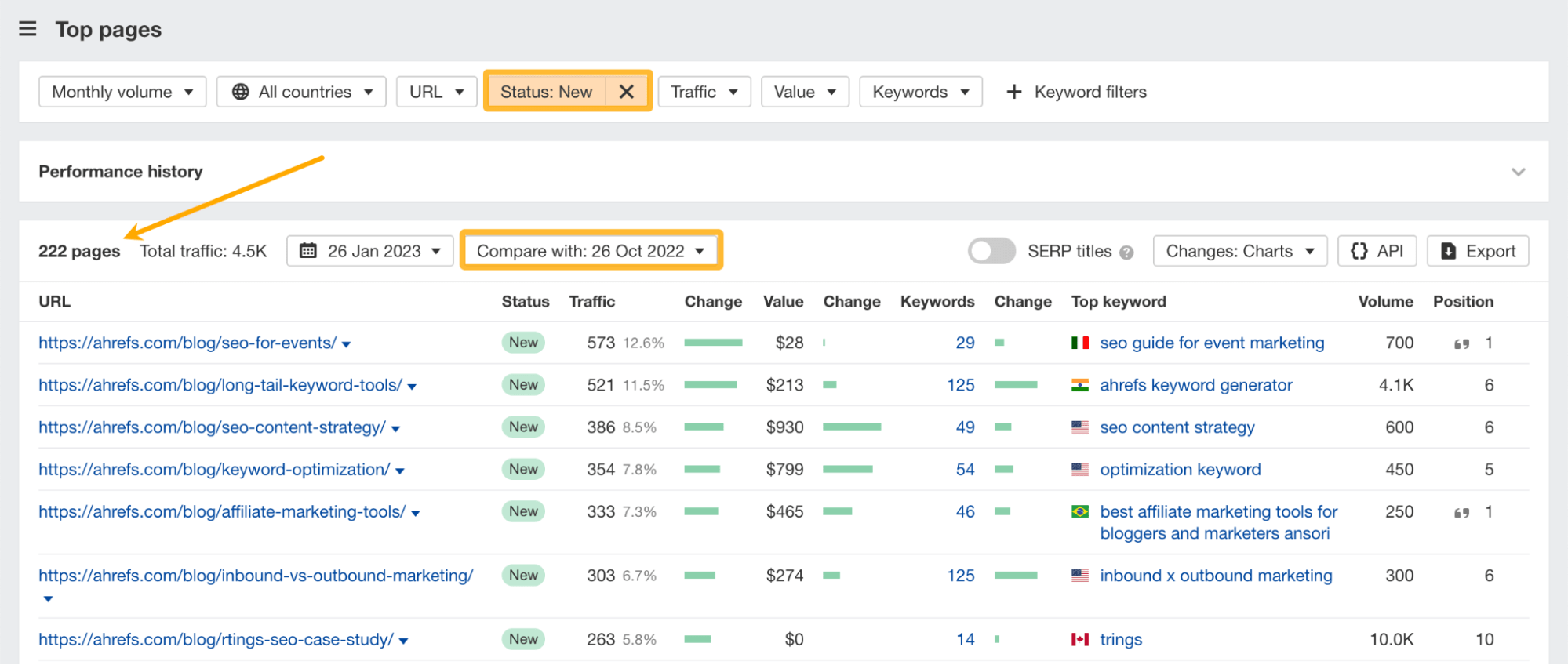 Note
Use this last use case as an argument for a budget raise.
While the Top pages report is not a feature unique to Ahrefs, what's unique is that we show top pages for all countries.
Most other SEO tools have either data for only one country or hide the additional data behind a paywall.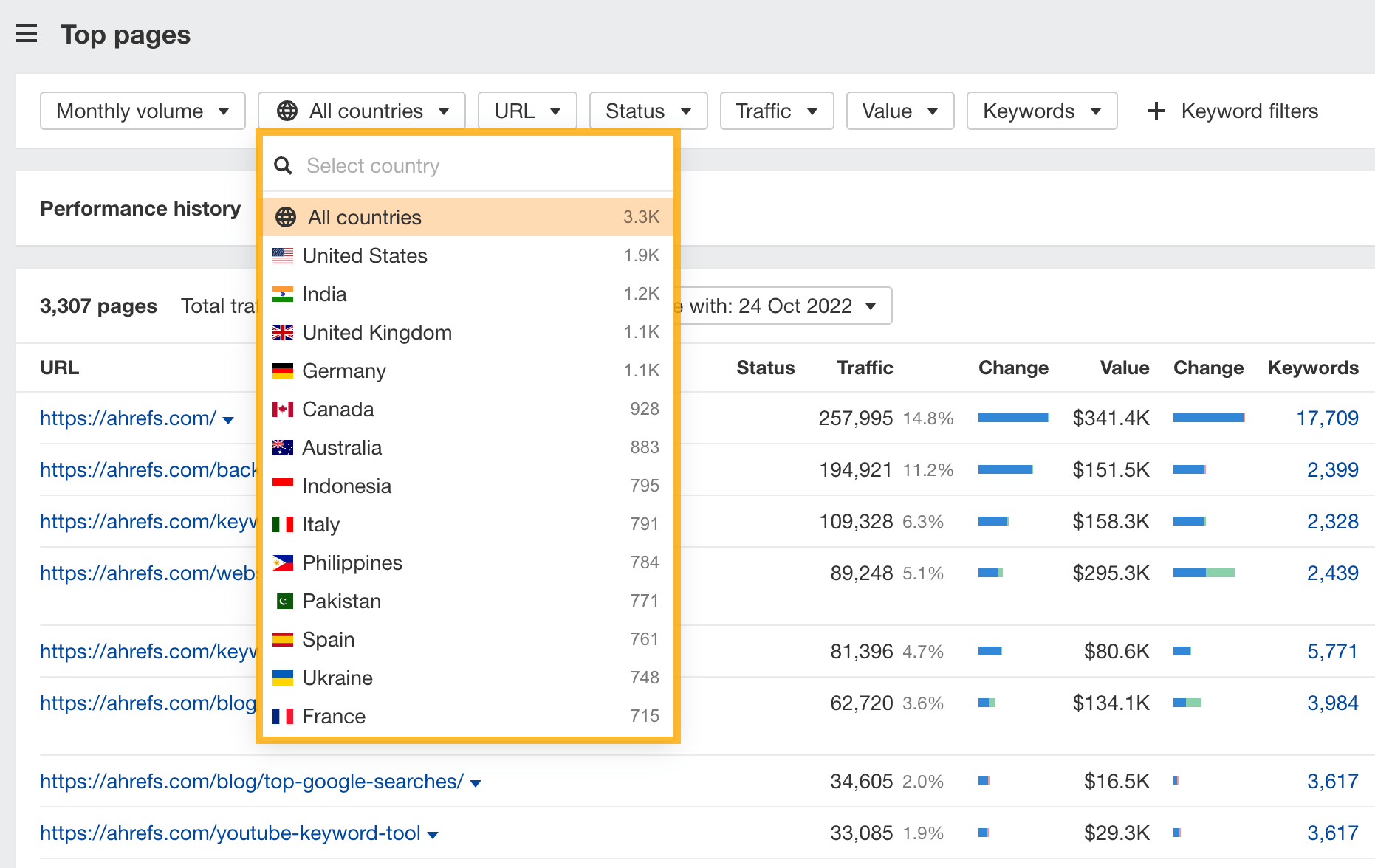 For example, our article about "top google searches" surprisingly ranks #1 in the Netherlands.

Note
Use this information with caution when replicating your competitor's success. It might be that most of their traffic comes from the U.K. when you're looking for visitors in the U.S.
Thanks to our continued investment in web crawling technology and infrastructure, Ahrefs is the only tool to update referring domain graphs daily.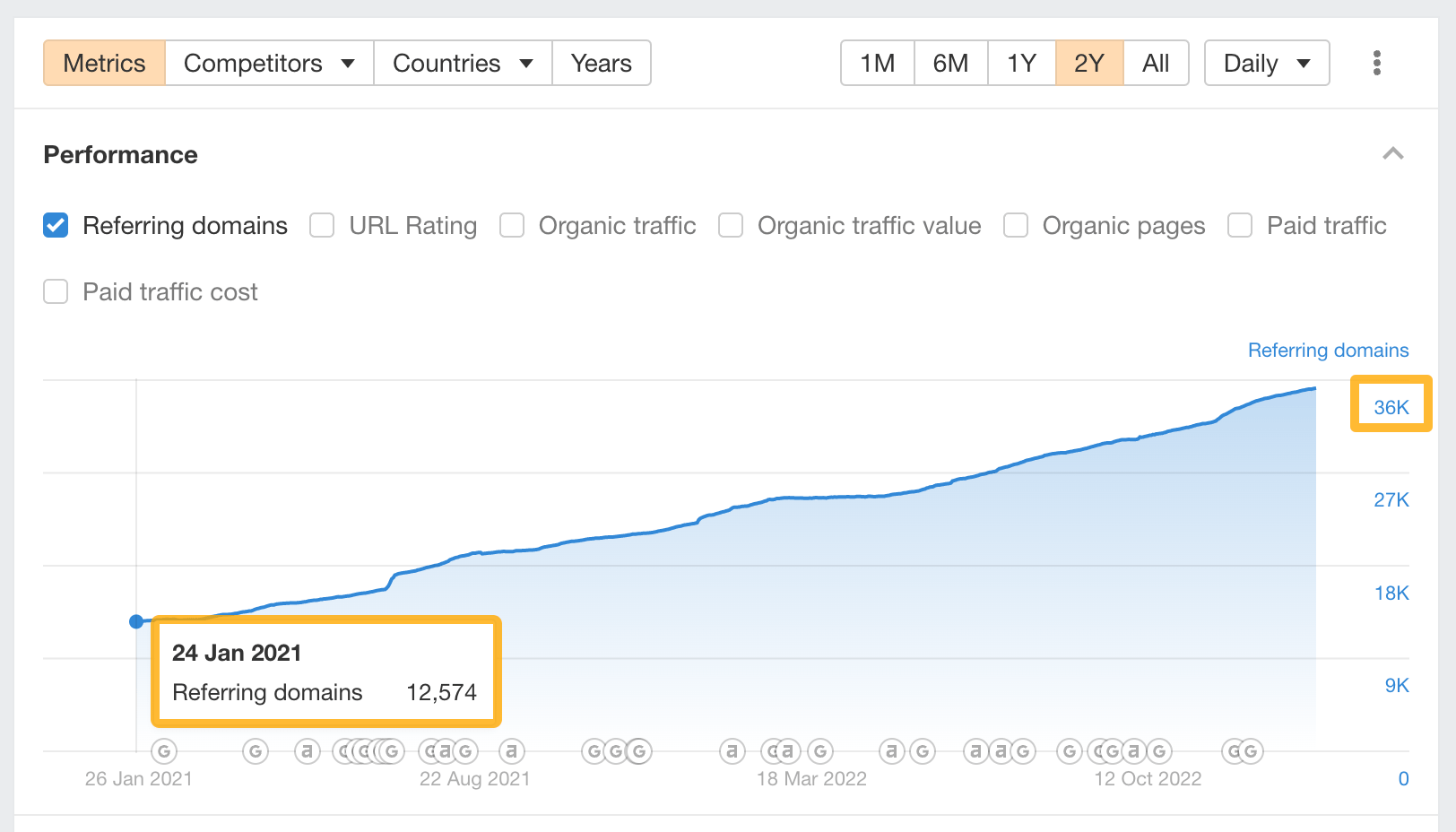 One glance at our blog's link profile tells us that it gained three times more links from unique referring domains (36,000) than in 2021 (12,574).
This level of granularity allows you to accurately compare your own link acquisition pace with your competitors to see if you're on track to catch up.
The Site structure report helps you understand a competitor's website structure in a tree-like format without having to run a crawl.
Use it to analyze their top-level folders and see which ones generate the most organic traffic.
Here are a few key things you can learn about our SEO strategy by skimming this report:
Most SEO professionals look at the search volume of their target keyword to predict a page's organic traffic potential.
Search volume alone can be misleading, though, as pages rarely rank for one keyword.
A better (and more insightful) way to estimate search traffic is to use Traffic Potential, which shows you how much search traffic you'd get if you were to rank #1 for your keyword.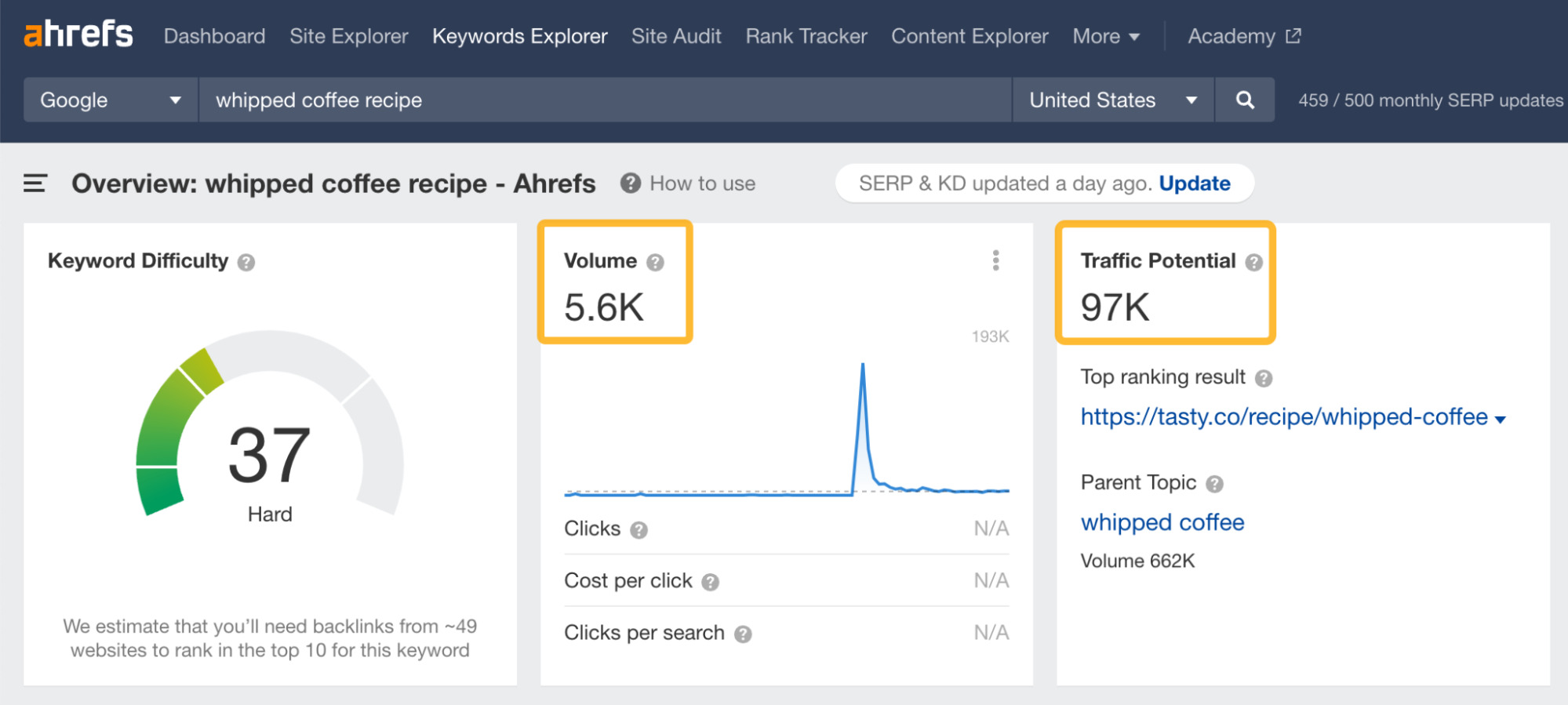 Please note that the traffic is not coming from your target keyword but from all the keywords the top-ranking page is ranking for.

Let's say you've got the following keywords on your list.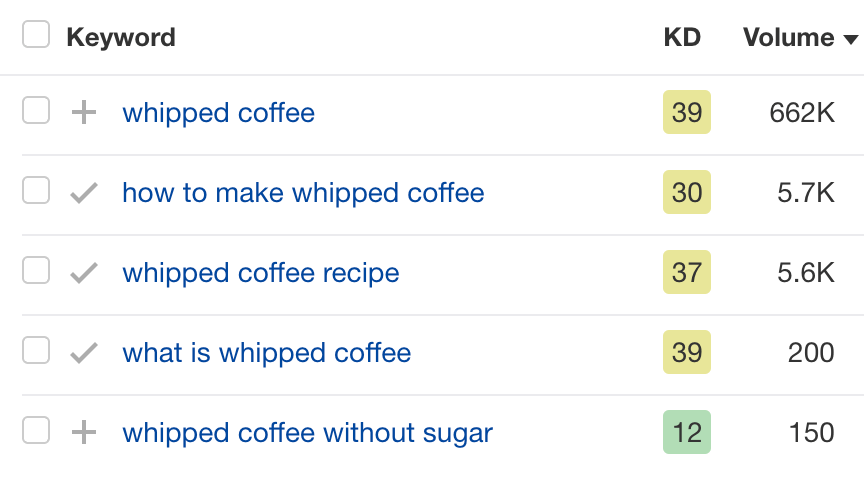 All of them seem to be targeting the same topic. But how do you know whether you should target them with a single page or create separate pages for each of them?
We can find this out by looking at how Google "sees" them. If Google is ranking similar pages for all of these keywords, it means they probably belong under the same topic. 
We can see how Google "sees" them by using the SERP comparison feature under the SERP overview.
You'll be able to compare SERPs side by side for the same keyword on different dates. You could also compare them for different keywords, which is what we're going to do.
Let's compare the search results for the keyword "whipped coffee" with "whipped coffee recipe."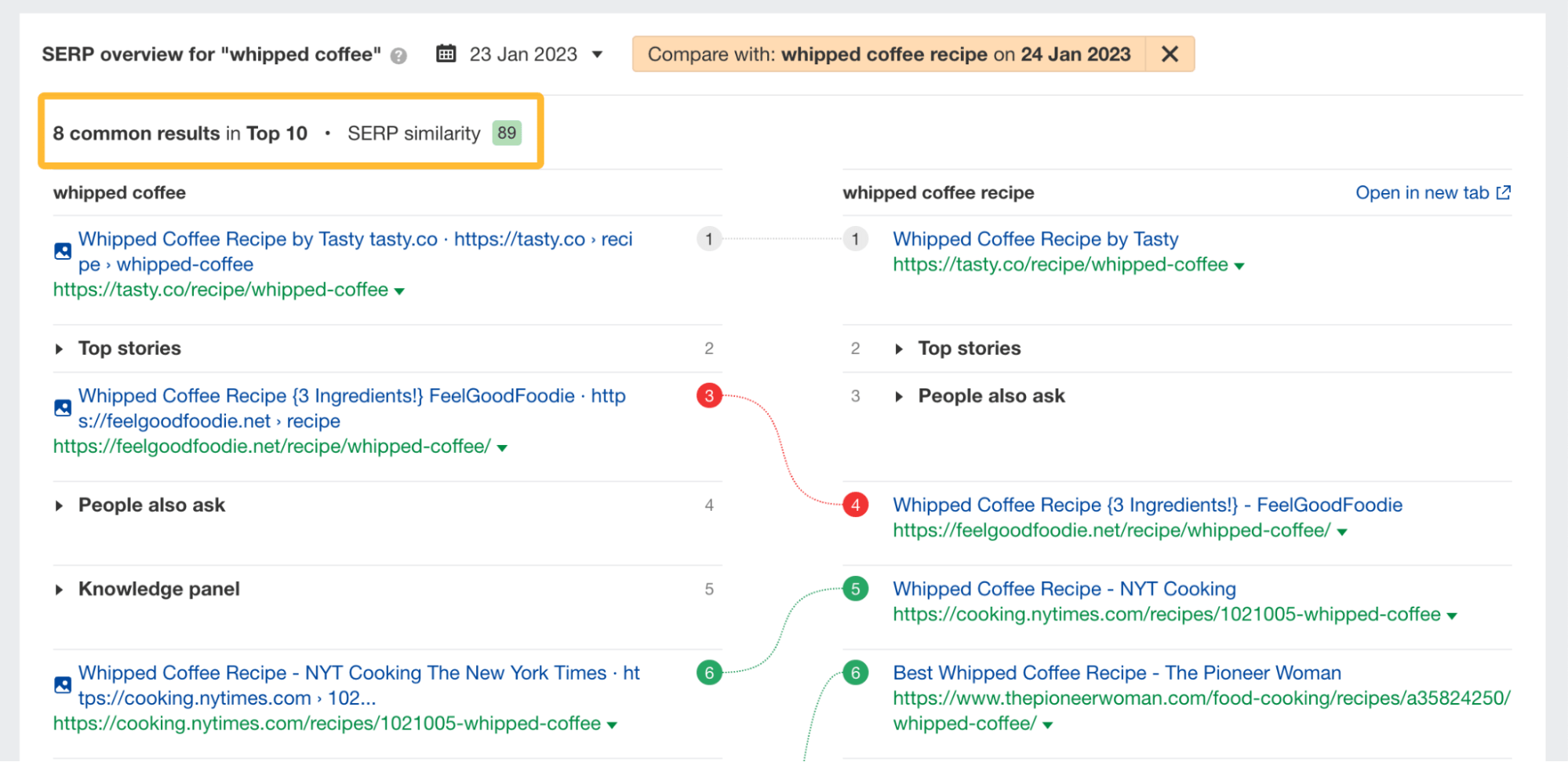 The top-ranking pages for both keywords are nearly identical (8/10 common results), a thing also indicated by our SERP similarity score.
This typically means that Google sees the search query "whipped coffee recipe" as a subtopic of a more general query, "whipped coffee." Which means you can likely rank for both keywords with a single page.
If we compare "whipped coffee" with "whipped coffee without sugar," we'll notice there's no similarity between the SERPs.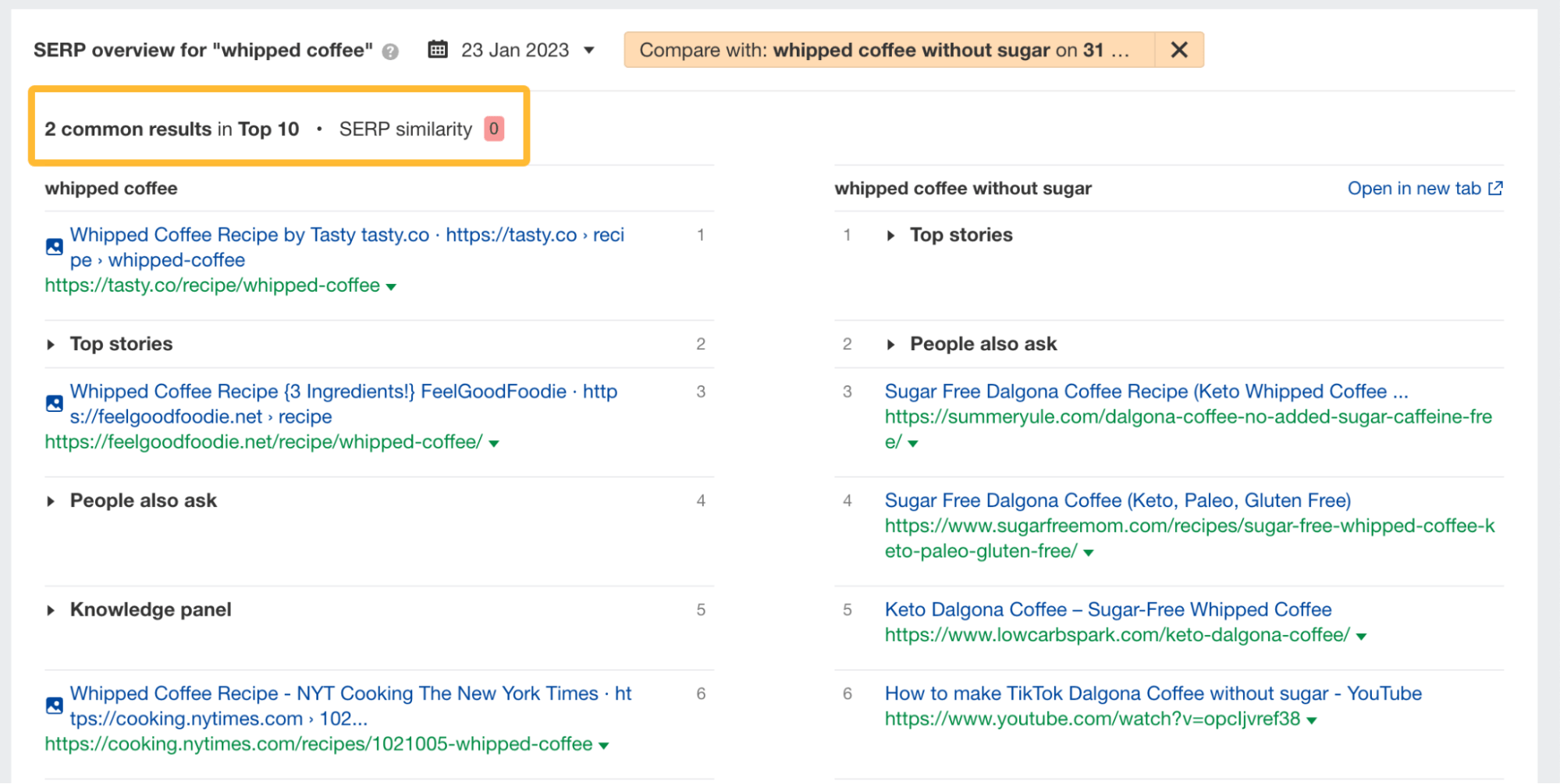 Which means you'll need to create two separate pages if you want to target both of these keywords.
Note
You can also evaluate whether or not you should target similar keywords with the same page by going to the
Traffic share by pages
report in Ahrefs' Keywords Explorer.
This will show you how much their SERPs overlap. Not so much in our latter case, as we've concluded before.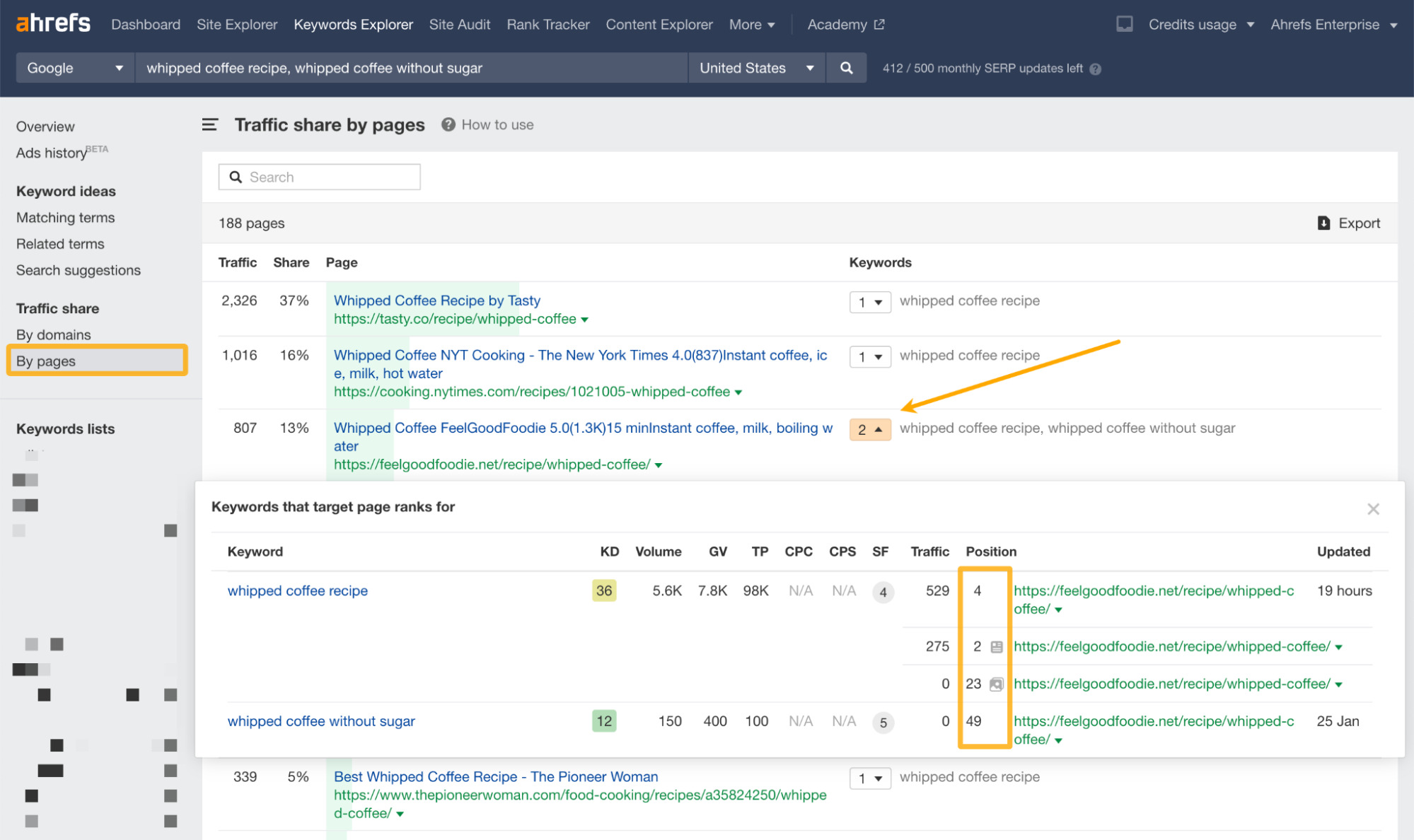 Generating keyword ideas has become fairly easy with Keywords Explorer. Just type in a broad seed keyword, say "espresso," and open one of our keyword ideas reports.
But how do you see the most popular topics under a broad term when there are so many keywords to begin with?
The gist is to group them by Parent Topic. It determines if you can rank for your target keyword while targeting a more general topic instead.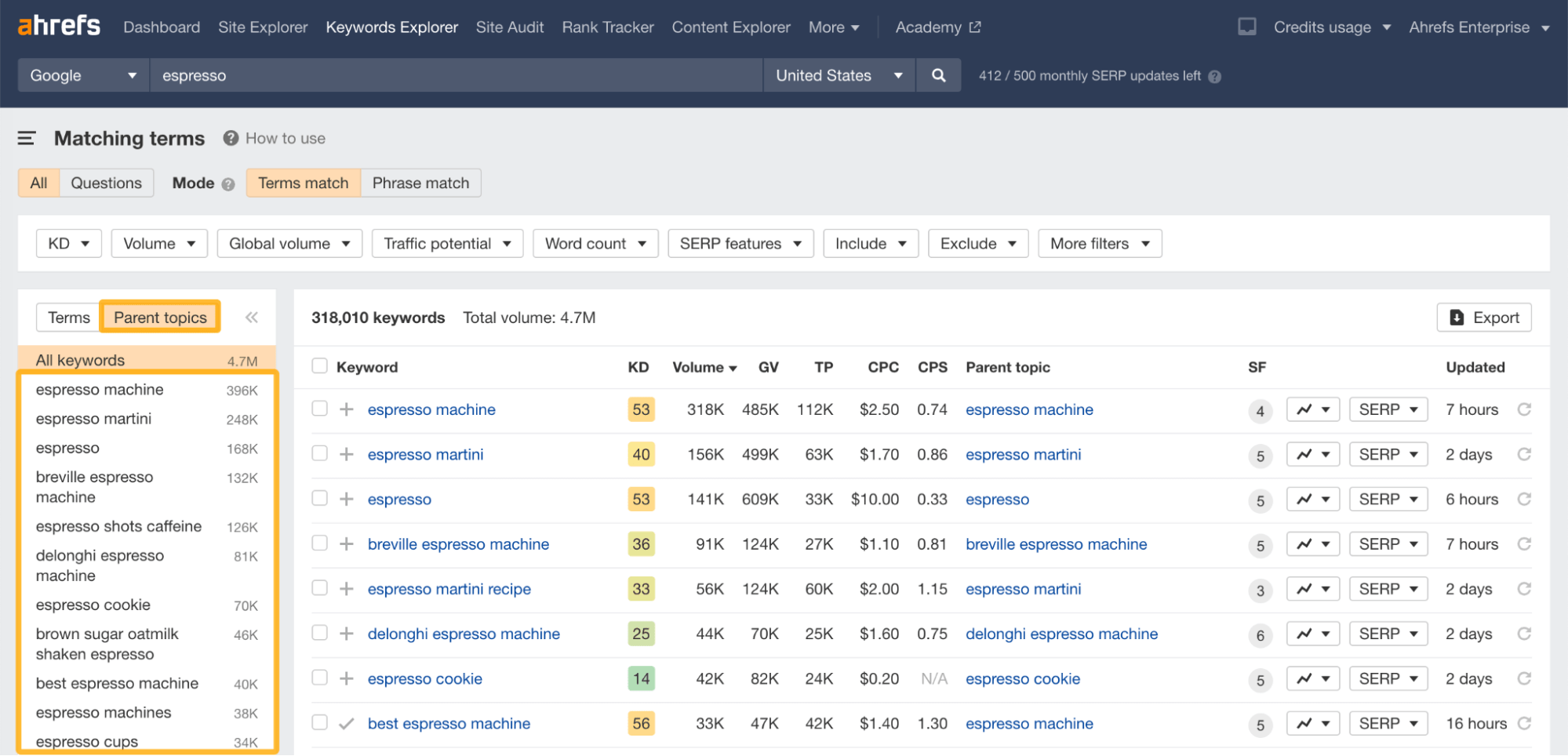 At a quick glance, we can see that people are interested in espresso machines, specific brands like Breville and Delonghi, espresso martinis, and so on.
A topic worth considering is "how to make espresso." If we click on it, we'll get a cluster of long-tail queries with the same Parent Topic ("espresso") that can be covered as subtopics.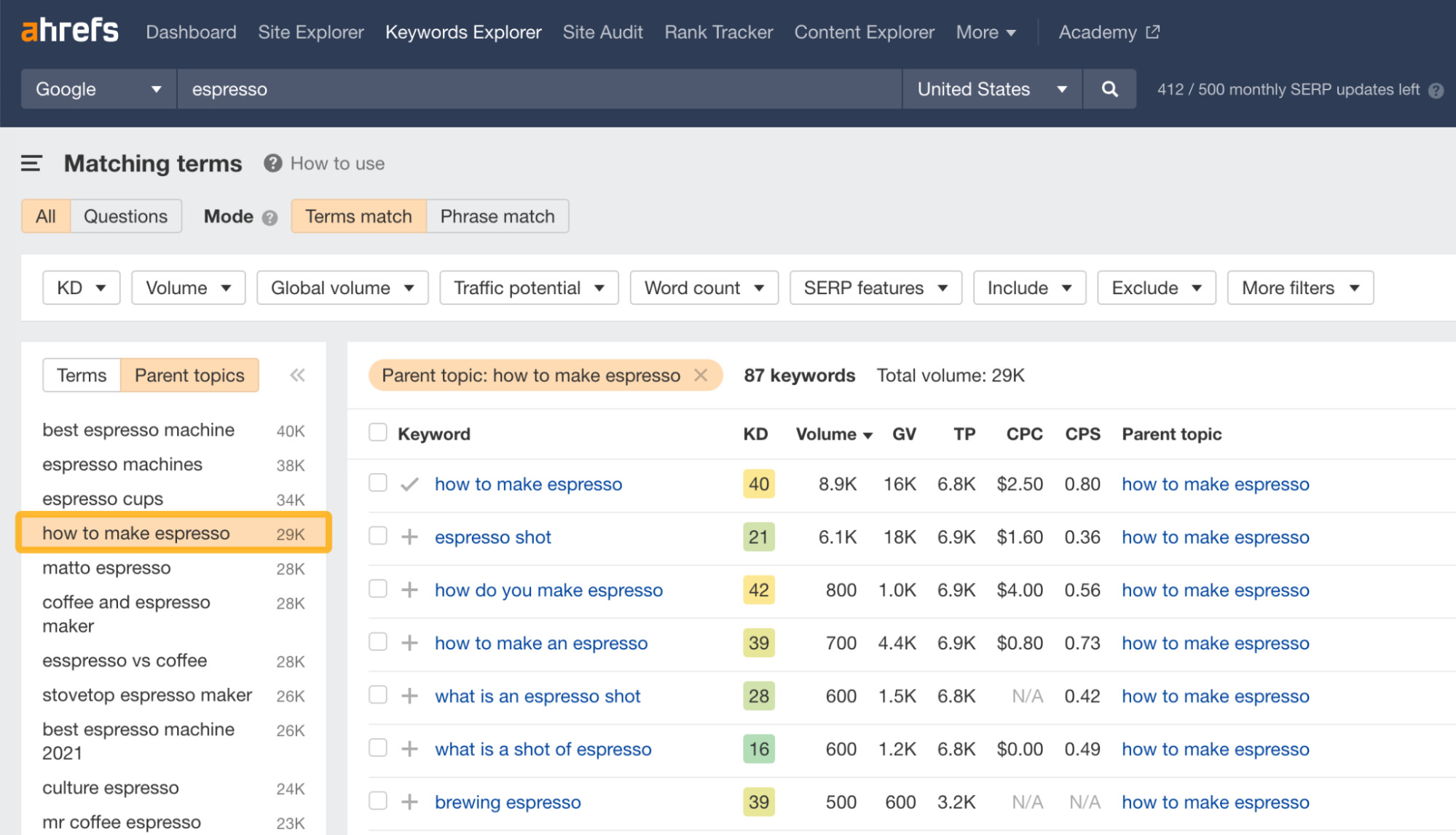 Note
Clustering keywords
by Parent Topic
is much better than grouping
by terms,
as this latter option will group keywords by popular single terms with a particular modifier.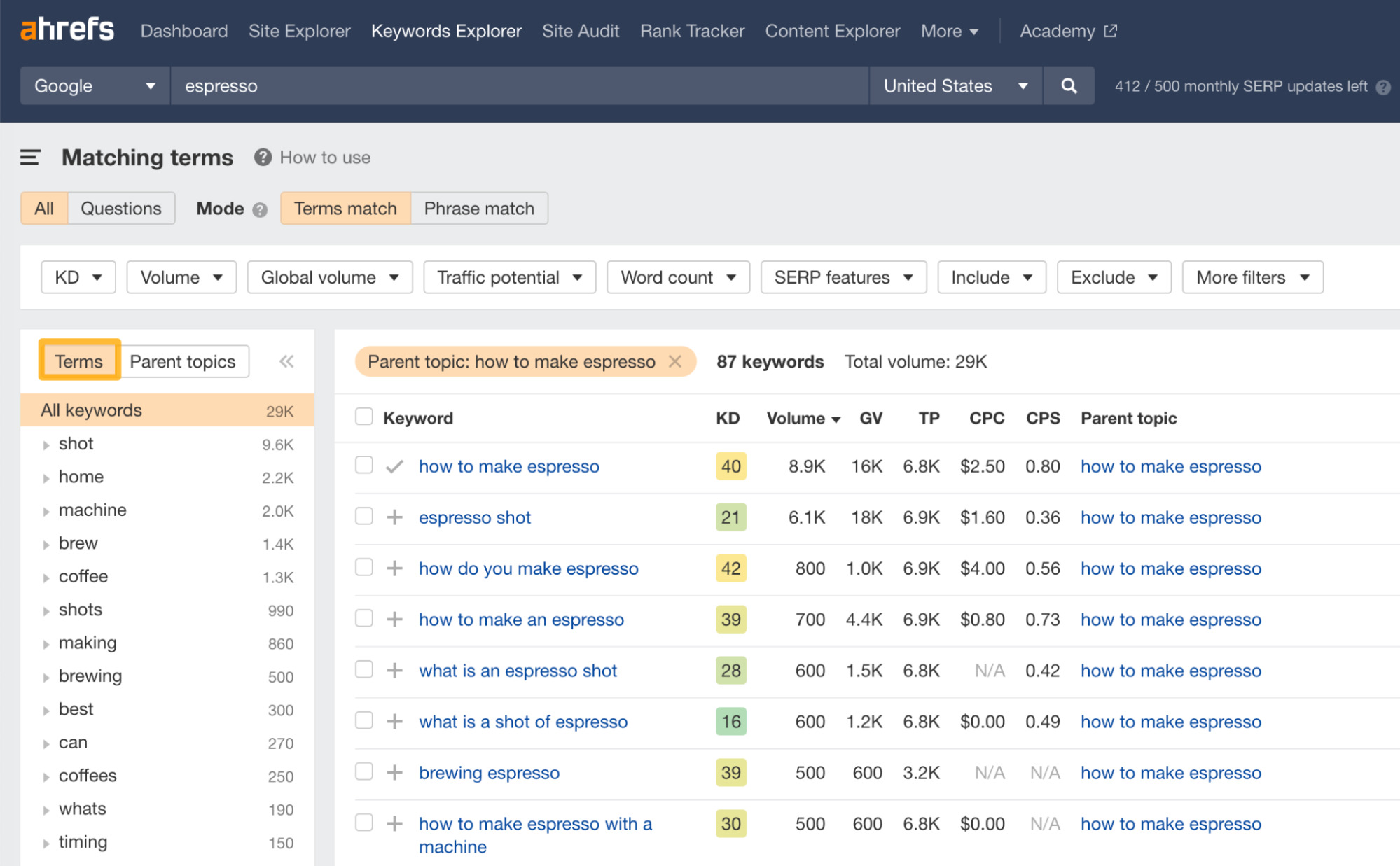 Knowing how your pages used to rank for particular keywords can be extremely insightful. Here's how you can do this in Ahrefs' Site Explorer.
Open Site Explorer
Enter a website and check the Organic keywords report
Choose a keyword
Click the "position history" chart
Here are our rankings for the keyword "website traffic checker" over the past eight years: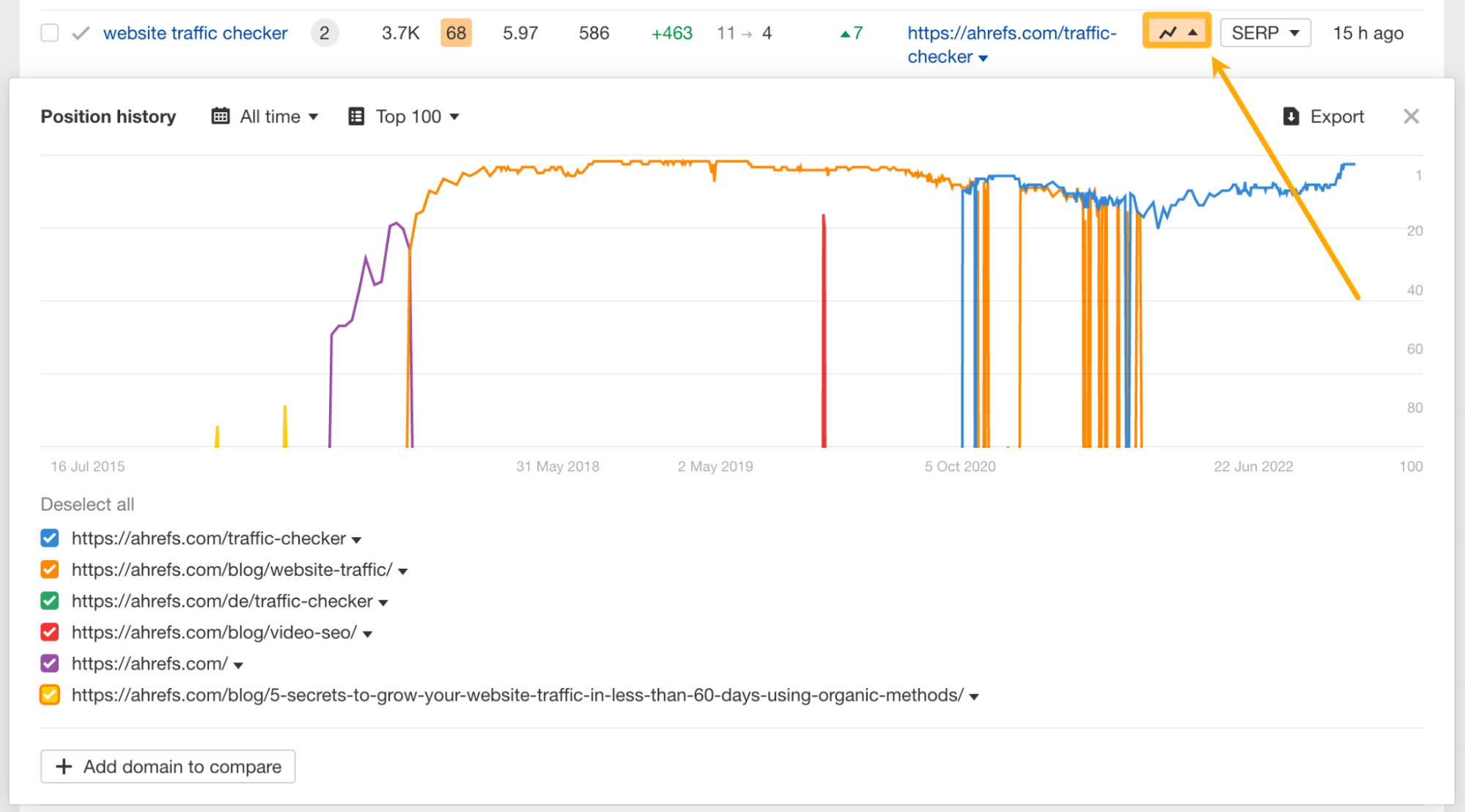 By unchecking a few pages on the list, we can see that our guide on how much traffic your website gets was lagging in rankings on position #21.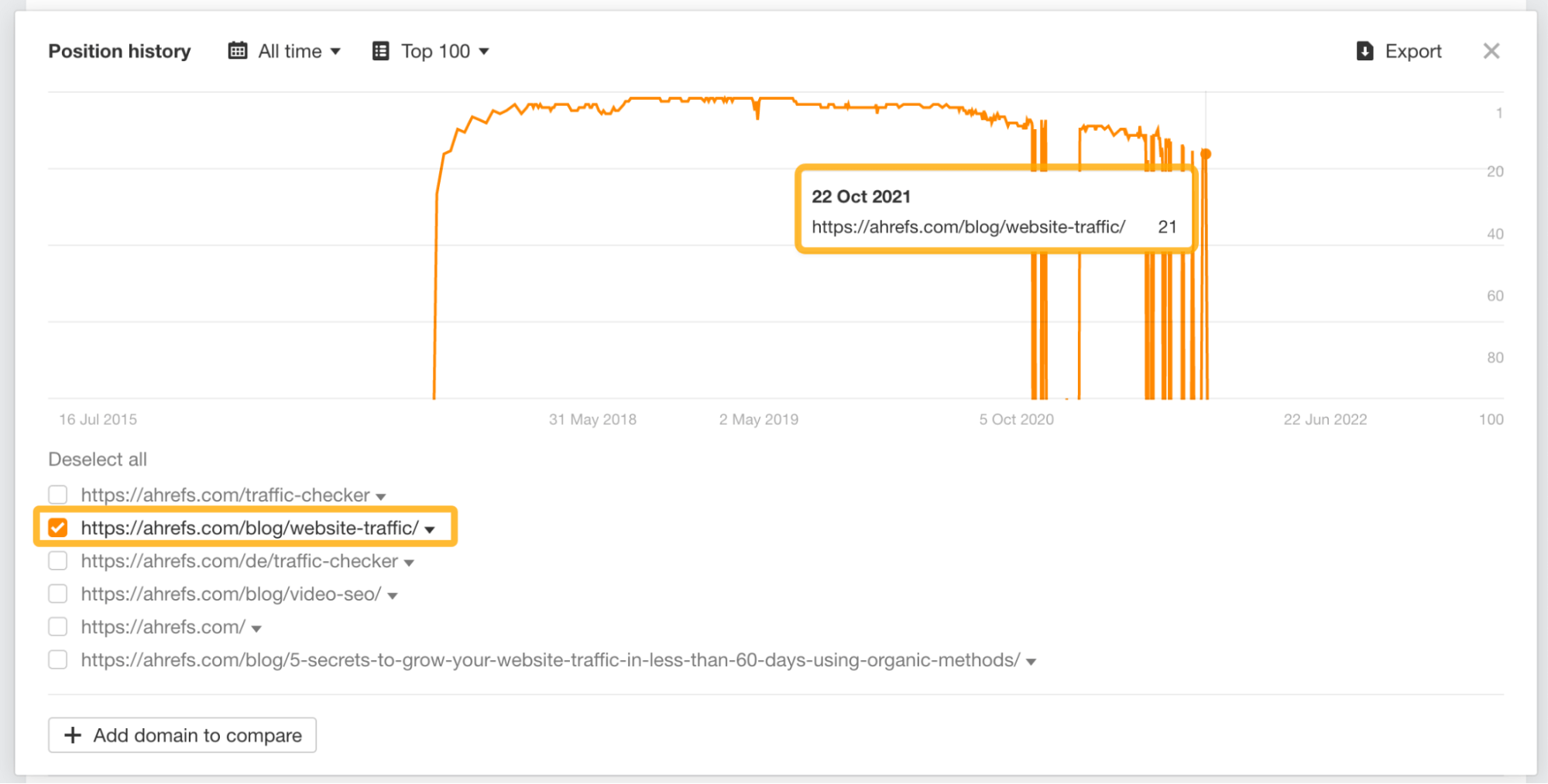 This was up until October 2021, when Google decided to rank another one of our pages for this keyword.
Since then, we've launched our free website traffic checker tool. The fact that we're now in the top five positions shows that the tool matches search intent much better than the initial blog post.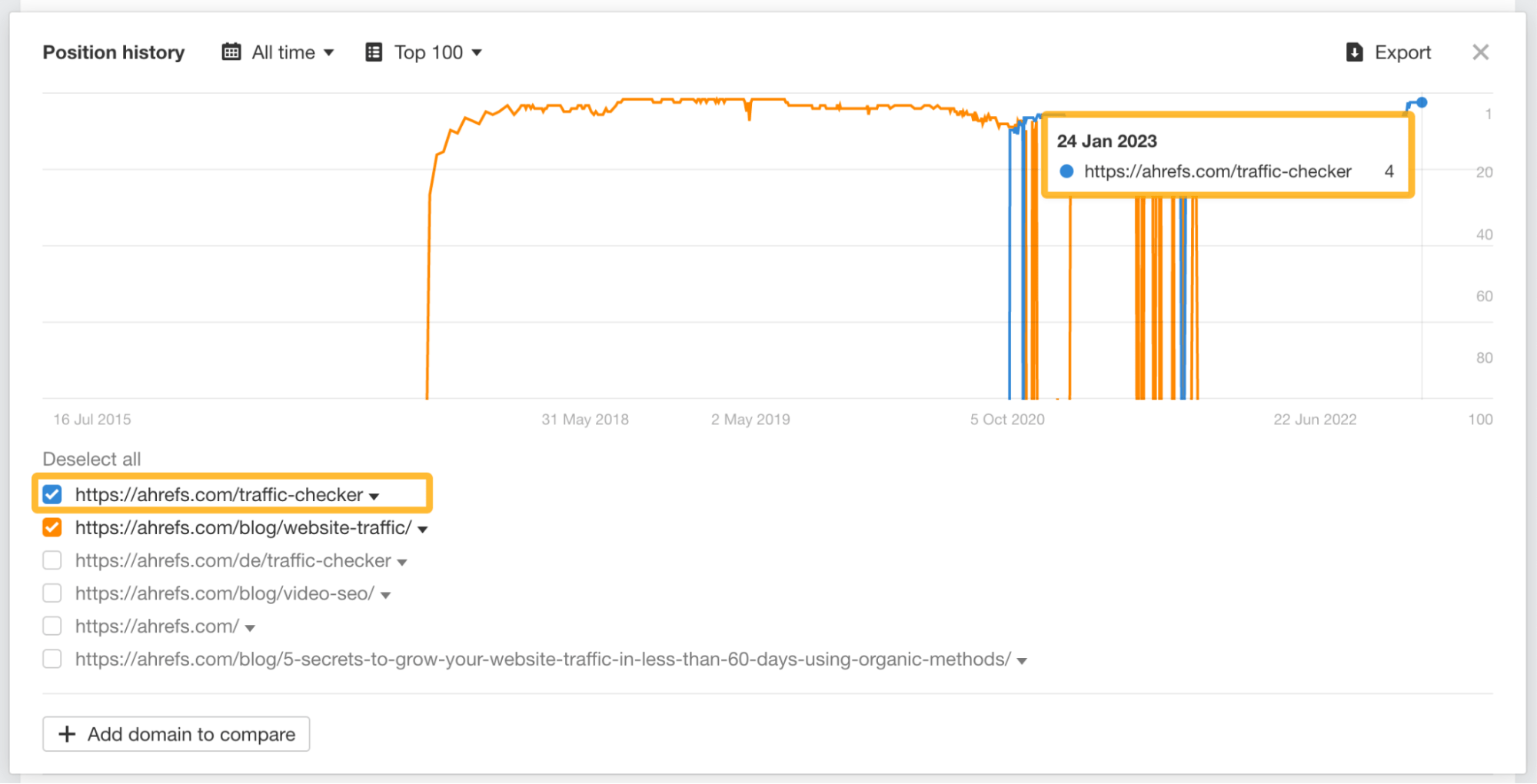 From here, we can add a competitor to compare our performances.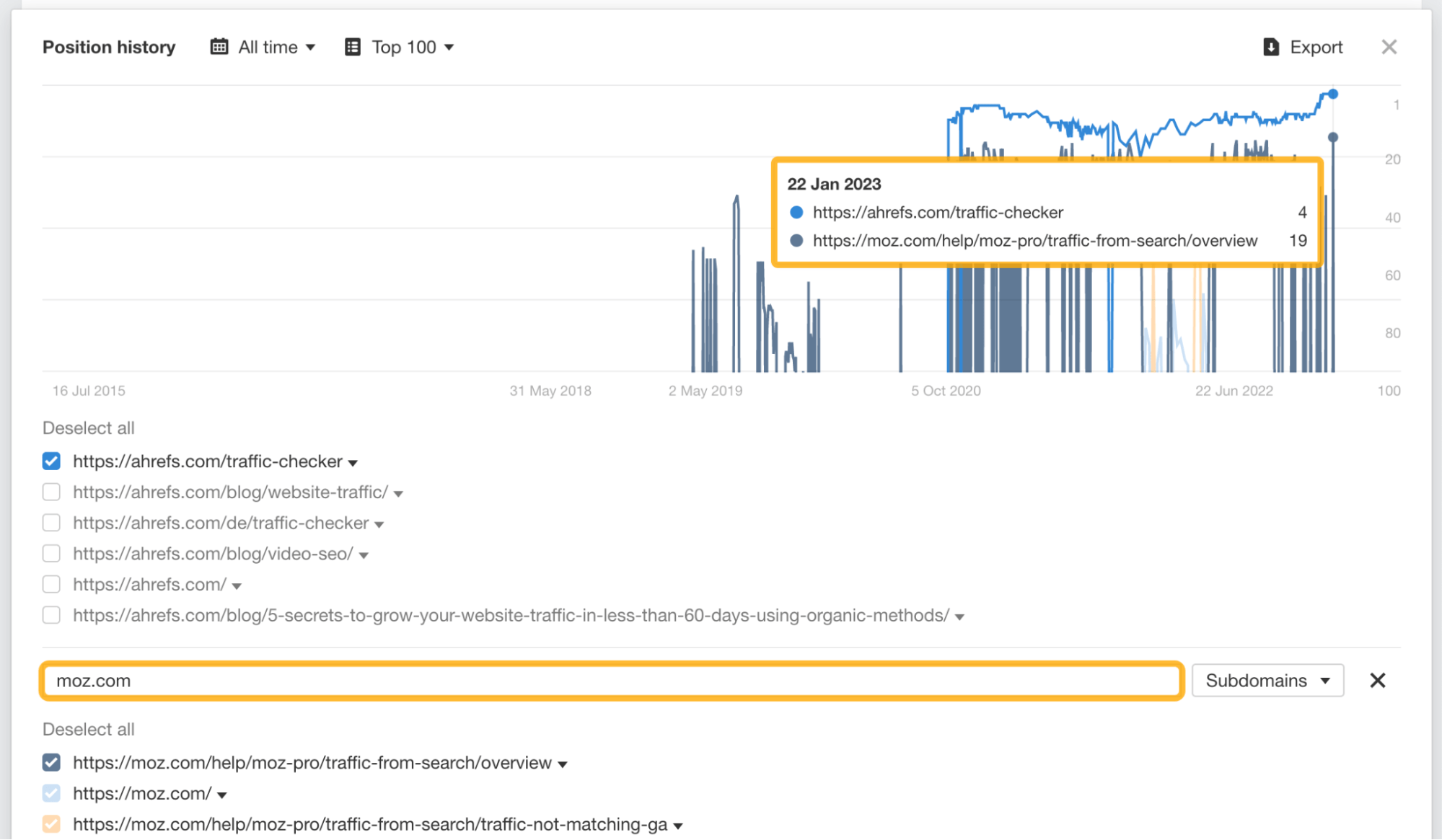 It looks like Moz is not targeting this keyword, which might be better served with a tool rather than a blog post.
TIP: Discover keyword cannibalization issues
Look at Moz's ranking history for the keyword "local SEO":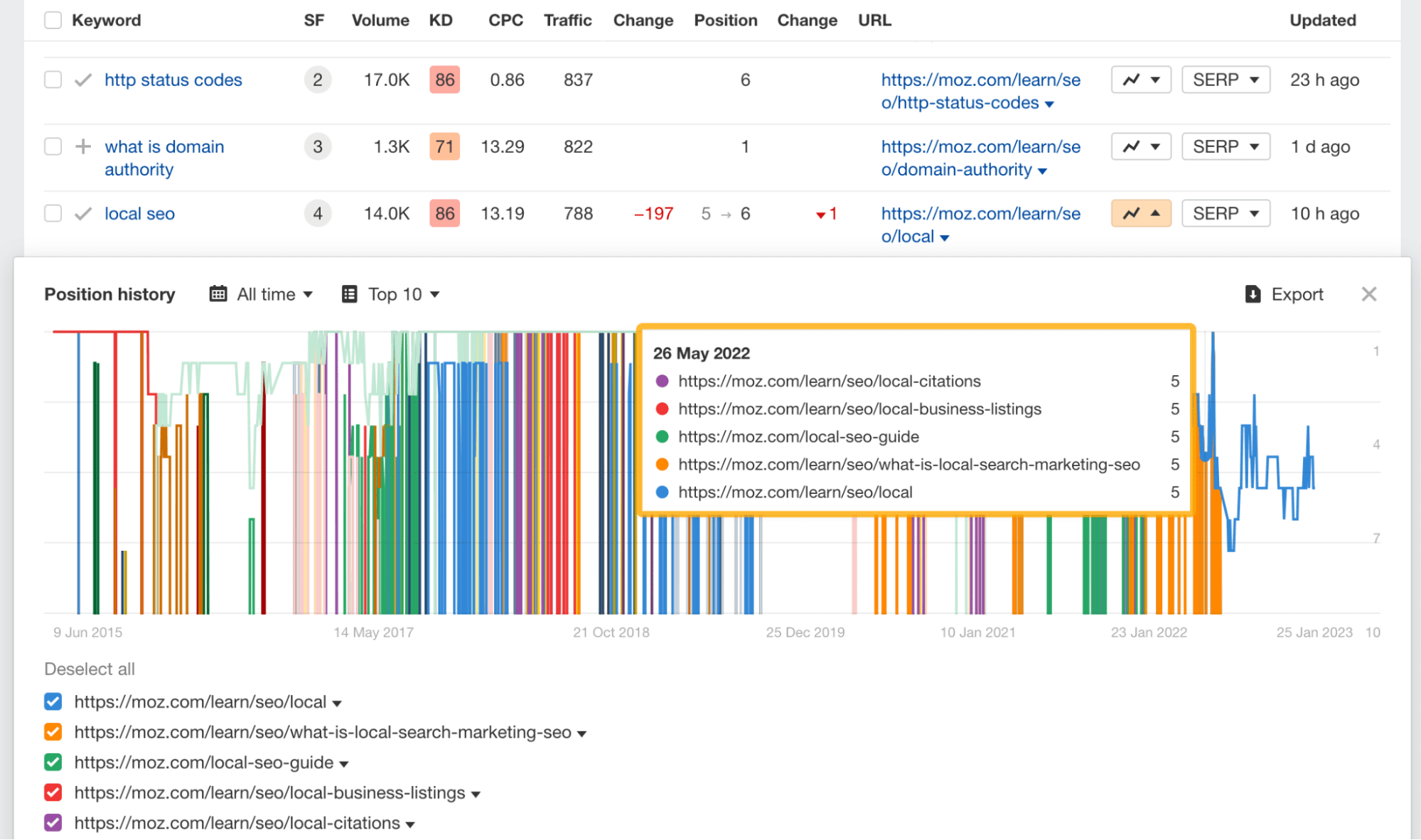 Five unique pages on its site have ranked for this query over the years but not in the top three. This was a potential "keyword cannibalization" issue, which it's solved by merging them all into a content pillar.
Share of voice (SOV) represents a website's overall visibility in the organic search results for a set of tracked keywords.
At the same time, it's one of the few vital metrics for measuring SEO ROI.
To see your website's share of voice for a given set of keywords, first paste them in Keywords Explorer and select the Traffic share by domains/Traffic share by pages reports.
The fun part: You will most likely discover organic competitors that you weren't even tracking who are sneaking up the same SERPs you're trying to win.
For example, we write mostly about SEO and marketing. But we never thought Shopify would target similar topics, since our businesses are completely different.
It earns about 9% of the organic traffic for the keywords we pasted. Hence, we can research its top content and reverse engineer any low-hanging SEO wins it has.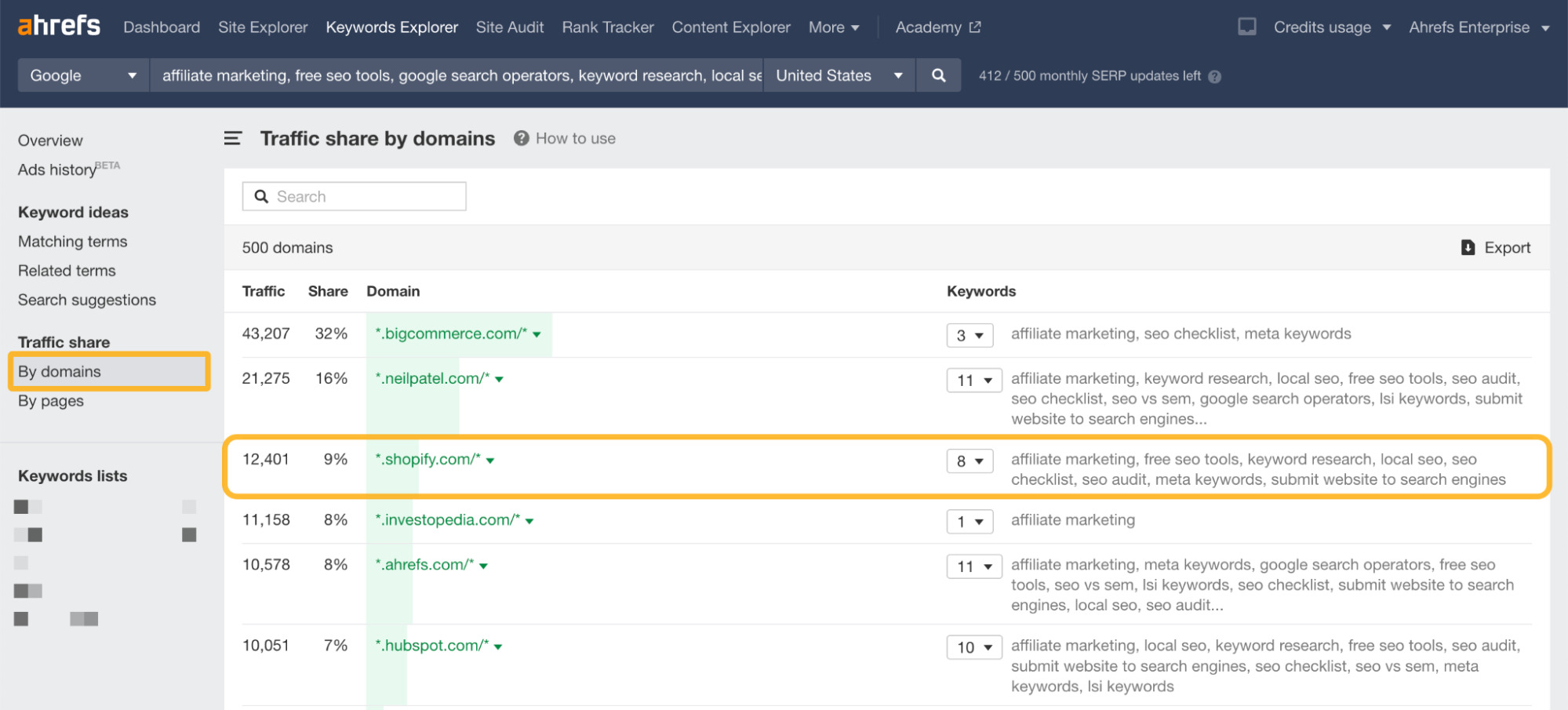 SEO crawls are crucial for monitoring your website's SEO health over time. Yet not every website is built the same, which may require a bit of tweaking to the actual crawl settings.
Ahrefs' Site Audit has got your back, featuring editable and customizable SEO issues.
At a global level, you can change the importance of an SEO issue and decide whether to apply it to existing projects or not.

While at a project level, you can turn off certain SEO issues.

Both settings are of great importance when calculating a website's Health Score, as we only take into account links with errors (links with warnings and notices are not factored in). Thus, the higher the number of errors that show up, the lower the Health Score.
Similarly, you can customize your own issues, which will take the specific attributes within the Page explorer report. Like a custom error where meta descriptions are longer than 160 characters.

Speaking of customization, Site Audit also allows you to configure a segment, save it, and return to it in just a few clicks.
This comes in handy because most website owners and SEOs want to isolate issues related to a specific section of a website, such as /blog, /store/, or perhaps a subdomain like es.ahrefs.com.
To set one up, click on Configure > Configure segment.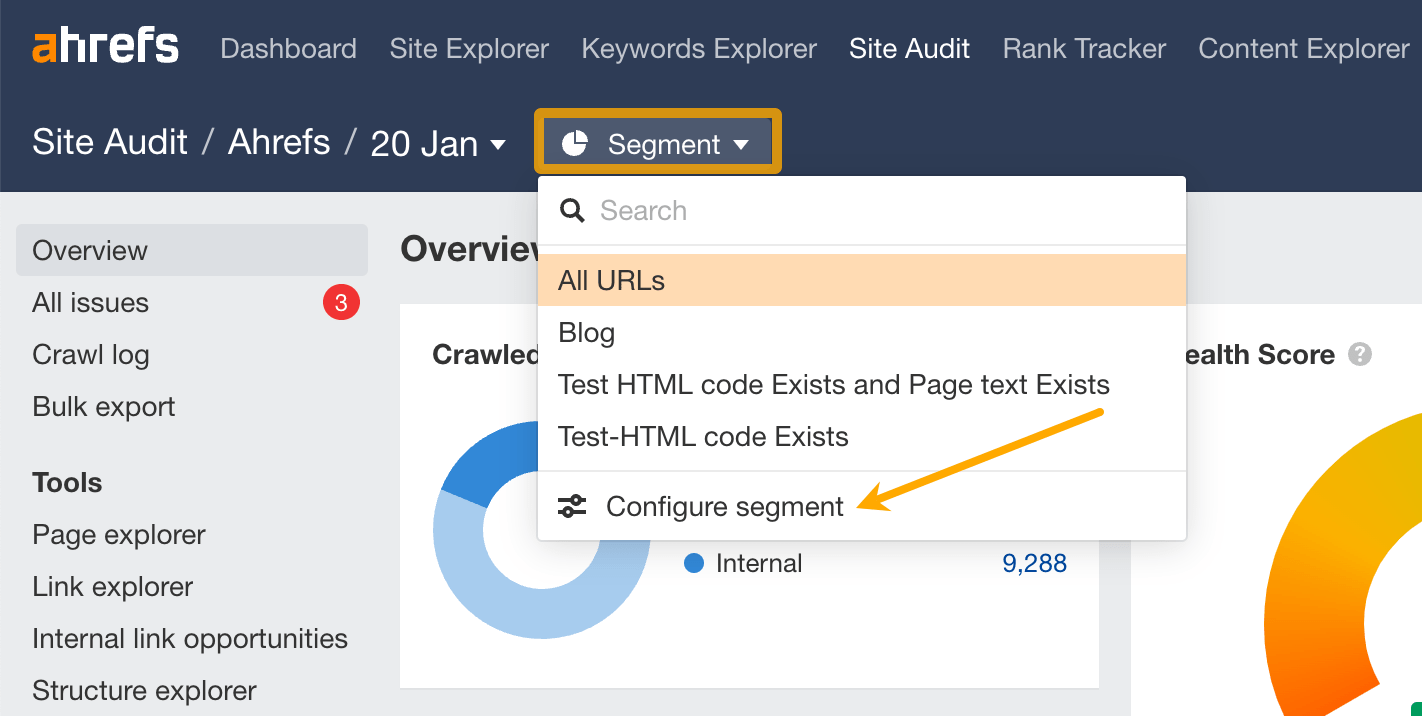 Note
The segment will be applied to every report in Site Audit.
Internal links are crucial to SEO. They help Google discover new content on your website and pass link equity from high-authority pages to low-authority ones.
But let's face it: Building internal links is time consuming.
Not if you're using Ahrefs' Site Audit. 
Our Internal link opportunities report identifies internal link opportunities by taking the top 10 keywords for your ranking pages—then finding mentions of them on your other pages. 
Including important keyword metrics and the keyword context. How cool is that?

TIP: Find internal link opportunities manually
We won't suggest a link if one already exists between the pages.
Despite this, you can still find the pages mentioning your terms by going to the Page explorer report and searching for the keyword within the HTML feature.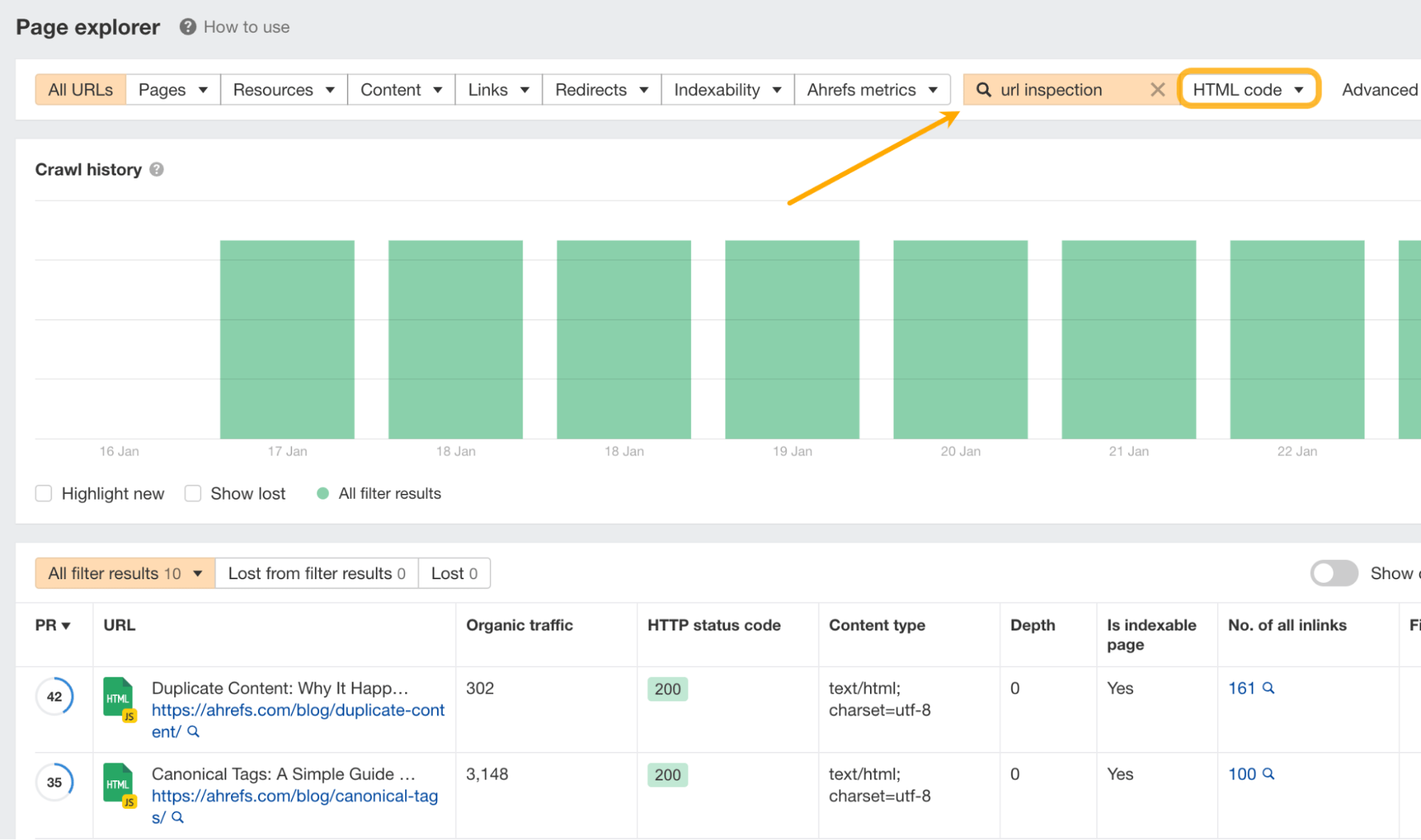 Ahrefs' Content Explorer is a searchable database of 12 billion webpages, complete with these proprietary metrics:
Domain Rating (of the parent website)
Number of referring domains
Organic search traffic
Word count
Publish date
Updated date
Live/broken
Author
No close competitors for the tool exist, and there are more use cases than I have time to cover in this article. So let me share two of my favorite ways to use it.
A. Find low-competition topics with high traffic potential
Want to get content ideas that are easy to rank for?
Search for a broad topic like "backpacking" in Content Explorer and apply these two filters:
Referring domains < 5
Page traffic > 1,000
In return, you'll get a list of relevant pages that get lots of organic traffic and are easy to rank for.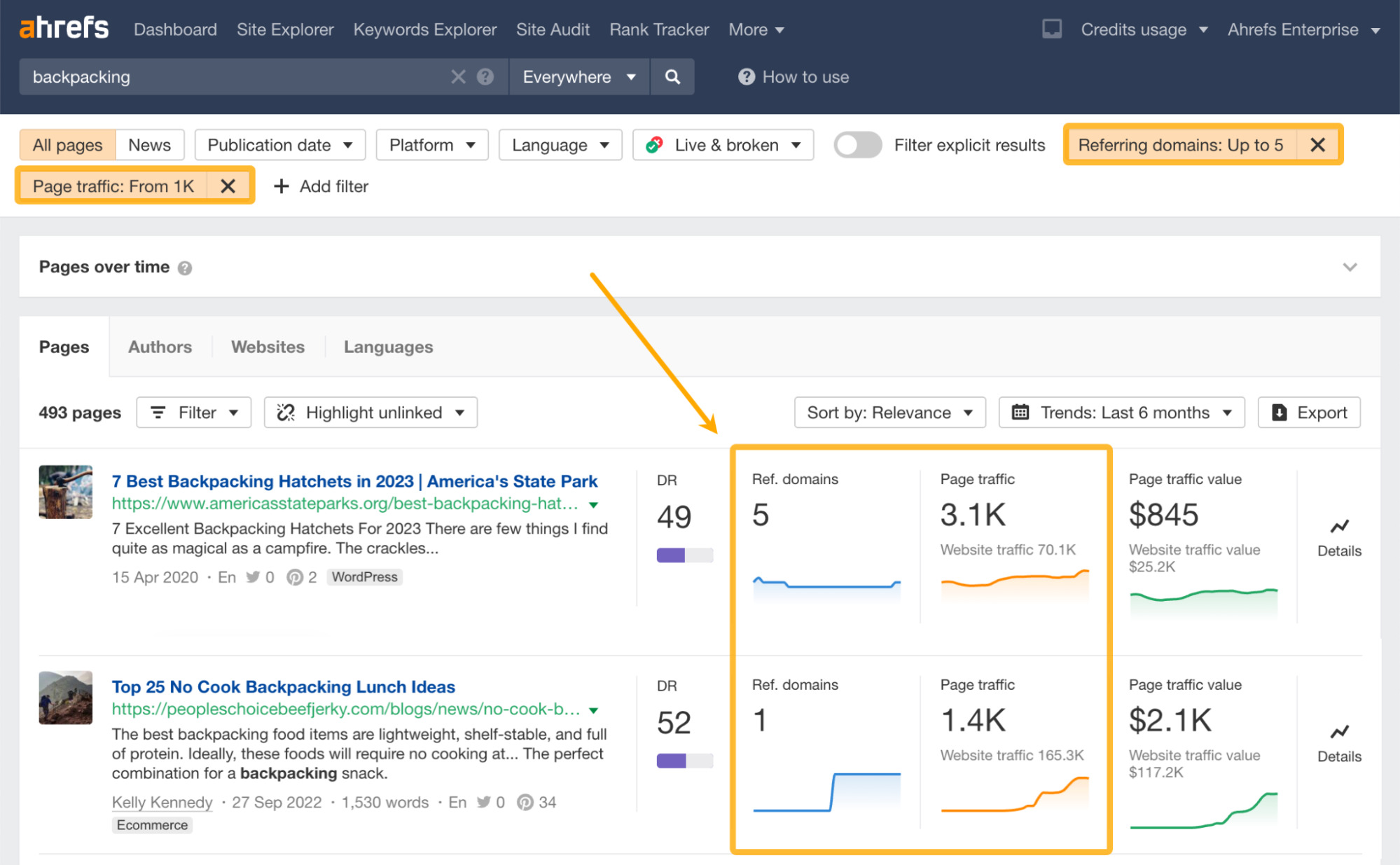 From here, you can dig further into the keywords responsible for the organic traffic.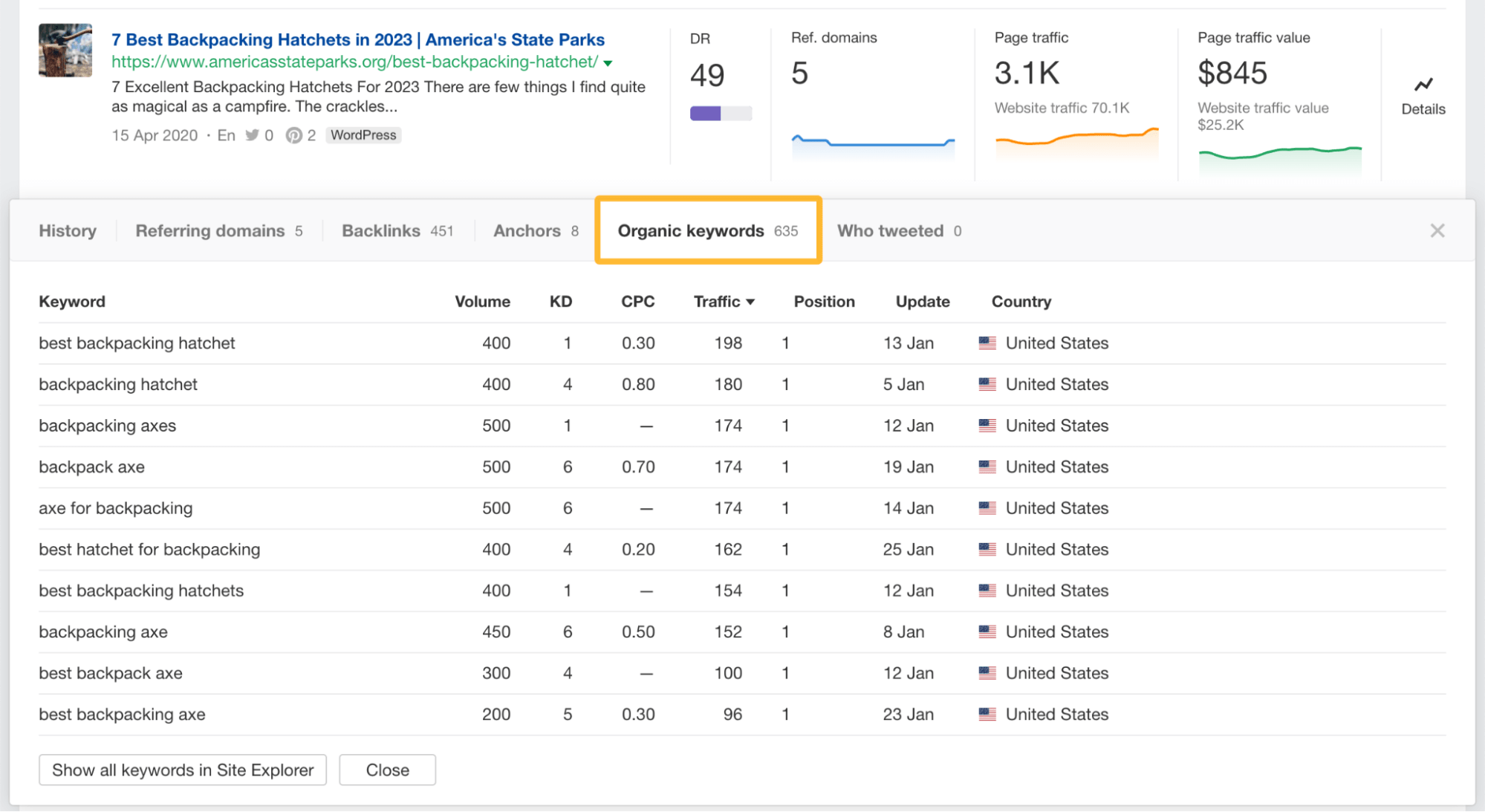 B. Finding broken link building opportunities
Search for pages with a relevant word or phrase in their title, filter for Only broken pages, then filter for results with at least 50–100 referring domains.
Here's a dead recipe nutrition calculator with 490 referring domains.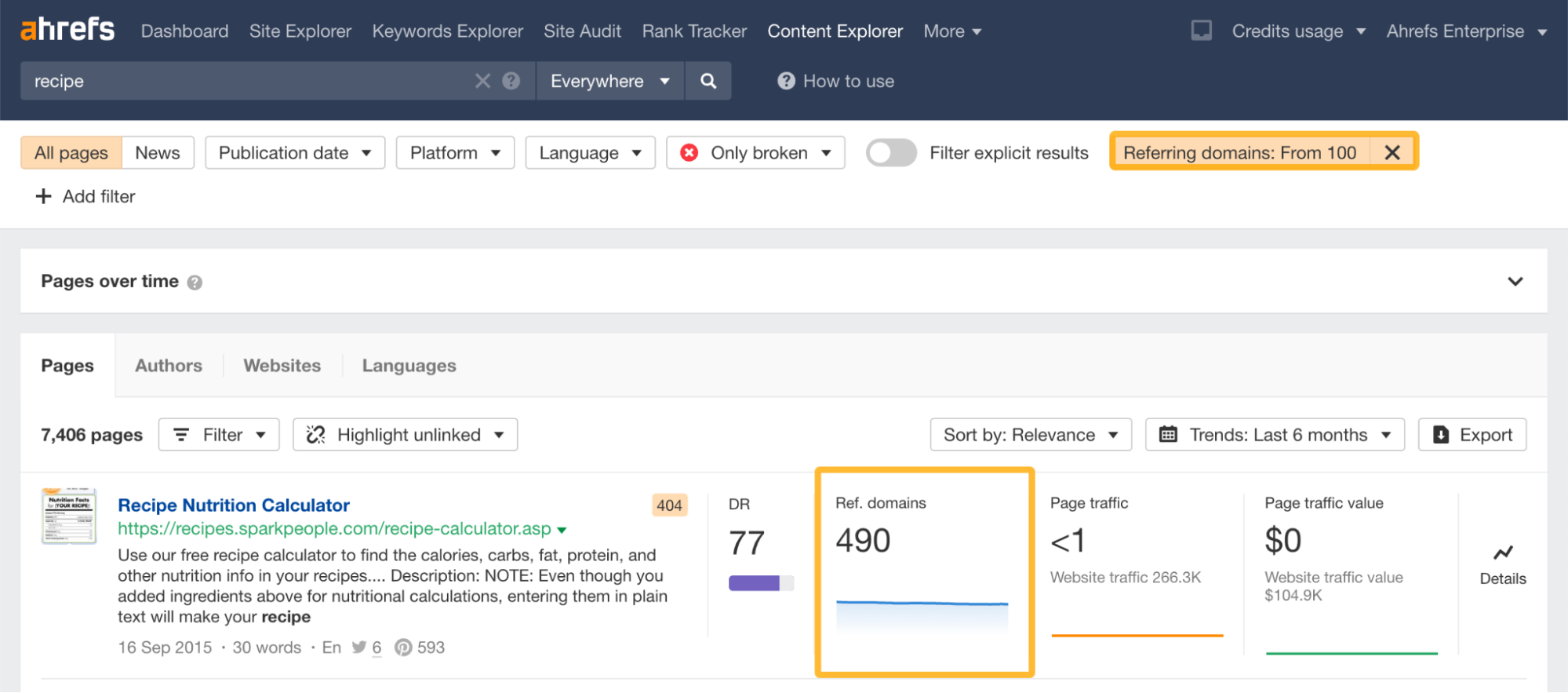 If we have a site in this niche, we can create a similar piece of content on our site, then ask everyone linking to the dead page to link to us instead.
That's obviously not everything…
Ahrefs has many more unique features and data points.
Perhaps I should write a follow-up article and showcase more of the unique things that only Ahrefs can do. What do you think?