20+ Blogging Tools to Improve Your Workflow
May 30, 2023
If you want to make the most of your time blogging, choose the right tools because they'll save you a lot of money and effort.
But there are a lot of tools out there—and not all of them are worth it.
Well, I've been blogging for over a decade and have used hundreds of tools in that time. To help you sort the wheat from the chaff, I'll list all the tools I've used to grow several blogs to a six-figure income—and what each of them is useful for.
Just want the best blogging tool stack? Here are my 10 most-used tools for blogging:
WordPress – Best content management system (CMS) to manage your blog.
Google Docs – Best word document editor to collaborate with your team.
Wordable – Easily upload your articles from Google Docs to WordPress with one click.
Ahrefs – Best all-around SEO tool for ranking high on Google.
Notion – Best task management and content planning software.
Google Search Console – Best tool for making informed SEO decisions.
Canva – Best graphic creation tool.
Snagit – Best screenshot capture and editing tool.
Loom – Best screen recording tool.
ConvertKit – Best email marketing software.
Want more? Keep reading.
Let's kick things off with a list of tools you can use to research, write, edit, and publish your blog posts.

What it is: A content management system (CMS) to build your website and publish blog posts.
Why I love it: It is the most robust, SEO-friendly CMS on the market. Because it's open source and so popular, you can do almost anything with WordPress with the right plugins or a good web developer. I've been using it since I started my first blog at 15. It's not the easiest blogging tool for beginners, but it's much more powerful than "beginner-friendly" website editors like Wix or Squarespace once you learn how to use it.
Price: Free.

What it is: A document editor.
Why I love it: Google Docs is an easy-to-use free document editor that makes collaborating with writers and editors a breeze. I've been using it to write my blog articles for over 10 years. It just works.
Price: Free.

What it does: Uploads articles from Google Docs to WordPress in one click.
Why I love it: Google Docs has hidden code that's brought over when you copy-paste content to WordPress. Wordable fixes that by uploading the document to WordPress while keeping the formatting but removing the extra code. It also cleans up and optimizes your images.
Price: Free up to five exports per month (then $50/month).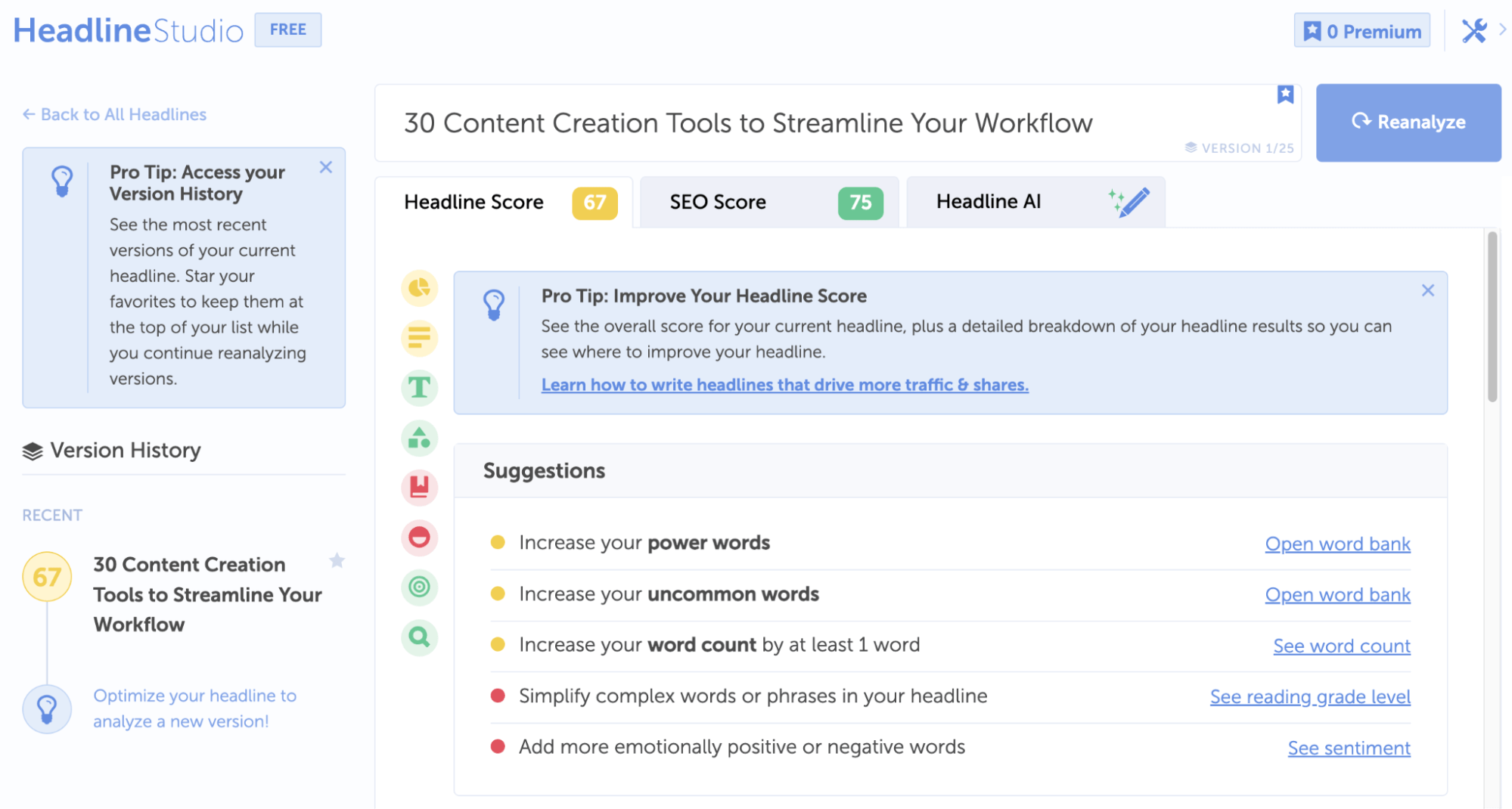 What it does: Scores your headlines clickability and SEO.
Why I love it: It helps me write killer headlines—which is important for both clickability and SEO. Better headlines mean more clicks in the SERPs which, in turn, can help your content rank higher on Google. The tool gives you ideas of power words and uncommon words to use to make your headline more interesting, and its AI can write and suggest headlines for you.
Price: Free ($19/month or $99/year for premium).

What it does: Makes suggestions to improve your writing and fixes grammar and spelling mistakes.
Why I love it: Sometimes when you're in the flow of writing, the words just pour out of you—and you don't want to interrupt that flow by fixing typos or grammar mistakes. I use Grammarly post-draft to fix my mistakes after the bulk of the article is finished. It's also compatible with Google Docs and WordPress if you get the Grammarly browser plugin, which is nice.
Price: Free.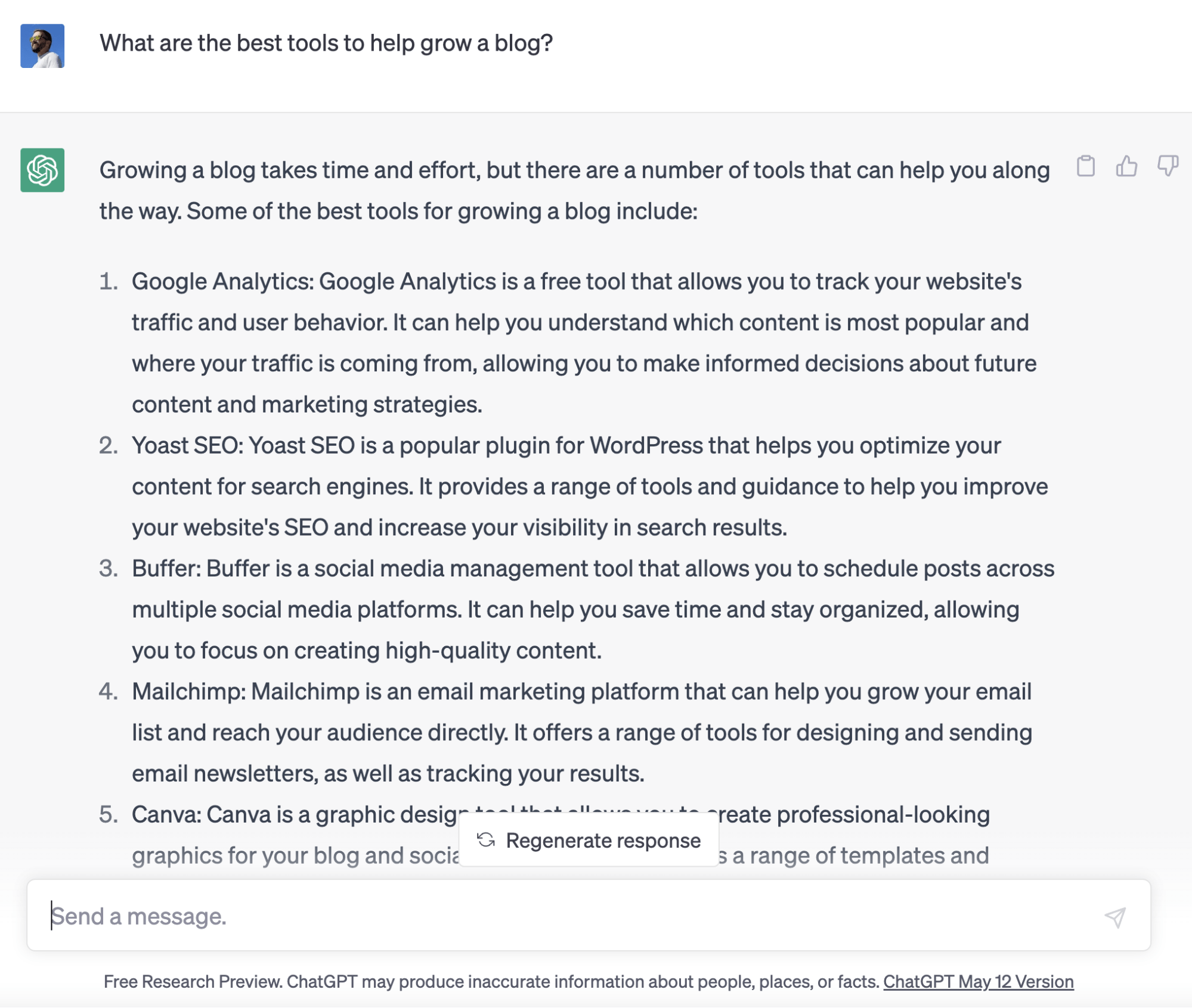 What it is: An AI chatbot.
Why I love it: I use ChatGPT for researching and outlining a lot of my content. It can help you identify topics or ideas you didn't think about in your initial content outline. I have also started playing with it to improve my content and my life in general, such as using it to help me come up with road trip itineraries for specific needs—like finding the best routes based on weather and areas with free camping—then turn that trip into a blog post and social media videos.
Price: Free ($20/month for premium access).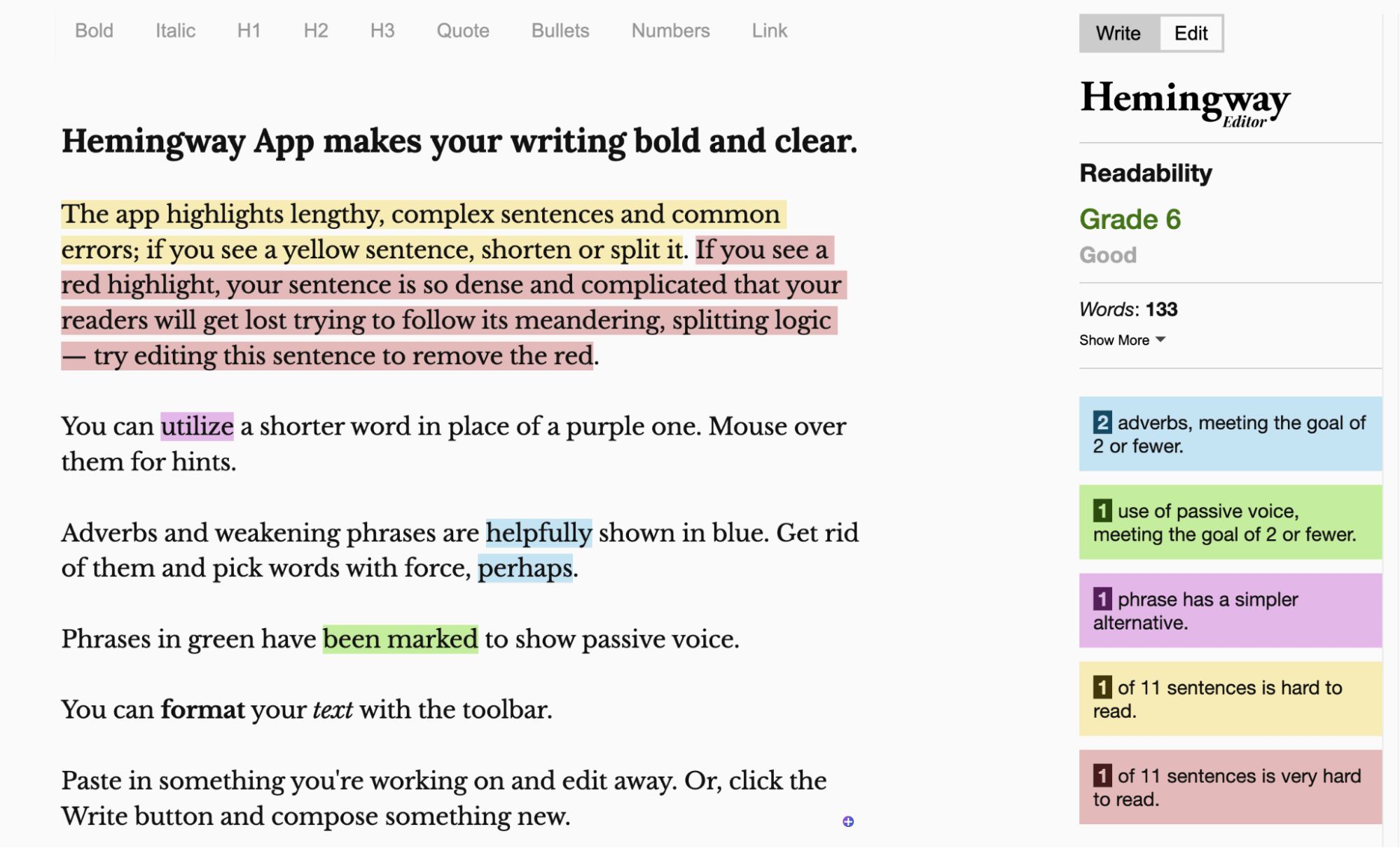 What it is: A text editor that grades your writing using the Flesch-Kincaid Grade Level.
Why I love it: As someone who performs and writes about fairly complex SEO tasks on a near-daily basis, it can be hard to know if my writing is easy to understand for the complete beginner. While the Hemingway App won't necessarily help me break down these complex tasks, it will tell me if my writing is overly complex from a readability standpoint. If it is, I can simplify things more so that nearly anyone can read it. It's up to me to make sure it still makes sense, though.
Price: Free.
Next up, let's look at tools to help you create a content calendar and keep your content organized.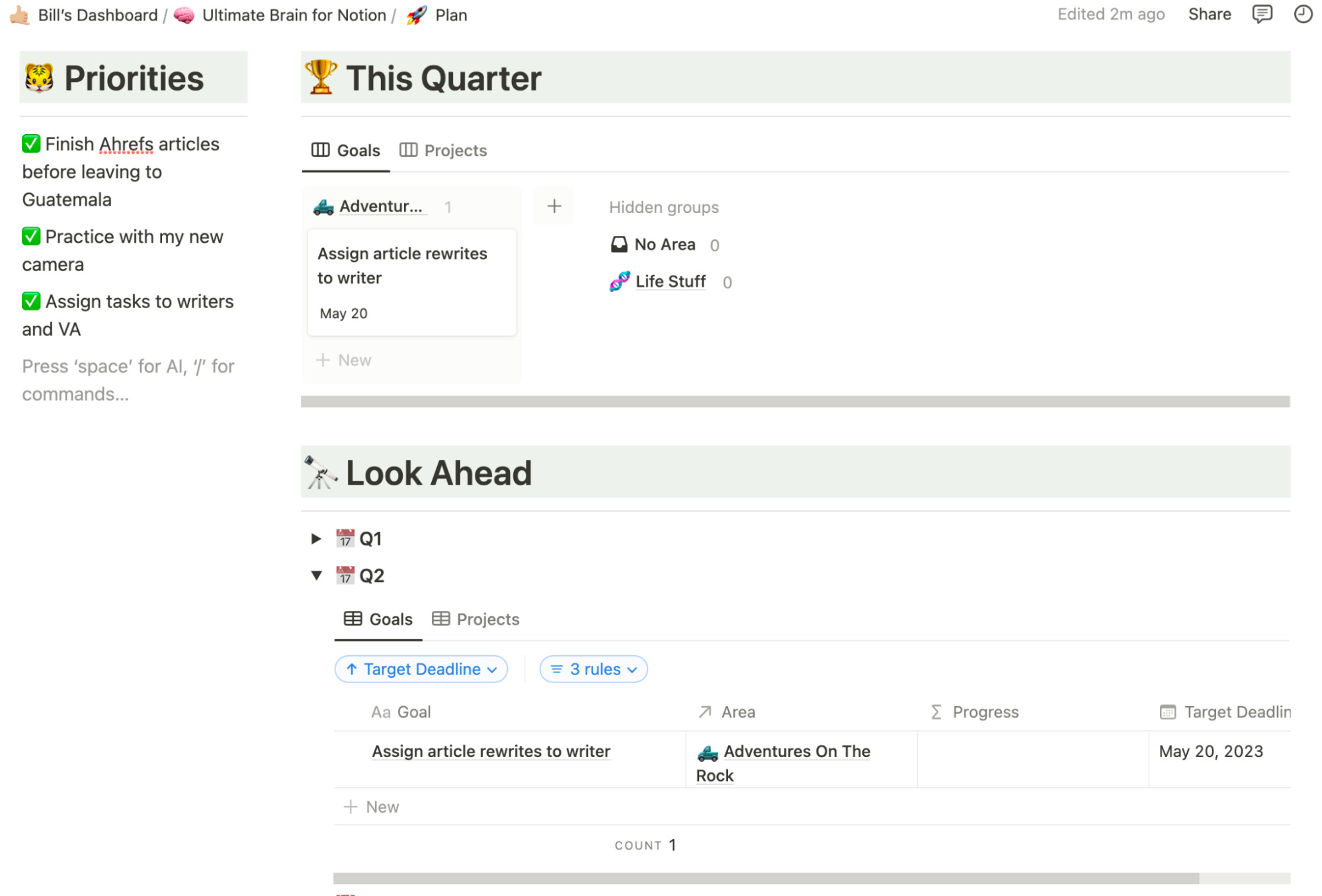 What it is: A productivity software.
Why I love it: Notion is one of the coolest software I've ever used. You can customize it to do almost anything: manage your to-do list, plan a content calendar, collaborate with your team, and much more. I use it to keep track of my projects and goals (both personal and business), plan out my content, journal, take notes about new things I'm learning, and more. I use Thomas Frank's Ultimate Brain template, which has a steep learning curve but totally transformed how I plan my life and business.
Price: Free (premium plans start at $8/month).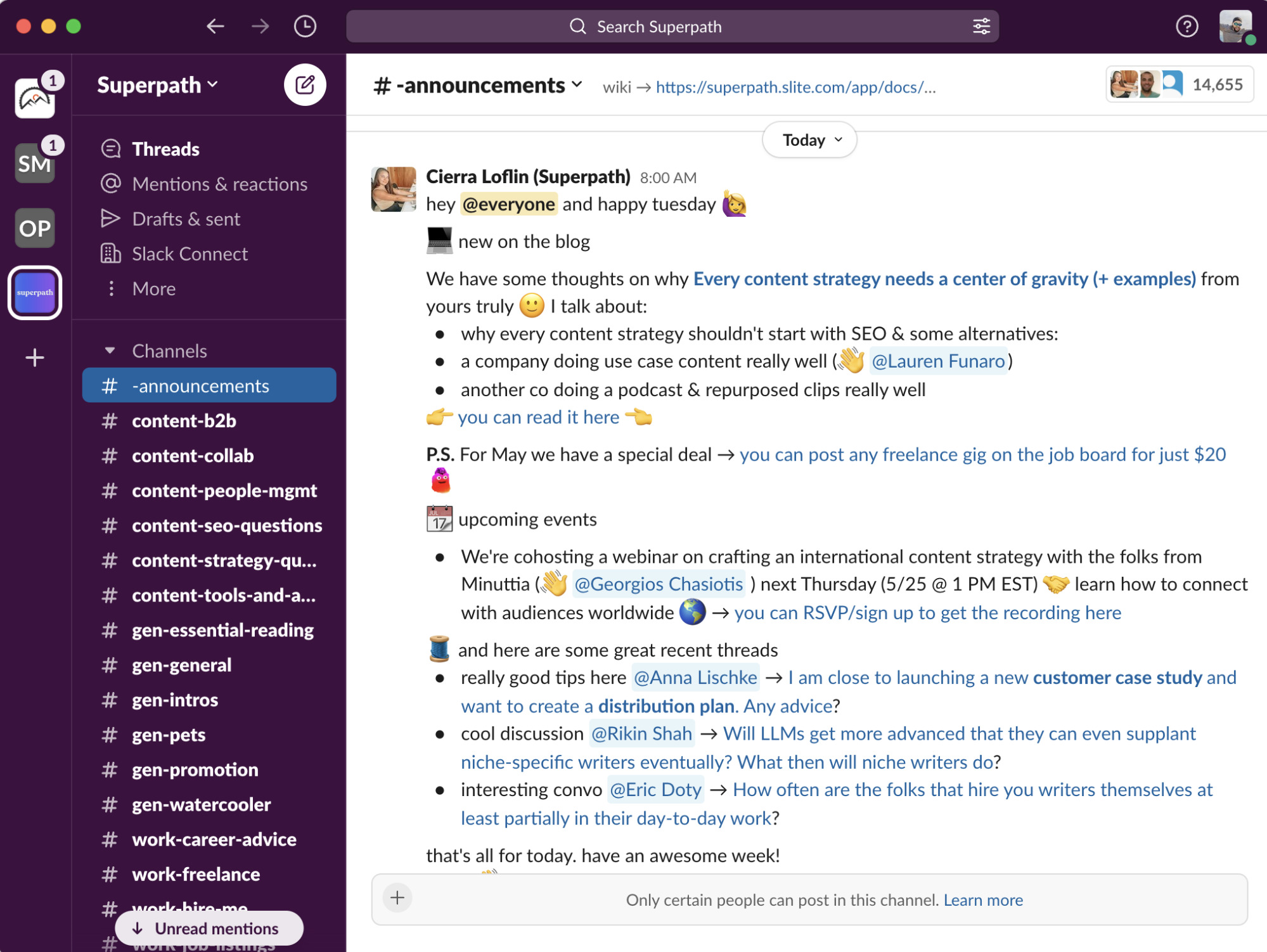 What it is: A messaging app.
Why I love it: I used to use Slack to stay in touch with my team. However, now that I use Notion, we mostly just communicate via that app. Now, I use Slack to join communities with other bloggers and content marketers and keep in touch with masterminds I've met over the years. Check out some of these Slack communities for SEOs.
Price: Free (premium plans start at $7.25/month).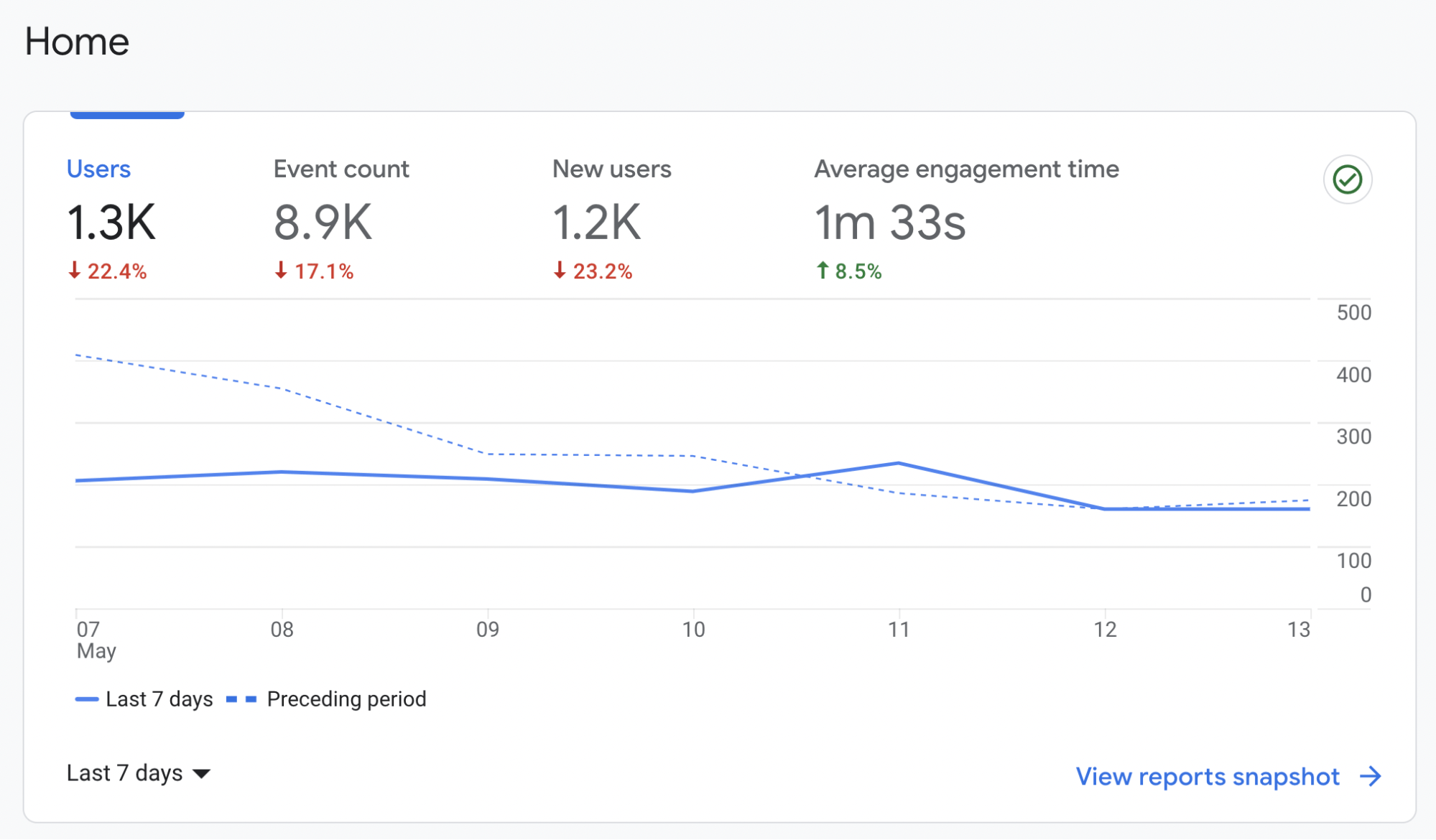 What it is: An analytics dashboard for your website.
Why I love it: Seeing analytics data (e.g., what pages people are visiting on your site, how long they're staying on your site, and where that traffic came from) is important to make informed decisions about what types of content to produce and where to promote your content. I check the analytics at least once a week to see which pages are performing best.
Price: Free.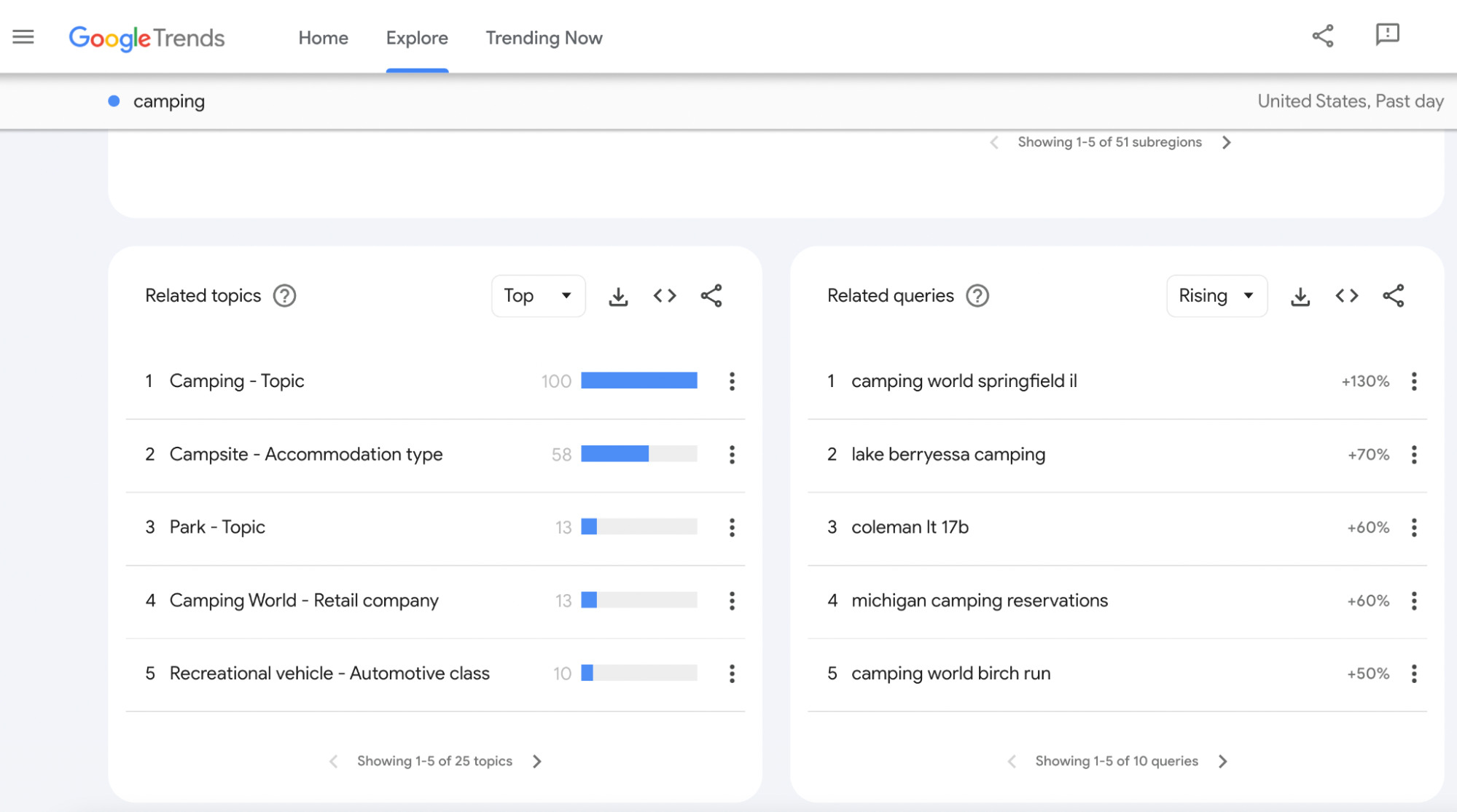 What it does: Shows search trends for topics over time.
Why I love it: It's super useful for finding trending and breakout topics. For example, I was recently looking for new topics for my camping website and found that searches for "lake berryessa camping" have risen 70% in the last 12 months.
Price: Free. 
Search engine optimization and blogging are two peas in a pod. If you want to grow your blog organically, you need to learn SEO. Here are a few tools to help you rank higher on Google:
Ahrefs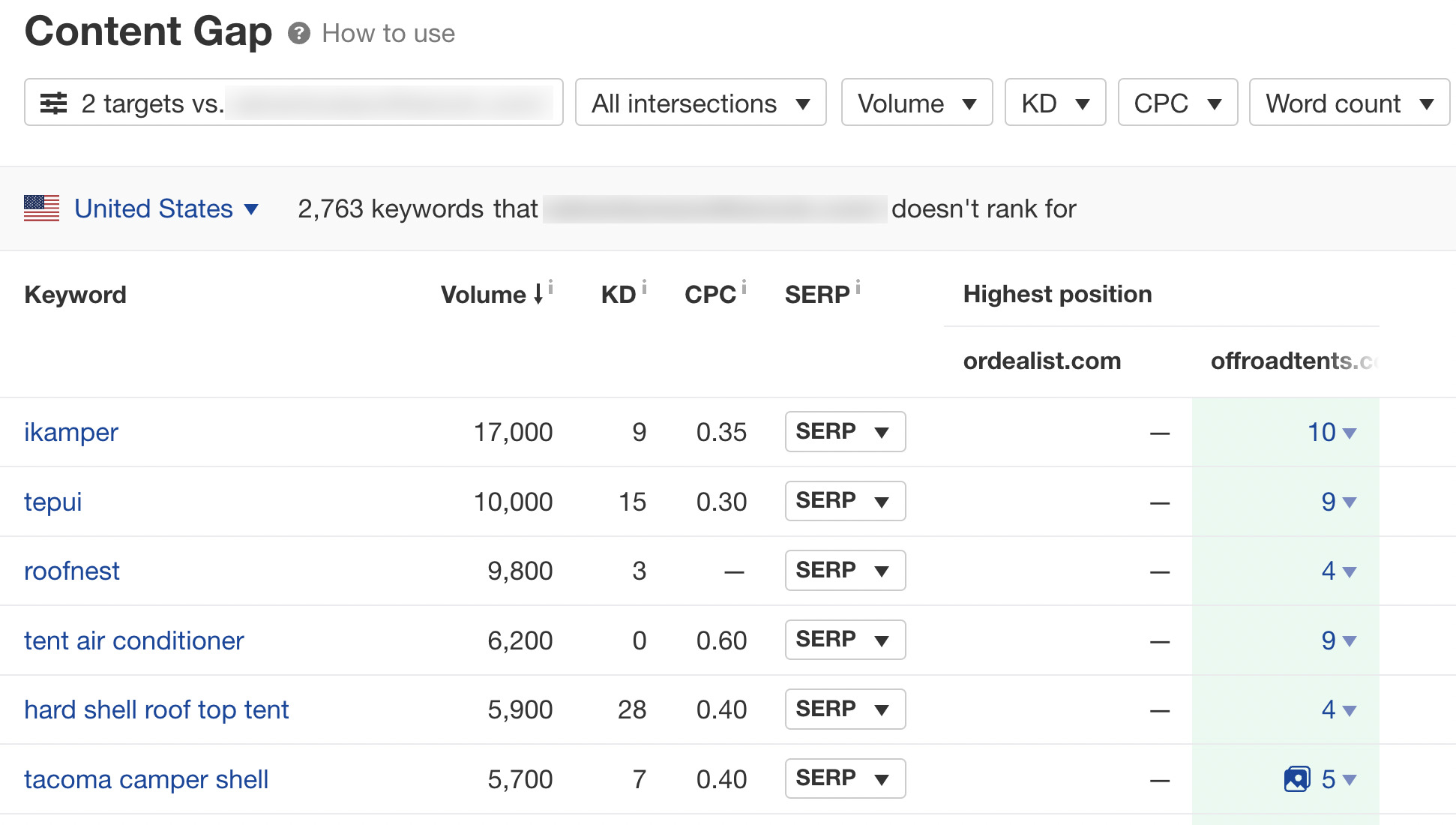 What it is: An all-in-one SEO tool suite.
Why I love it: I use Ahrefs for a lot of things. For me, it's been most useful for keyword research and finding backlink opportunities. My most-used feature of Ahrefs is the Content Gap report within the Site Explorer tool, as shown in the screenshot above. I like to spy on my competitors' keywords to see what they're ranking for that I'm not. Of course, that's just scratching the surface of what Ahrefs can do.
Price: $99+ per month (free tools available).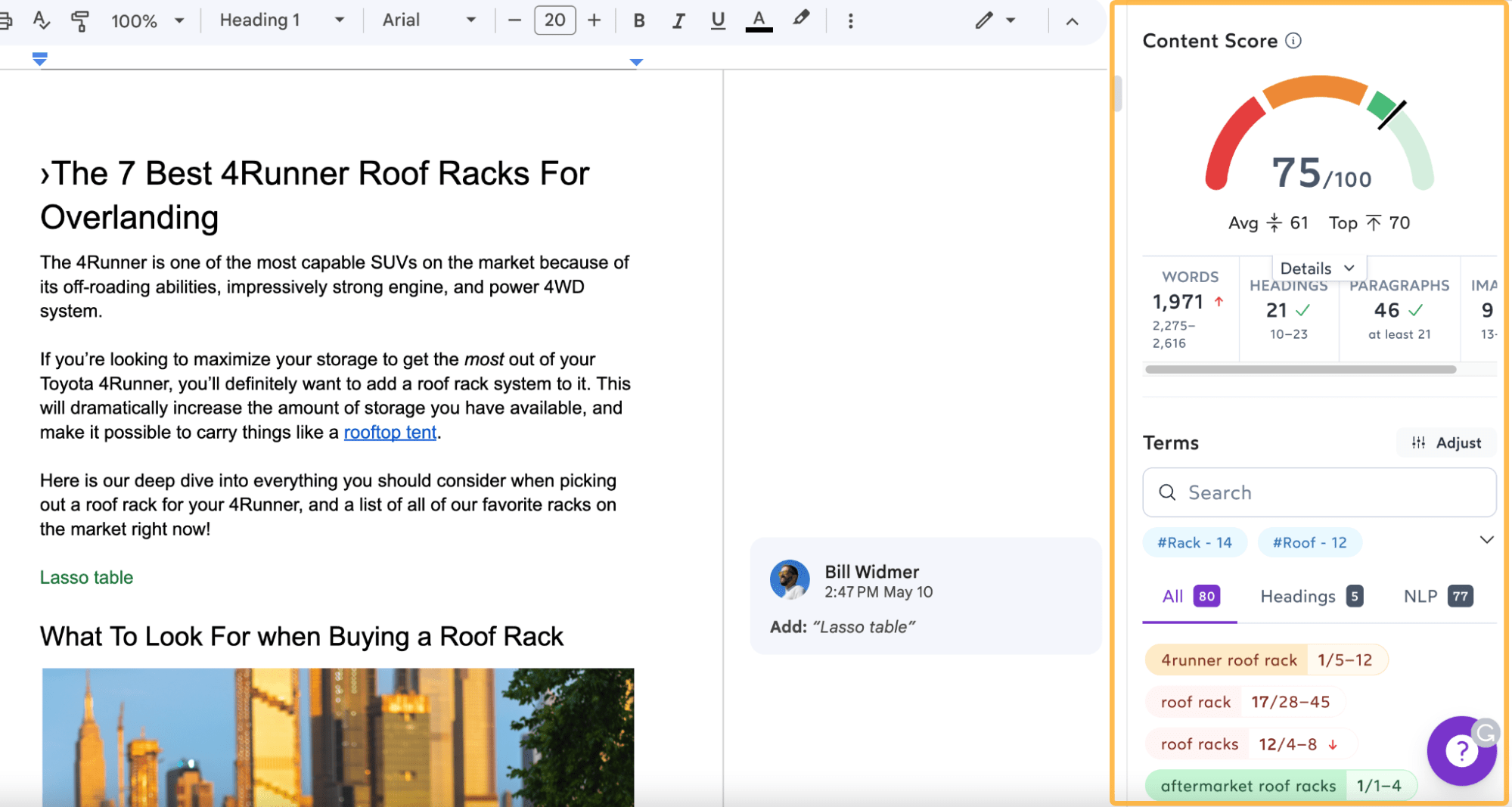 What it is: A software that analyzes current Google search results to score your content based on how well optimized it is compared to competing results.
Why I love it: I use SurferSEO to help me outline my content in a way that is more likely to rank well on Google. It has a content editor with a content score system that goes from 0 to 100 to grade how well optimized your content is for a given keyword (100 being the most well-optimized article). It also has a Chrome extension that lets you use it in combination with Google Docs.
Price: $49+/month (depending on tier).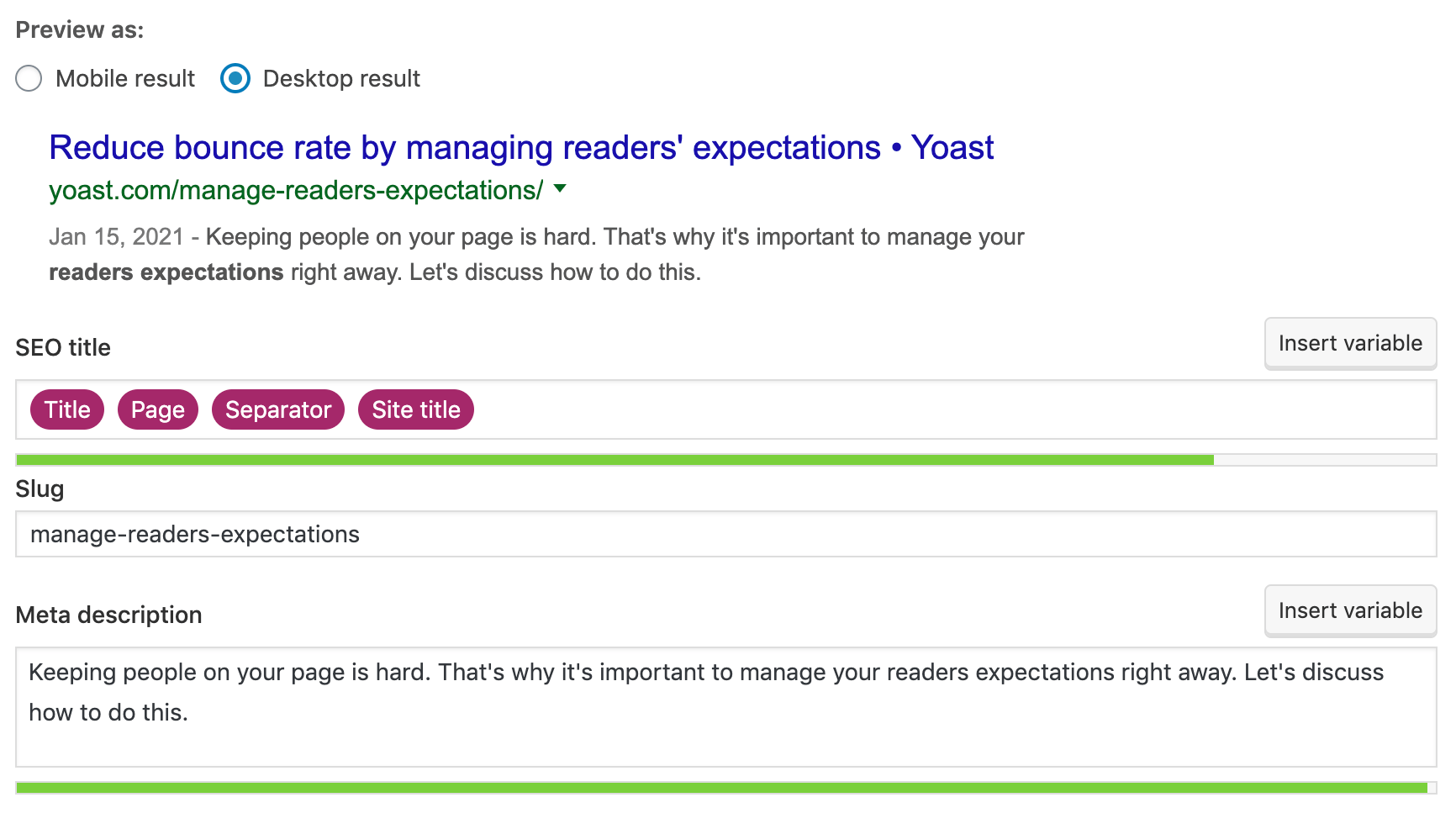 What it is: A WordPress plugin that helps you better optimize your pages for search engines.
Why I love it: Yoast makes it easy to set your page's meta tags, add robots.txt and sitemap files to help Google more easily crawl your site, and quickly see what pages aren't optimized for search.
Price: Free ($99/year for premium).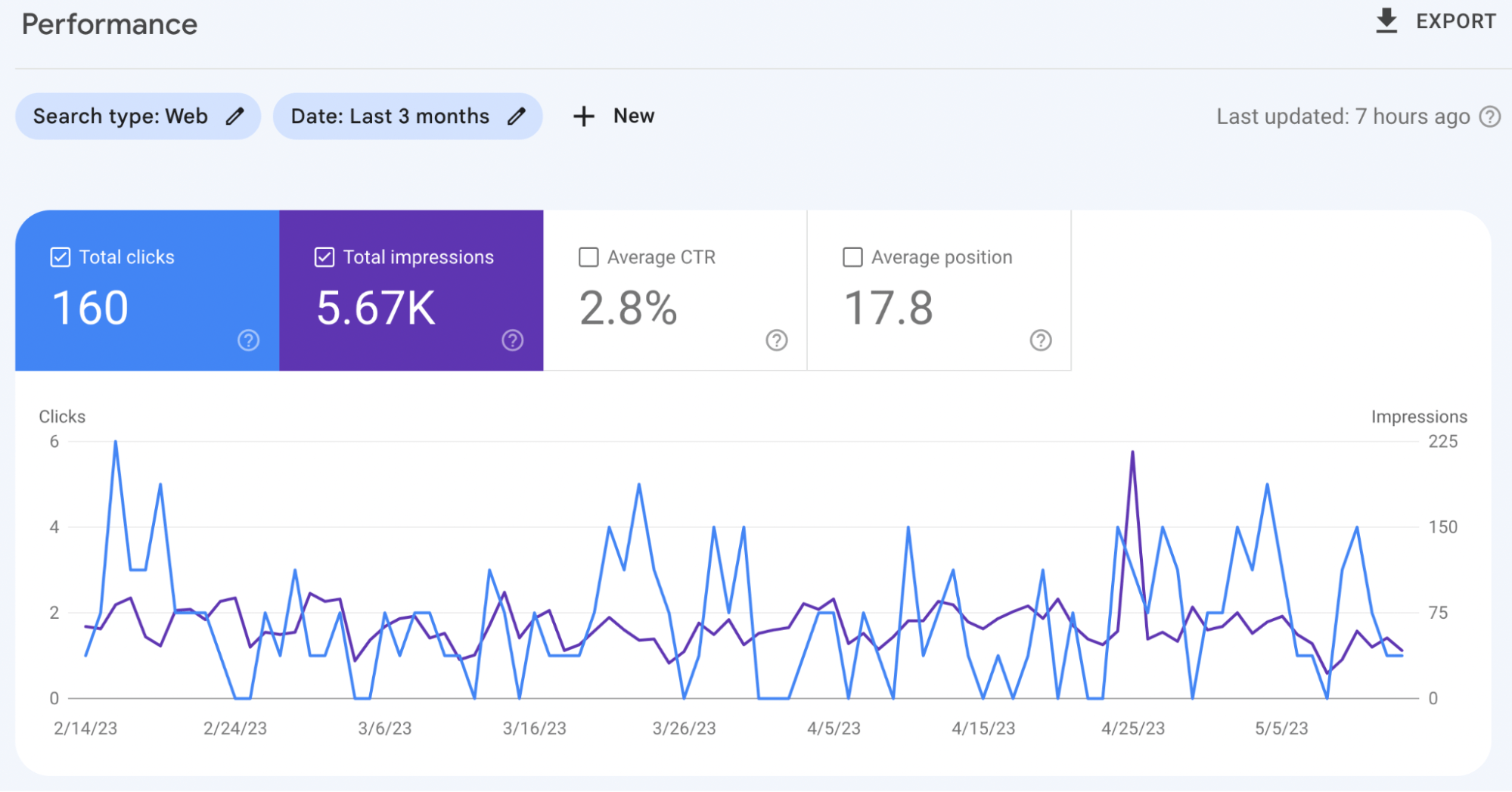 What it is: A tool to monitor and troubleshoot your website's appearance in search results.
Why I love it: I use Google Search Console to help me find pages that are losing traction on the SERPs over time. Just go to the "Performance" report; then for the date, compare the last three months to the previous three months (or longer). Anything that's dropped in traffic should be considered for a content refresh. I also use it to keep tabs on my site's performance in general and see if it has any issues like not passing Core Web Vitals.
Price: Free.

What it is: A software that finds common questions people ask on Google that are relevant to a given search query.
Why I love it: I use ATP to ensure I'm addressing all the common frequently asked questions people have around a given topic when I'm writing an article. It also helps me to show up as the answer for People Also Ask questions on Google.
Price: Free (premium plans start at $9 per month).

What it is: A tool to see at a glance if your meta title and description are too short, too long, or just right.
Why I love it: I use it to make sure my title tags won't be truncated (cut off) in the Google search results. If your title tag is too long (or too short), you can see it with this tool and adjust it accordingly.
Price: Free.
Let's face it—there are only 24 hours in a day. You don't want to waste your time manually sharing every blog post on social media or sending individual emails, do you? These tools will automate some of those time-consuming tasks for you.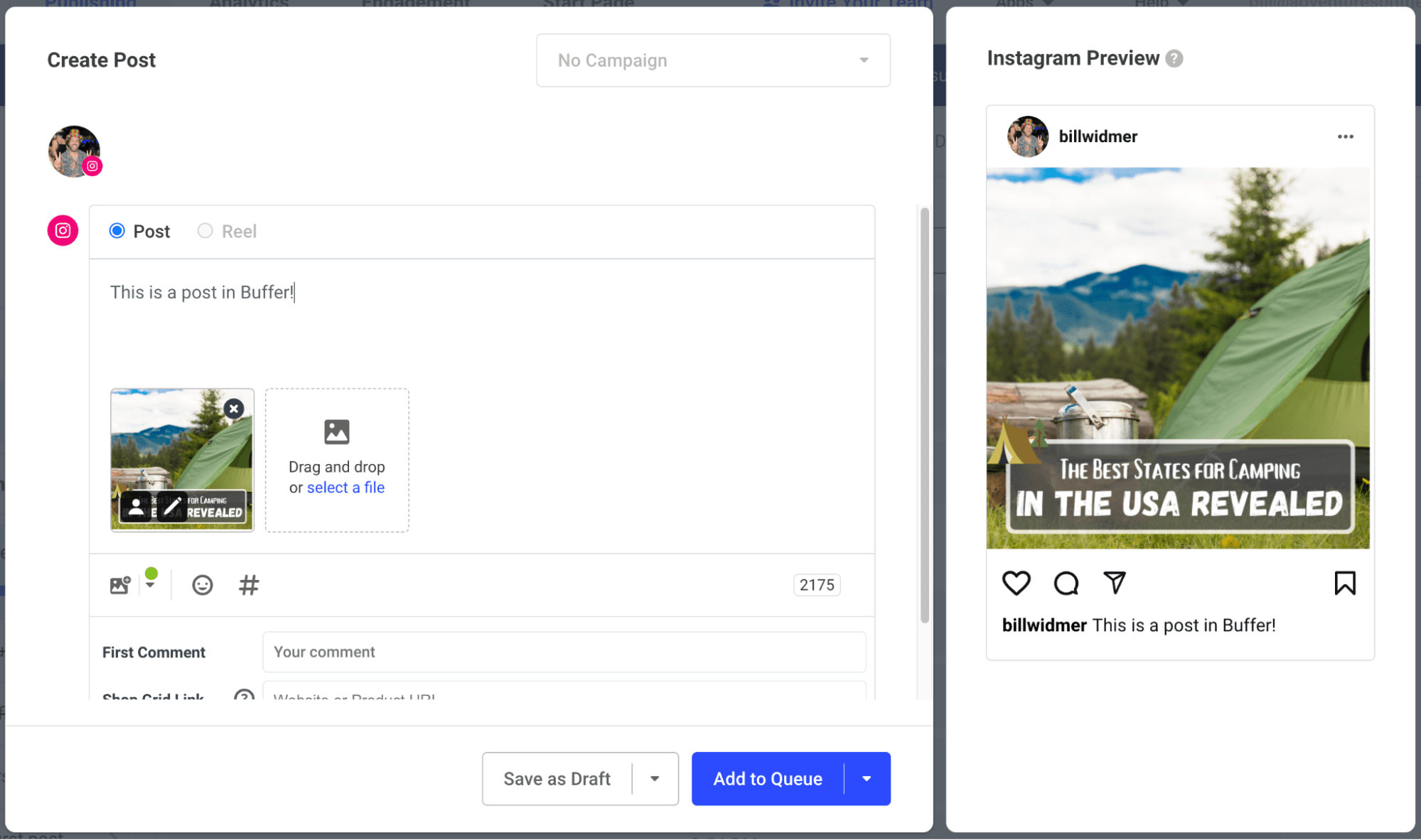 What it is: A social media scheduling tool.
Why I love it: Posting the same thing to four different social media channels is both a pain and a waste of time. Buffer makes it so that I can push updates across channels from one dashboard and see how they're performing without logging in and posting from each channel separately. I also hired a freelancer and trained her to schedule all my blog posts to all my channels on Buffer for a double-whammy of time-saving awesomeness.
Price: Free (premium plans start at $6/month per channel).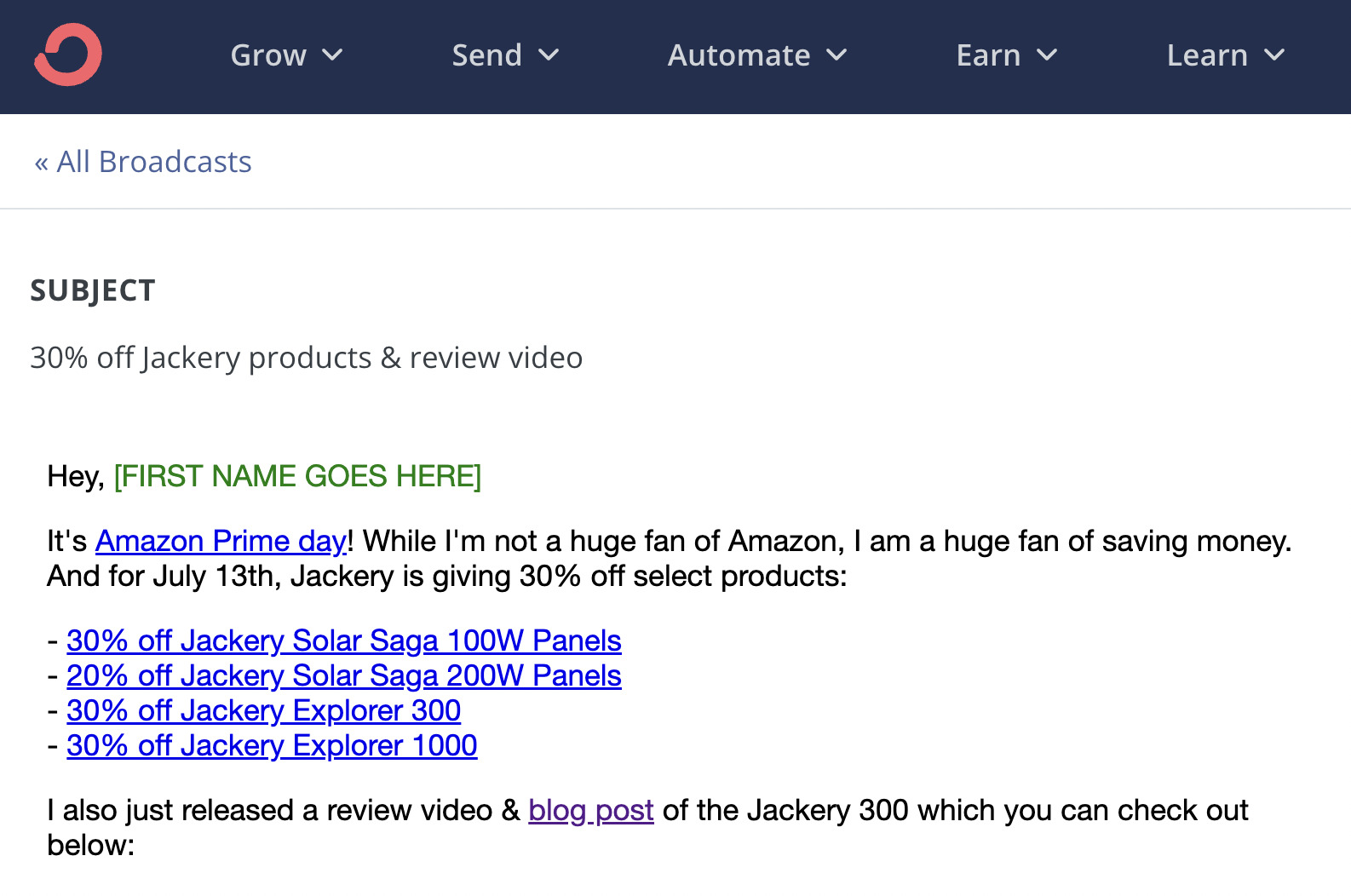 What it is: An email newsletter automation tool.
Why I love it: I love the fact that ConvertKit is extremely intuitive and easy to use. I've tried Mailchimp, BirdSend, and a handful of other email marketing tools—none of them were as simple as ConvertKit. I also love that its powerful automation features allow me to set up custom email drip campaigns that are tailored to individual segments of my audience, which increases engagement rates by allowing me to create highly personalized emails.
Price: Free up to 300 subscribers (then starts at $9/month).

What it is: An automation API.
Why I love it: What's not to love about automation? I use Zapier to send me an email when someone fills out one of my Typeforms to inquire about my services, but you can do a lot with it. Check out its list of use-case examples to get ideas.
Price: Free up to 100 tasks/month (starts at $19.99/month for paid plans).
Last but not least, I have a suite of tools I use to create images, videos, screenshots, and more.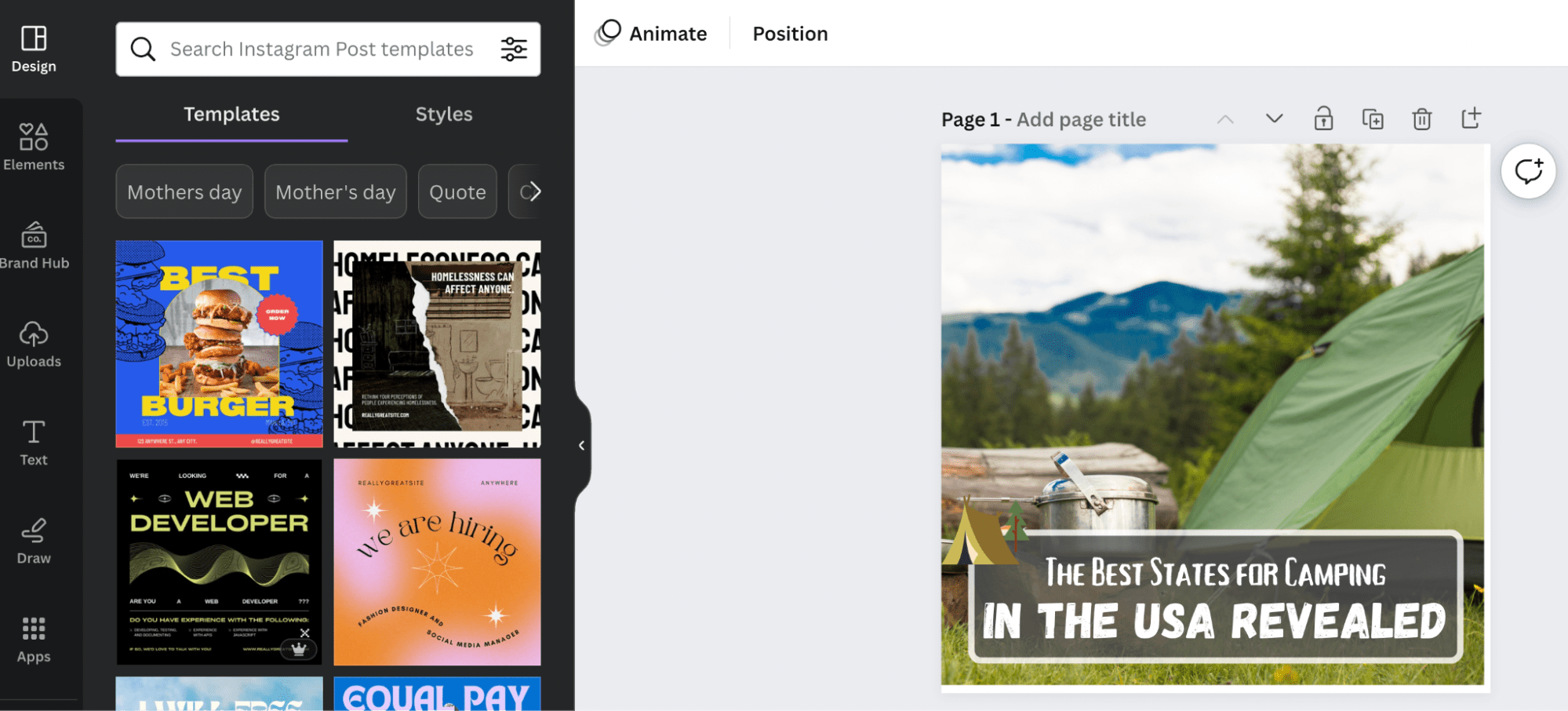 What it is: A drag-and-drop image editor.
Why I love it: I use Canva to create featured images and social media share images for all of my blog posts. It's incredibly easy and intuitive for a non-designer like myself to create high-quality graphics that look professionally made. It also has an AI photo editor to automate—or at least assist in—the process.
Price: Free ($12.99/month or $119.99/year for premium).
What it is: A screen capturing and editing tool.
Why I love it: I've used a lot of screen capture tools, and this one has been by far the best. We use it at Ahrefs for all of our screen captures to show you how to use our tools. I also use it in my blogs to add extra information when needed and in my standard operating procedures for freelancers.
Price: $62.99 (free trial available).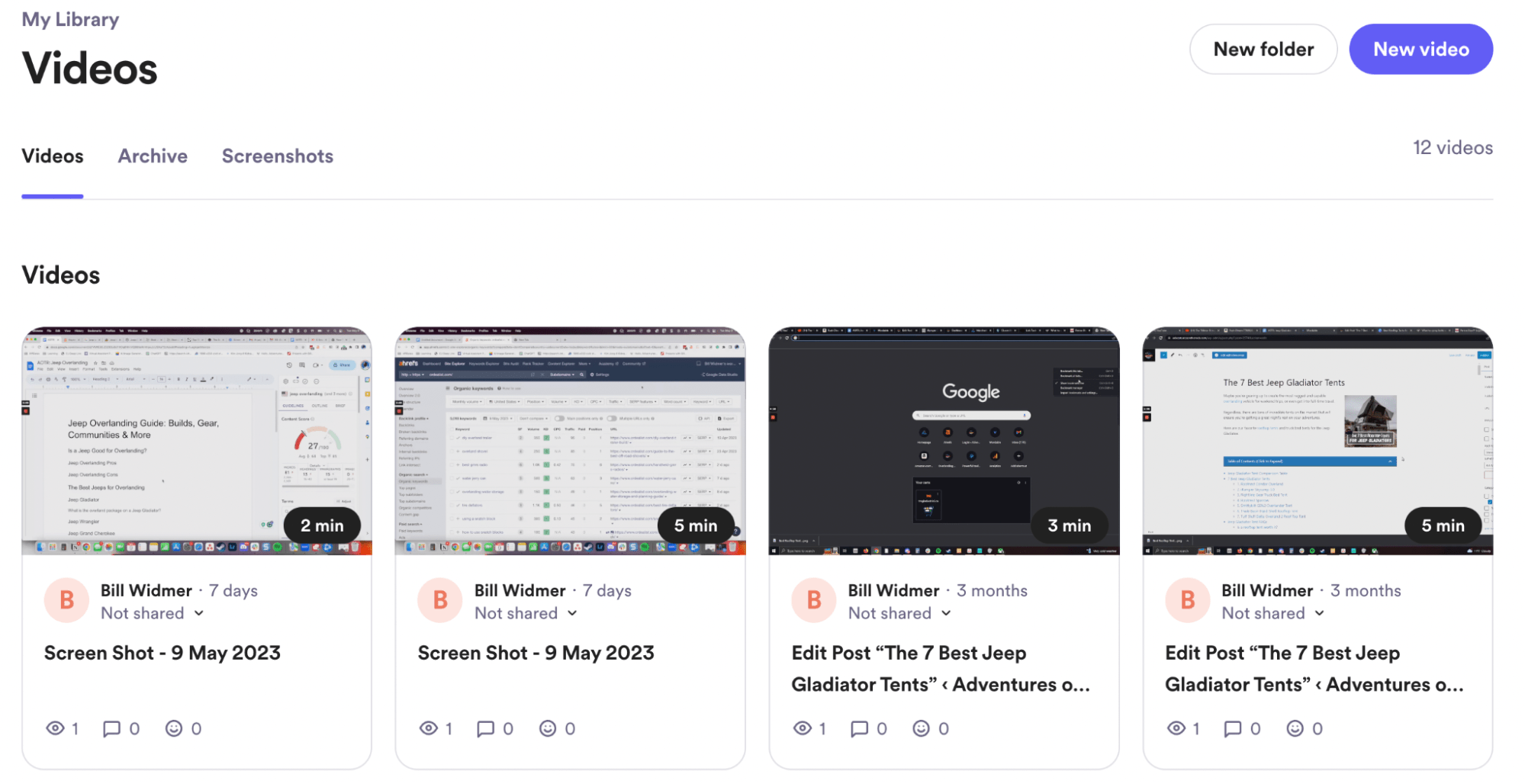 What it is: A screen recording tool.
Why I love it: It's simply the easiest way to record your screen and share it with your team, blog readers, or whoever. I use it to record tutorials, how-tos, and other videos to help my employees learn SOPs and to show exactly how to do certain tasks in my YouTube videos.
Price: Free (unlimited video starts at $8/month).
What it is: An audio and video editor.
Why I love it: Descript is much more powerful than a simple audio or video editor—it has cutting-edge AI software that allows you to do things like "greenscreen" any background, remove all the "ums" and "uhs" from your audio, and easily rearrange clips. It even has an AI tool that can clone your voice in case you forget to say something. Pretty cool if you ask me.
Price: Free (paid plans start at $12/month).
What it is: An AI image generator. Duh.
Why I love it: It's fun to create totally unique custom images for your blog posts based on text prompts using AI. While it's not great yet, it's come a long way and soon will be able to create photo-realistic images to use in your content. I also use it to occasionally give me fun things to share on Instagram.
Price: Free ($12.99/month or $119.99/year for premium).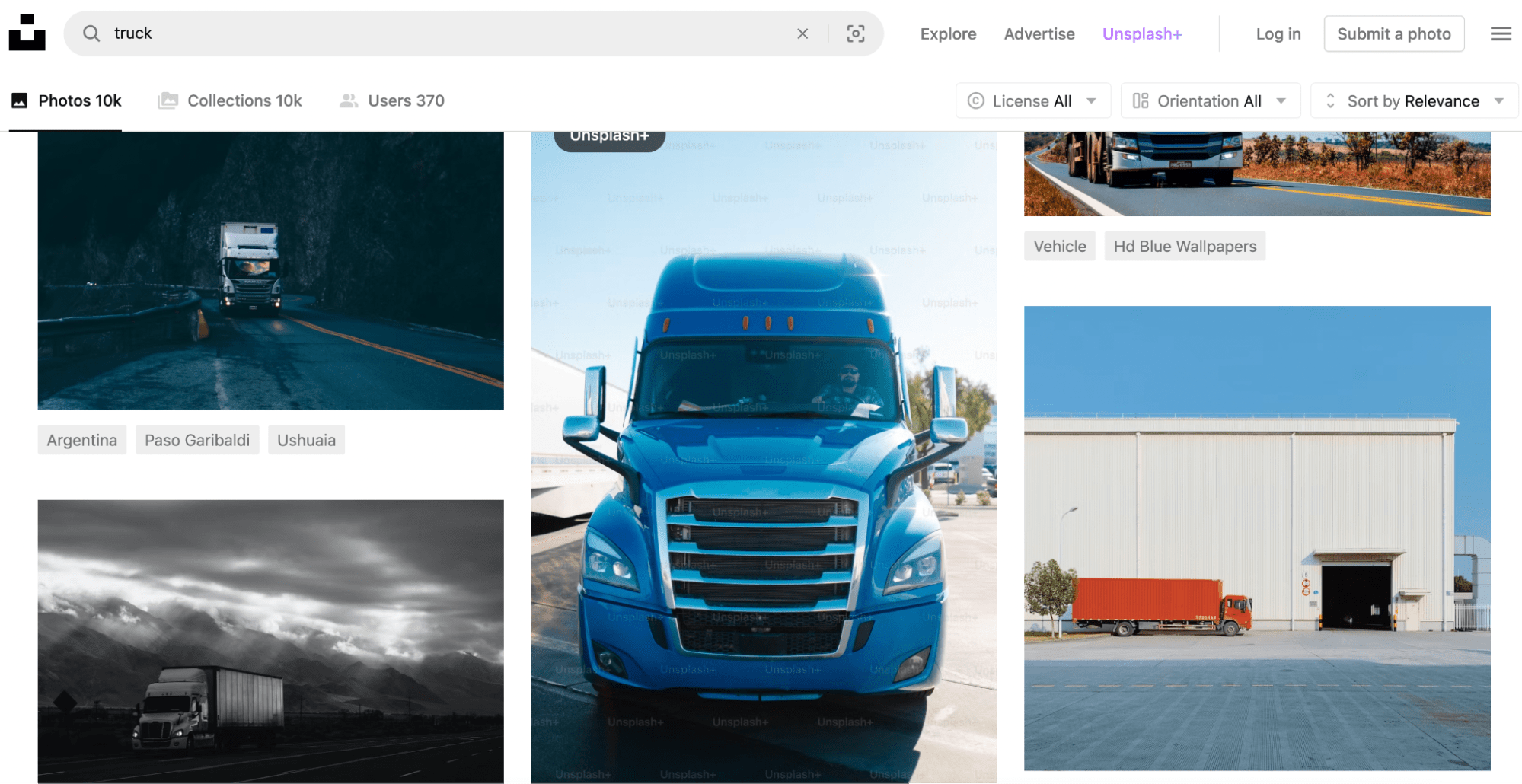 What it is: A free-to-use, high-quality stock image library.
Why I love it: I use Unsplash to find high-quality photos to use in the Canva graphics I create for my blog posts—such as featured images and photos to visually show what I'm discussing in the text. I used an image of a truck on my page about truck driver statistics, for example.
Price: Free.
Final thoughts
Having the right tools for blogging can help you produce better content faster, get more out of your blog articles, and grow at an exponential rate.
The tools in this guide are the ones I've personally used and, in my opinion, are worth investing in (if you have the need for what they do).
Questions or comments? Ping me on Twitter.