20 Lesser-Known (Yet Powerful) Ahrefs Hacks
March 20, 2023
Even if you're familiar with Ahrefs, you probably use one or two tools on a daily basis. But there are more you're missing out on.
To help you get the most out of Ahrefs, we've put together 20 lesser-known use cases that can immediately enhance your SEO efforts.
Are you wondering what people around the world are searching for the most?
Run an empty search in Ahrefs' Keywords Explorer and gain access to 19.2 billion keywords across 200+ countries and regions. The U.S. keyword database alone counts ~4.5 billion keywords (the largest one in the whole industry).

From here, you can use a couple of filters to find high-volume, low-competition keywords in a matter of seconds.
For example, let's search for topics with these:
Keyword Difficulty: up to 20
Search volume: between 5,000 and 10,000 visits/month
Word count: max. 3 words
Once we've done so, our list is narrowed down to ~198,000 lucrative keywords.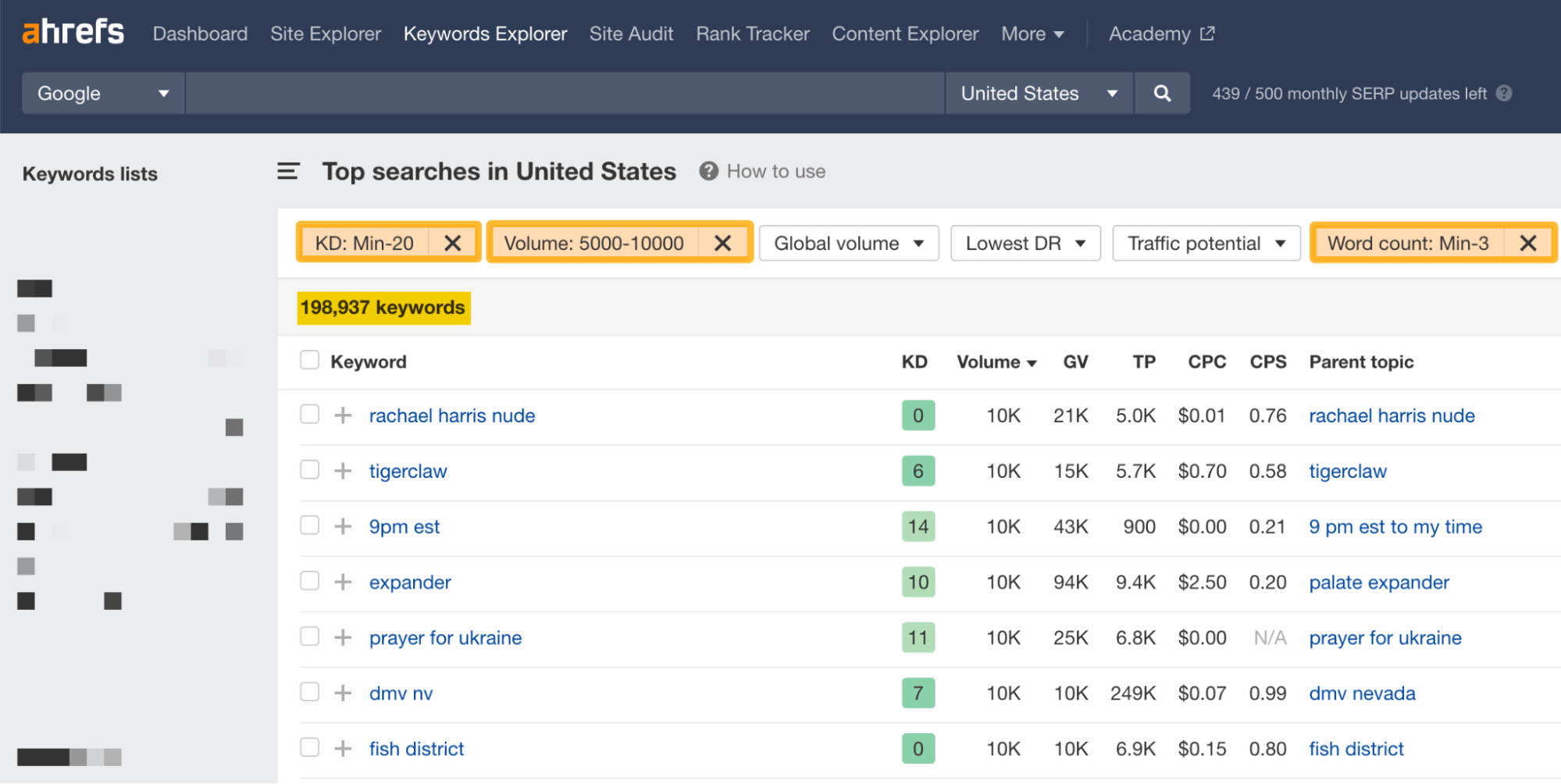 Rinse and repeat for your target country.
Let's say you have the following keywords:

They seem to be the same topic. But how do you know whether you should target them with a single page or create separate pages?
We can find out by checking whether Google ranks similar search results for them.
There are two easy ways to see how their SERPs overlap:
A. Put the keywords in Keywords Explorer and go to the Traffic share by pages report.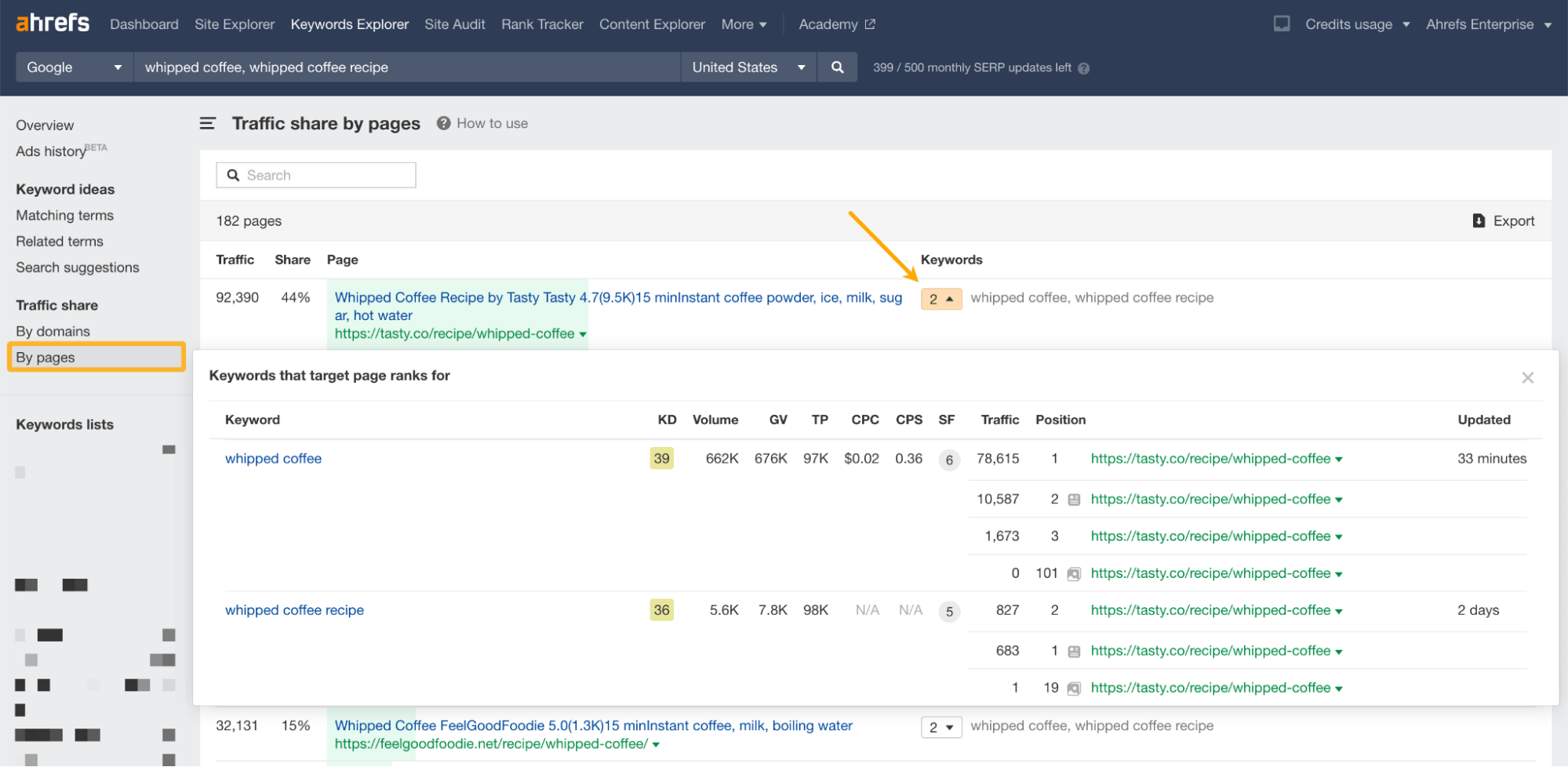 B. Use the SERP comparison tool under the SERP overview.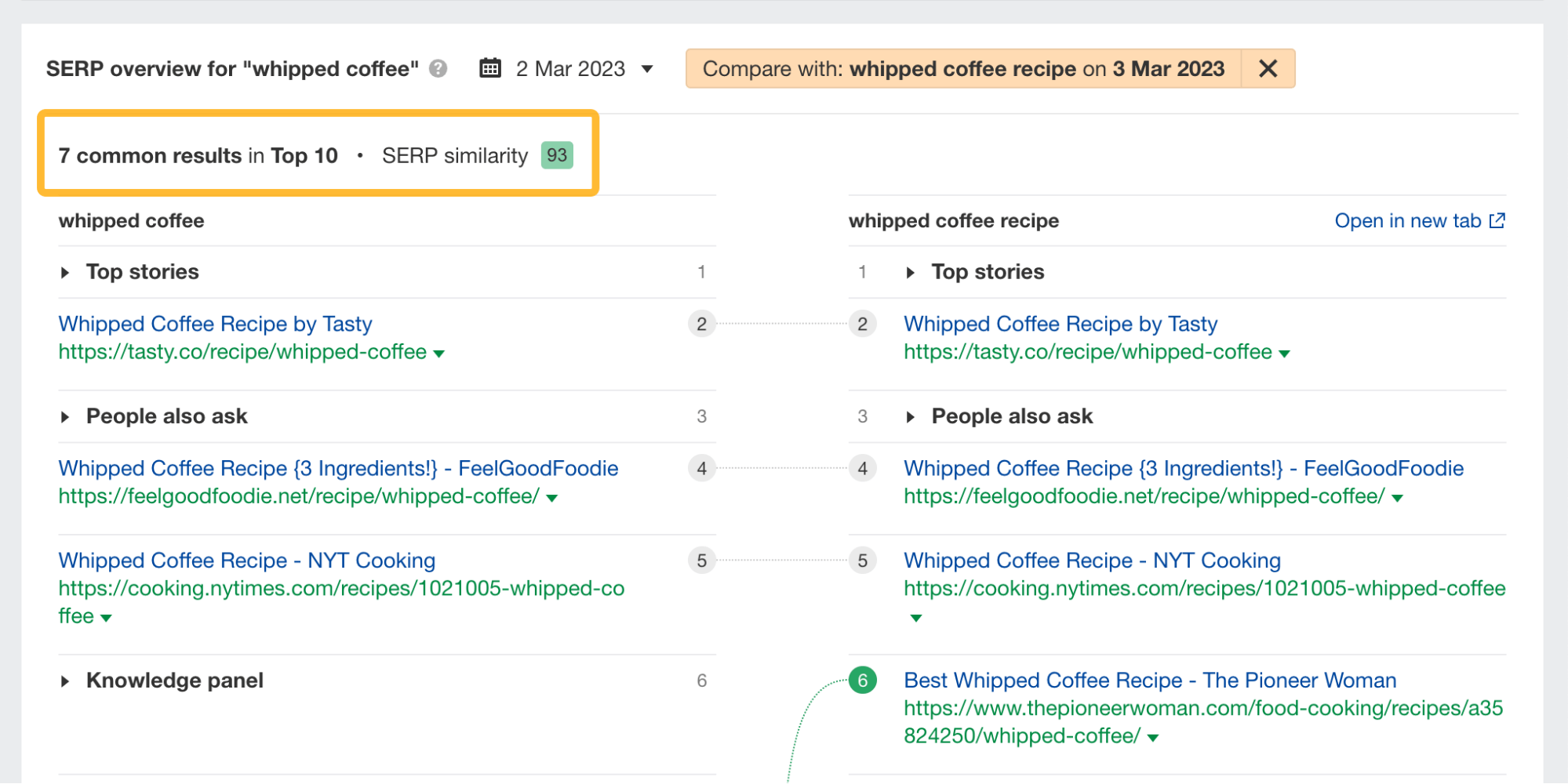 It looks like the top-ranking pages for both keywords are nearly identical (7/10 common results). Something also indicated by our SERP similarity score.
This likely means that Google sees "whipped coffee recipe" as a subtopic of a more general query, "whipped coffee." Which means you can likely rank for both keywords with a single page.
If your competitors publish a ton of content frequently, it may be difficult to compete with them.
You can find out if that is the case by using the Top pages report in Site Explorer: (1) filter for newly created pages, then (2) use the comparison mode to compare the current output of pages with, say, the one from three months ago.
By following these exact steps, it looks like our content writers have created over 200 pages for the Ahrefs blog in the past three months.
You can also consider using this as an argument to ask for a budget raise and build a larger content team.

If you're a link builder, one of your main strategies is likely to reverse engineer your competitors' link building tactics.
Rather than going through every backlink your competitor has, you can get quicker wins by filtering the backlinks by domain traffic. This weeds out links from low-quality websites.
For example, there are 760 links pointing at HubSpot's #1 result for the keyword "seo tools":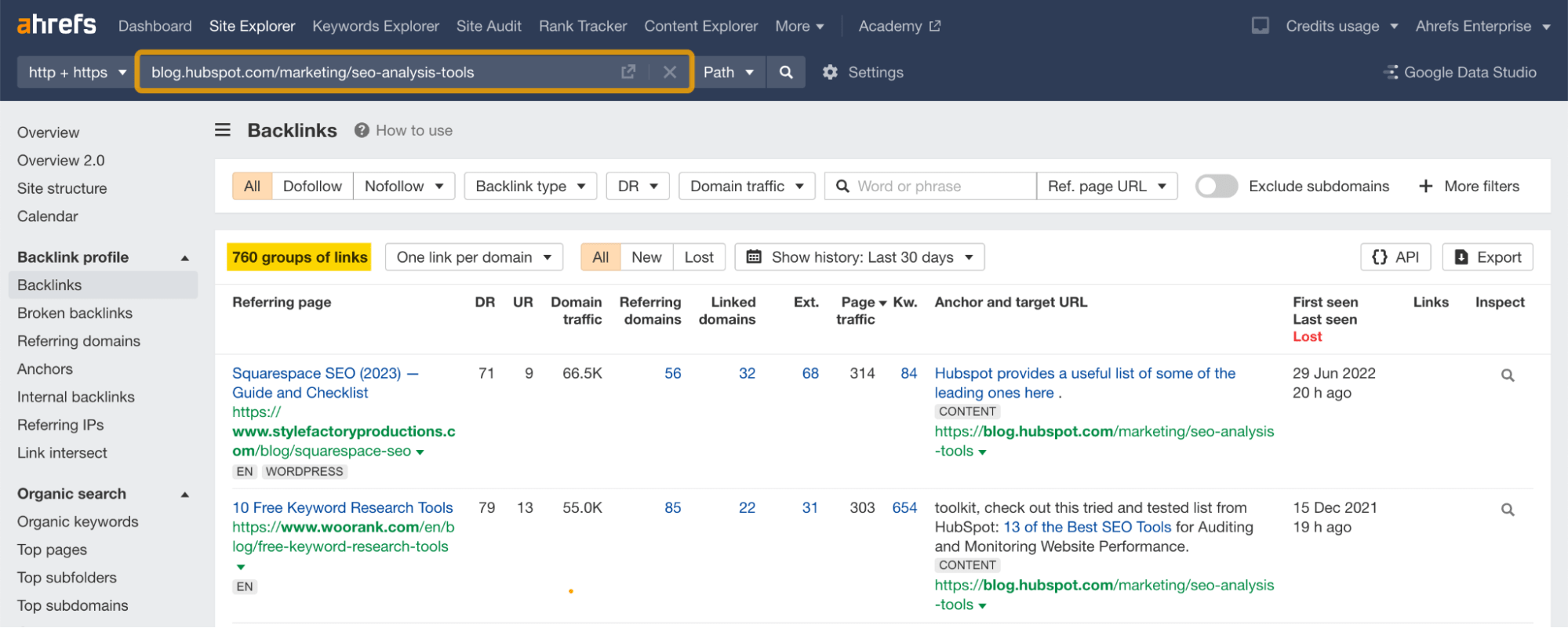 We have a post targeting the same topic ranking #3. If we want to rank higher on Google, we can prioritize our link building efforts by reaching out only to the websites that get at least 5,000 search visits per month. This gives us a manageable list of 90 websites.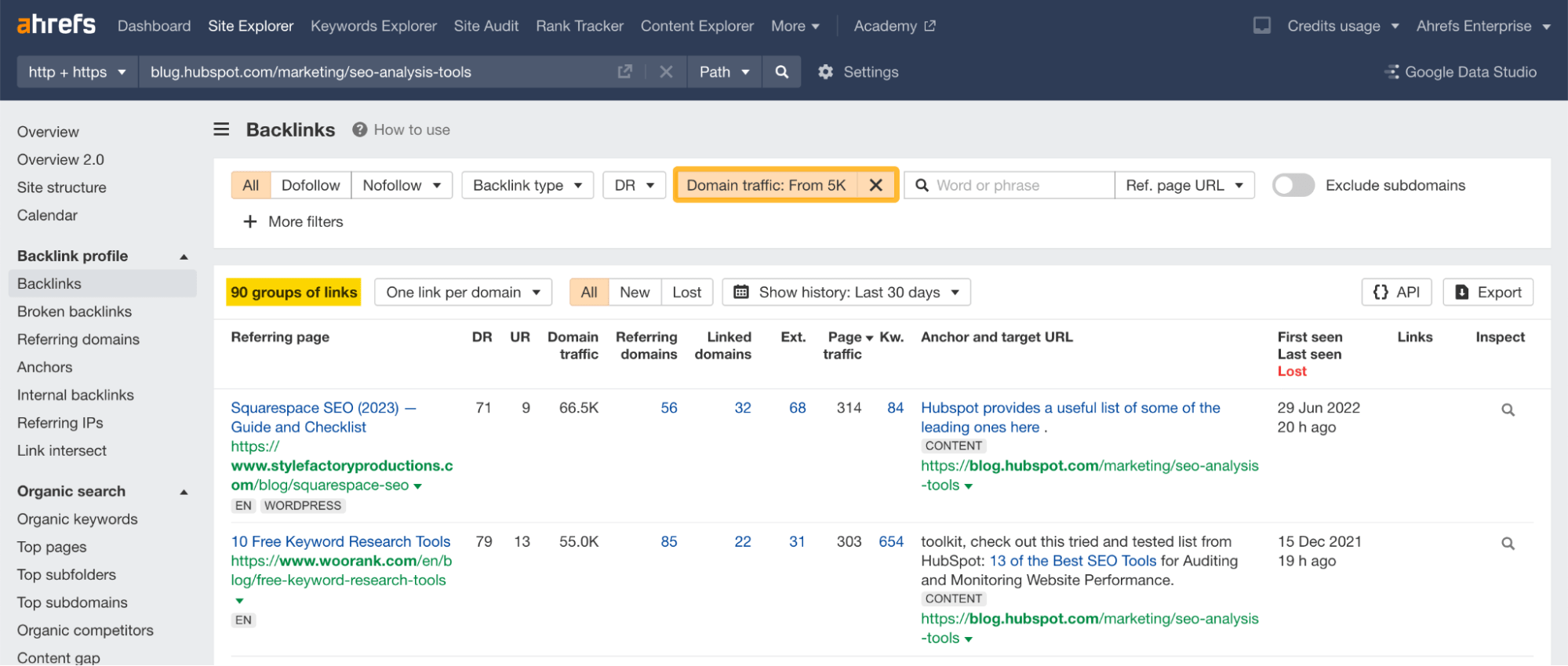 Podcasts are a great way to build both backlinks and authority in your industry. 
To find potential podcasts to be interviewed on, enter the Twitter URL of a regular podcast guest in your industry. 
We're using Twitter profiles because the host usually links to a guest's social accounts.
For example, Rand Fishkin is a popular marketer and entrepreneur who has been featured on many podcasts. So I'll paste his Twitter profile URL into Site Explorer and head to the Backlinks report. 
To narrow in only on podcasts, set a filter to show referring page titles that contain words like "episode" or "podcast." And right away, we've found over 160 podcasts!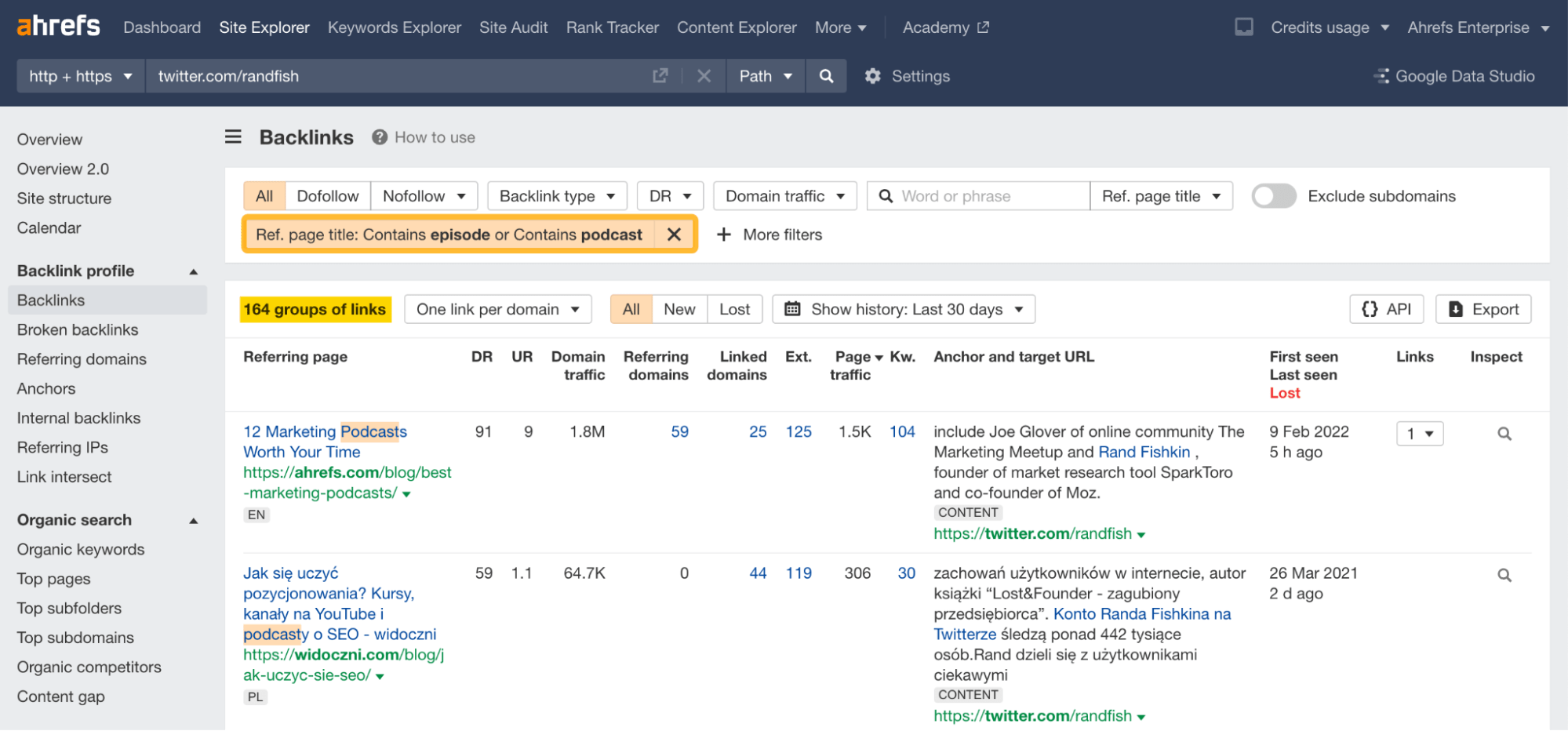 Repeat this for other regular podcast interviewees in your industry and find tons of podcasts to pitch yourself to.
Thanks to its simplicity and scalability, resource page link building is still one of the most popular link building tactics.
The tactic works by acquiring backlinks from webpages that curate useful industry resources. 
And what better way to find them than to look at what resource pages your competitor has links to?
For example, let's check moz.com's backlink profile under the Backlinks report. But this time, I will filter for the referring page URLs that contain "resources.html" and "resources.php."
Here, we have 250 links; we can potentially reach out to their site owners and request them to include Ahrefs as a resource.
Gain valuable insights on what pages (product pages, category pages, etc.) bring the most organic traffic to your competitors.
Use the Organic pages by traffic chart under Overview 2.0 to see pages distributed by their organic search traffic.
For example, six pages are responsible for almost 25% of the traffic coming to Ahrefs' blog. If you were a direct competitor, you could potentially compete with us and replicate those pages.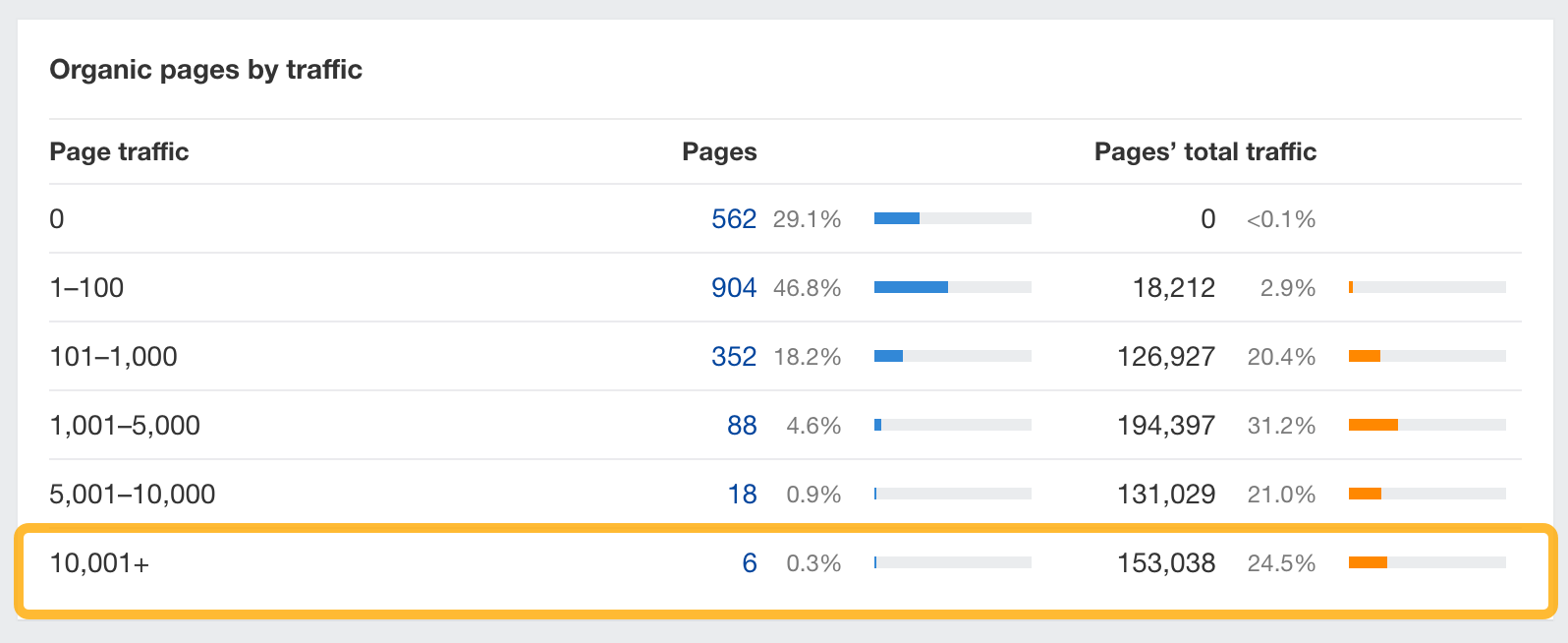 Low-competition topics with high traffic potential are the dream of every content marketer (especially those in saturated markets). But how can you discover such low-hanging fruits?
Just open Ahrefs' Content Explorer, search for a broad topic like "backpacking," and apply these two filters:
Referring domains: Up to 5
Page traffic: At least 1,000
This gives me a list of relevant pages that get lots of organic traffic and are easy to rank for.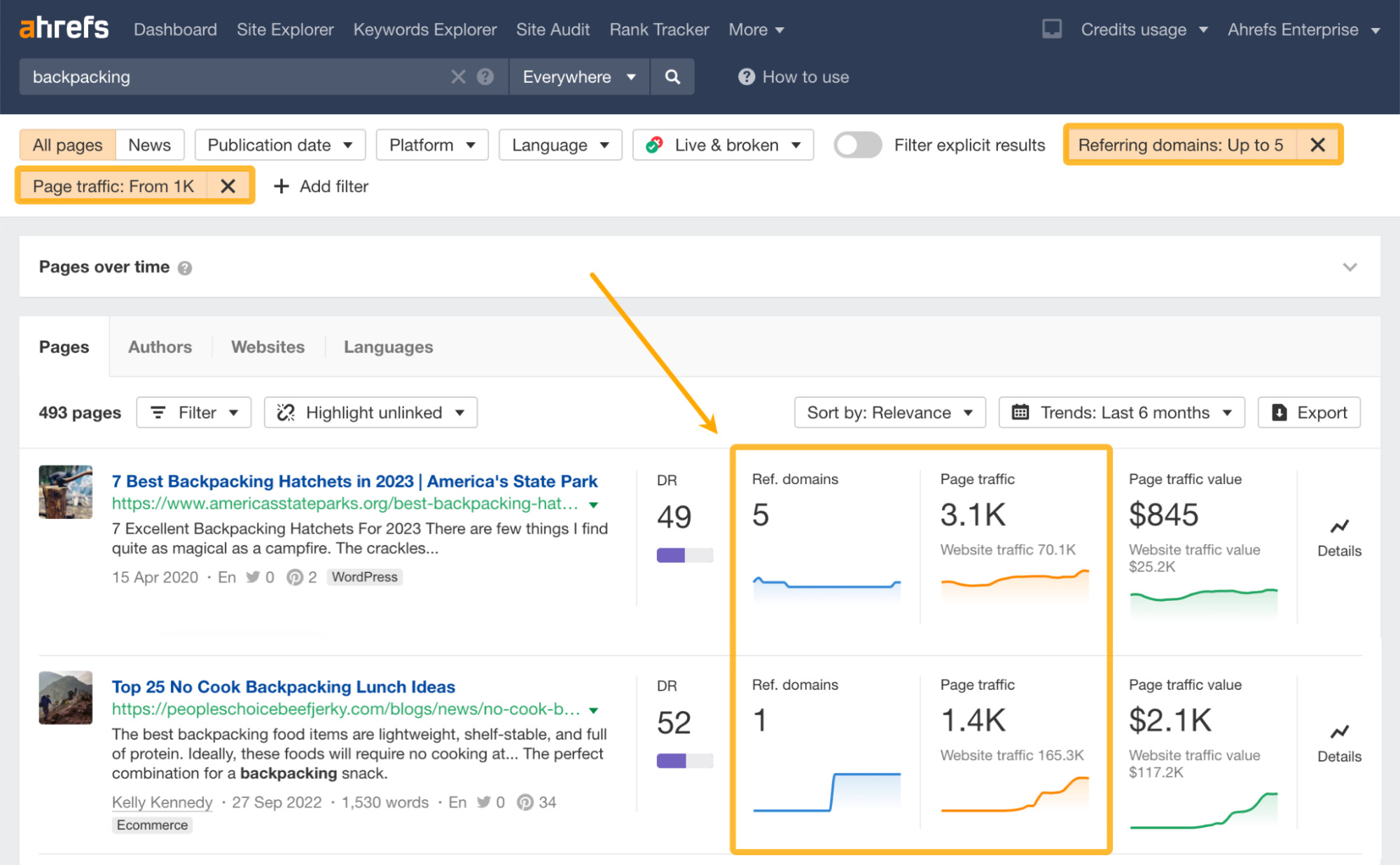 From here, you can dig further into the keywords driving the organic traffic and fill your content calendar for months to come.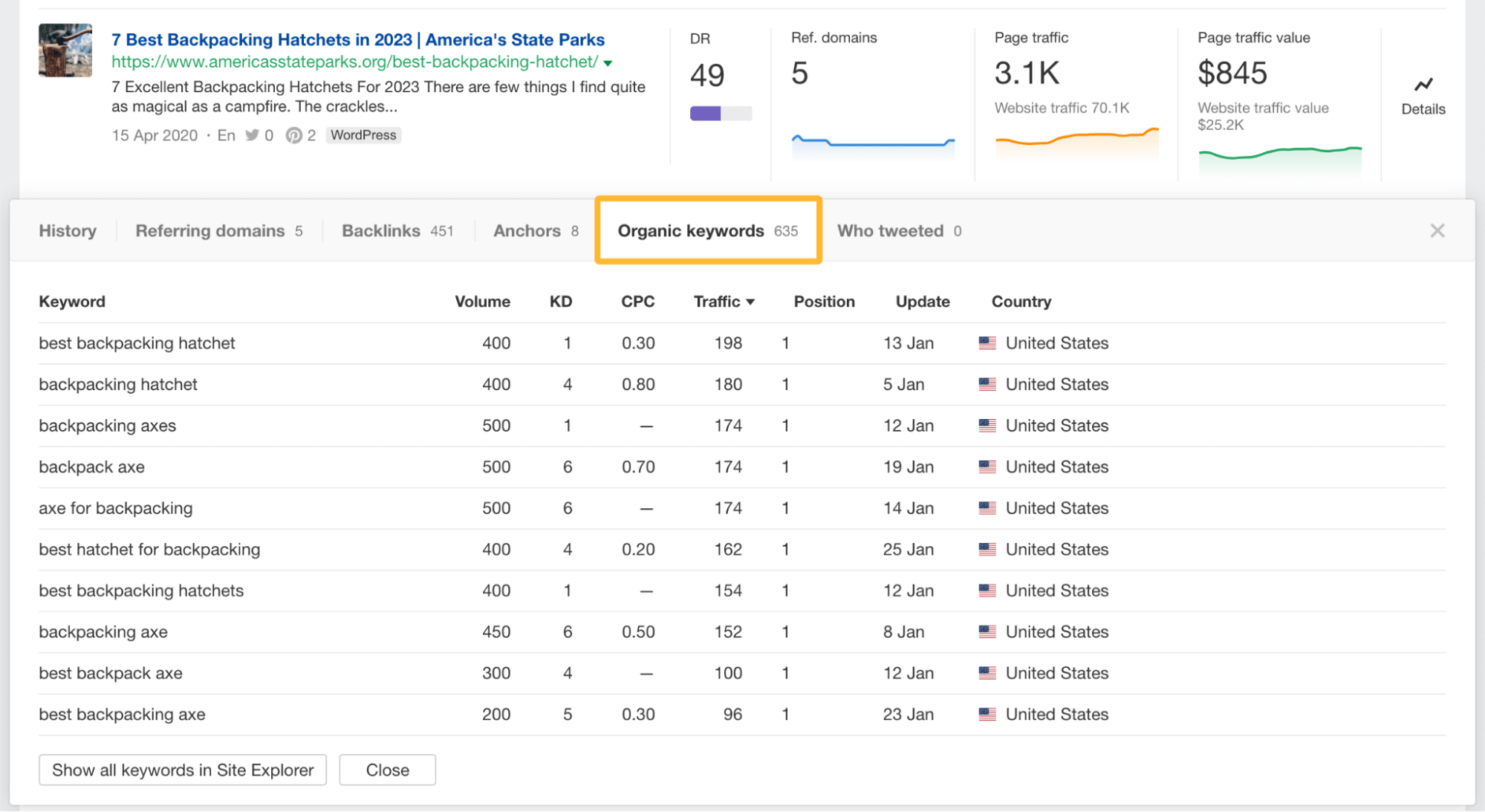 Tip
You can also find low-competition keywords with high traffic potential by going to the
Top pages
report under Site Explorer and setting a maximum KD
filter
of 20.

To get more views for your videos and improve their rankings on Google, the key is to target topics with video intent. If Google is showing videos for a particular search query, it means searchers prefer to watch a video rather than read.
To find such topics, open Content Explorer and paste the following query:
site:youtube.com inurl:watch title:[your topic]
We'll go for "makeup." From here, sort the pages by Page traffic and find video topics with traffic potential.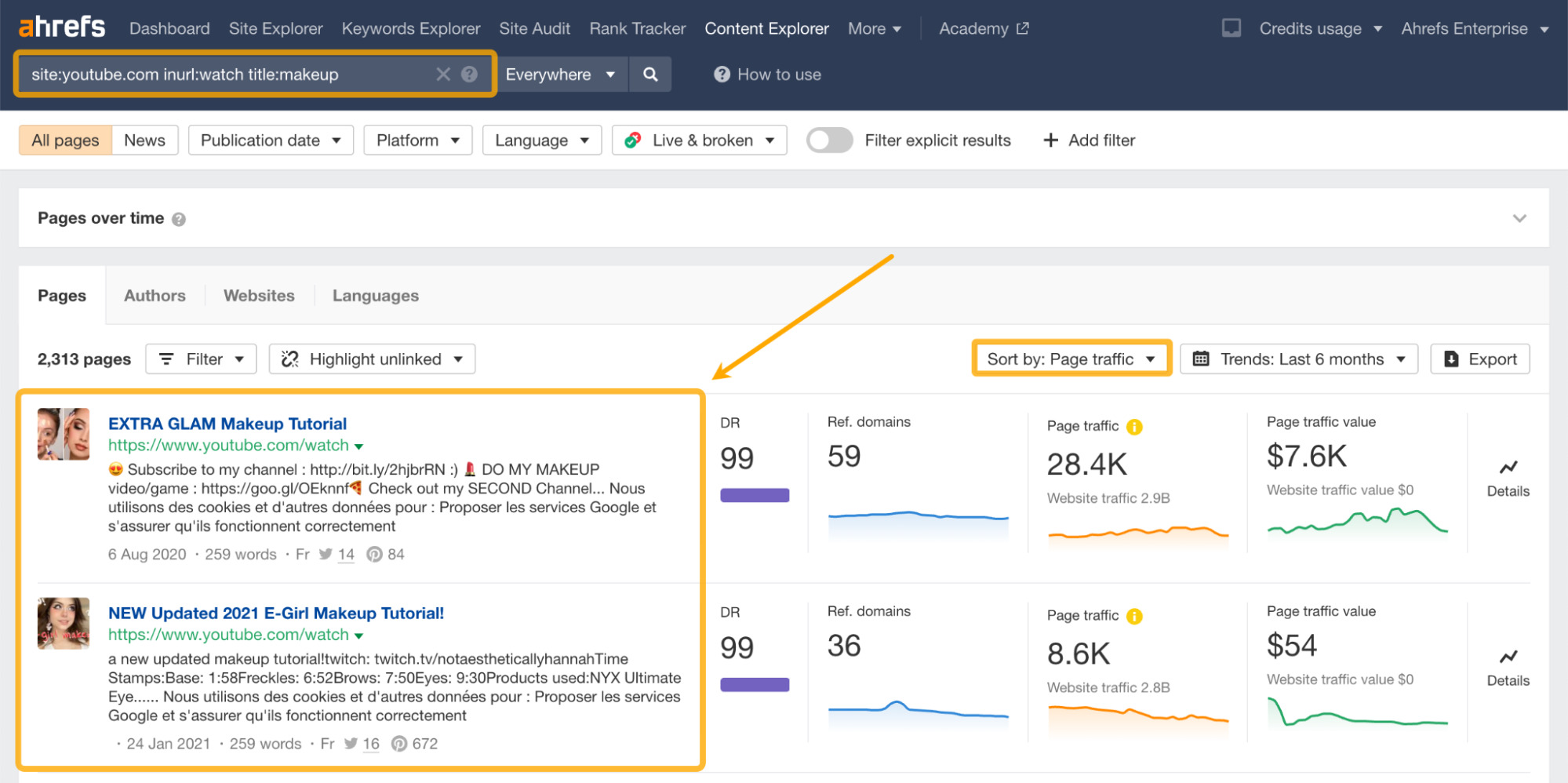 Note
Pay close attention to page traffic numbers, as some of them might be cached. In such cases, look at the organic traffic trends instead to check the consistency of the traffic over longer periods of time (6+ months).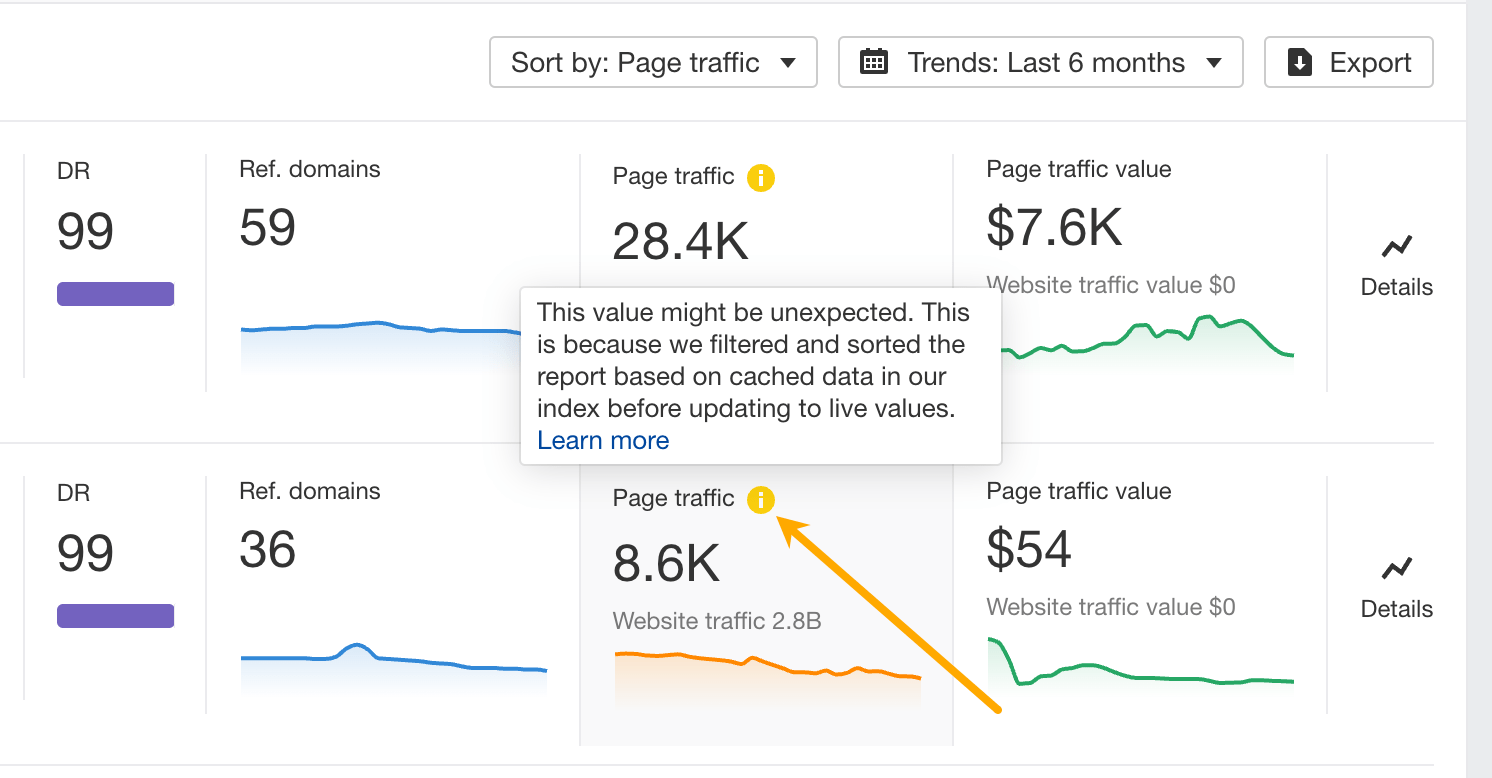 What's left is to check the keywords the page ranks for to get guidance on both on-page and video optimizations.
Most SEOs sleep on internal linking and fail to realize what a valuable tactic it is.
Perhaps, its most noticeable benefit among numerous ones—from helping Google discover your pages to passing link equity—is that you control the target location of the link itself.
But finding potential internal linking opportunities is time consuming. Wouldn't it be great to get internal linking suggestions on autopilot? You can, thanks to Ahrefs' Site Audit. 
Run a site crawl, and the Internal link opportunities report will identify internal link opportunities by taking the top 10 keywords for your ranking pages—then find mentions of them on your other pages. This includes important keyword metrics and the keyword context.

We won't suggest a link if one already exists between the pages. 
A good practice to improve your local SEO is to get local citations. Those are mentions of your business's name, address, or phone number on popular directories that help searchers find your business online.
To find them, check the directories where your competitors' business profiles are mentioned.
Let's say we own a plumbing company in Toronto. 
If you already know your competition (if not, Google your niche followed by the city you live in), go to Site Explorer and open the Link Intersect report.
Paste your competitors' websites in the top section and yours at the bottom.
This will show you all the websites that link to your competitors' URLs, but not to yours. Usually, the more targets the referring domains are linking to, the more likely it's a business directory. As is the case with websites.ca.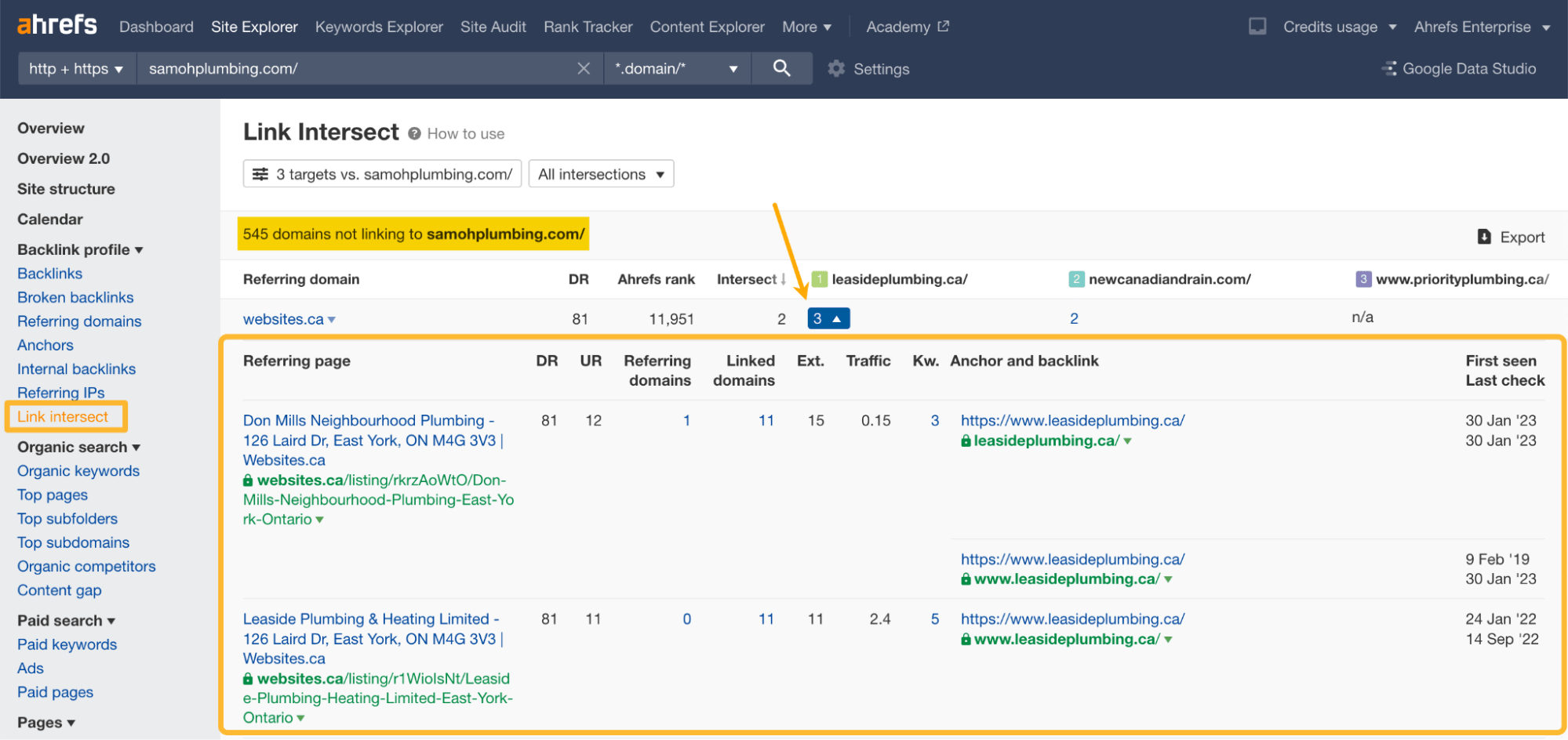 Next, reach out to them.
Missed keyword opportunities are those keywords where your competitors rank for, but you don't.
To increase your chances of ranking higher in search results, you need to close this content gap between you and the top-ranking pages (aka your organic search competitors).
To do so, open Ahrefs' Keywords Explorer and search for a keyword that you know you don't rank for in the top three. For us, this would be "affiliate marketing," as seen in the SERP overview below.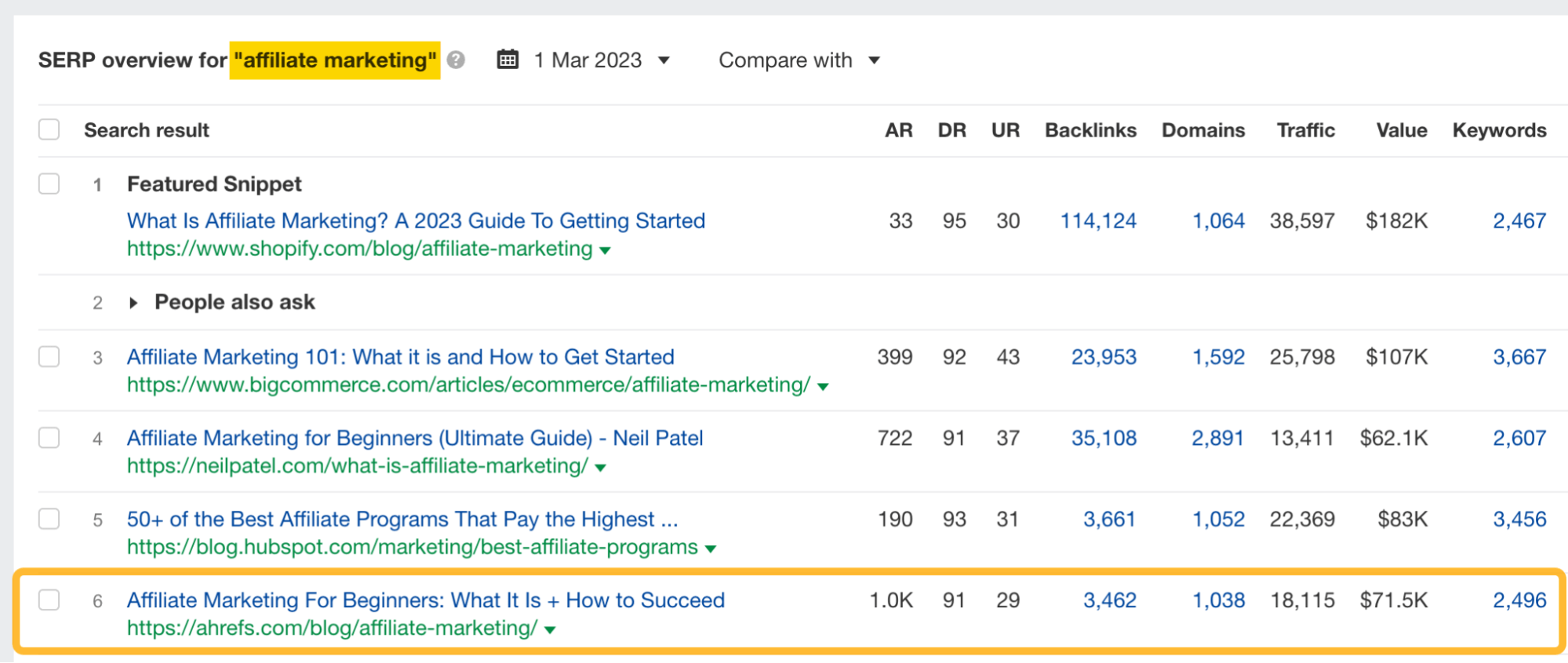 Next, select all the top-ranking pages and send them to our Content Gap tool, which will give you a list of lucrative keywords that your website should be ranking for.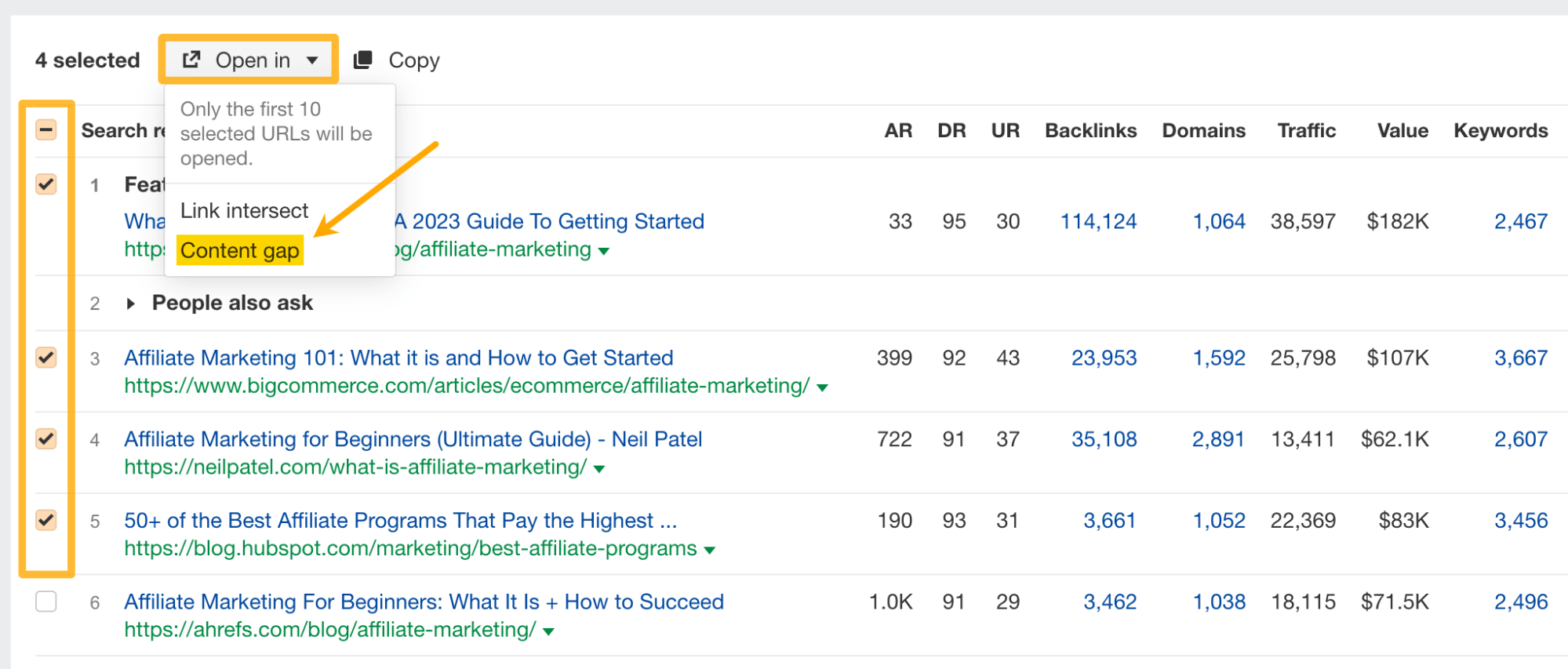 And we've got ~1,550 keywords that we can potentially target in our affiliate marketing post.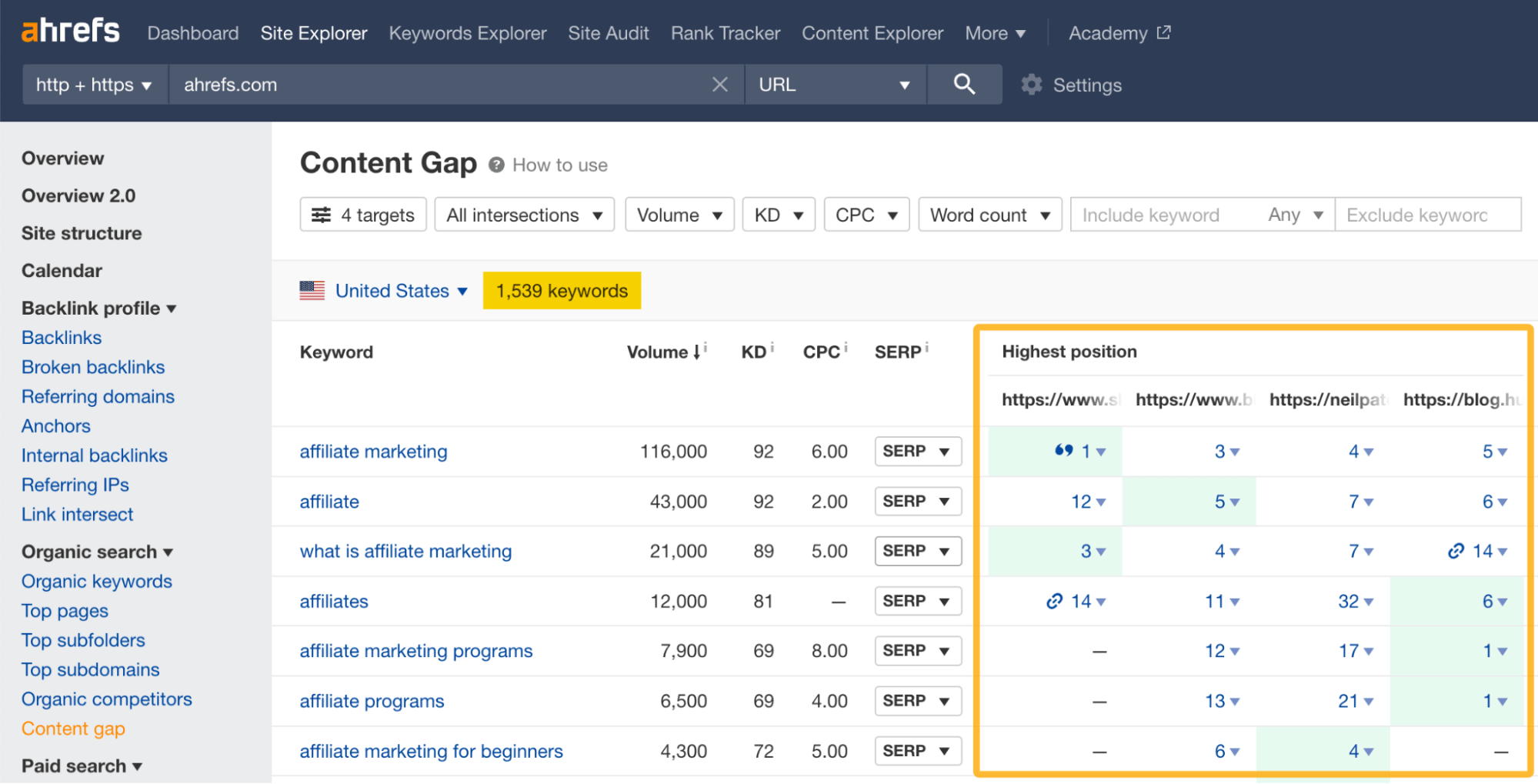 The Site structure report under Site Explorer breaks down a website's structure into a tree-like format to help you make useful discoveries.
For example, three of our translated blogs (Italian, German, Spanish) generate almost as much traffic as our top blog article in English.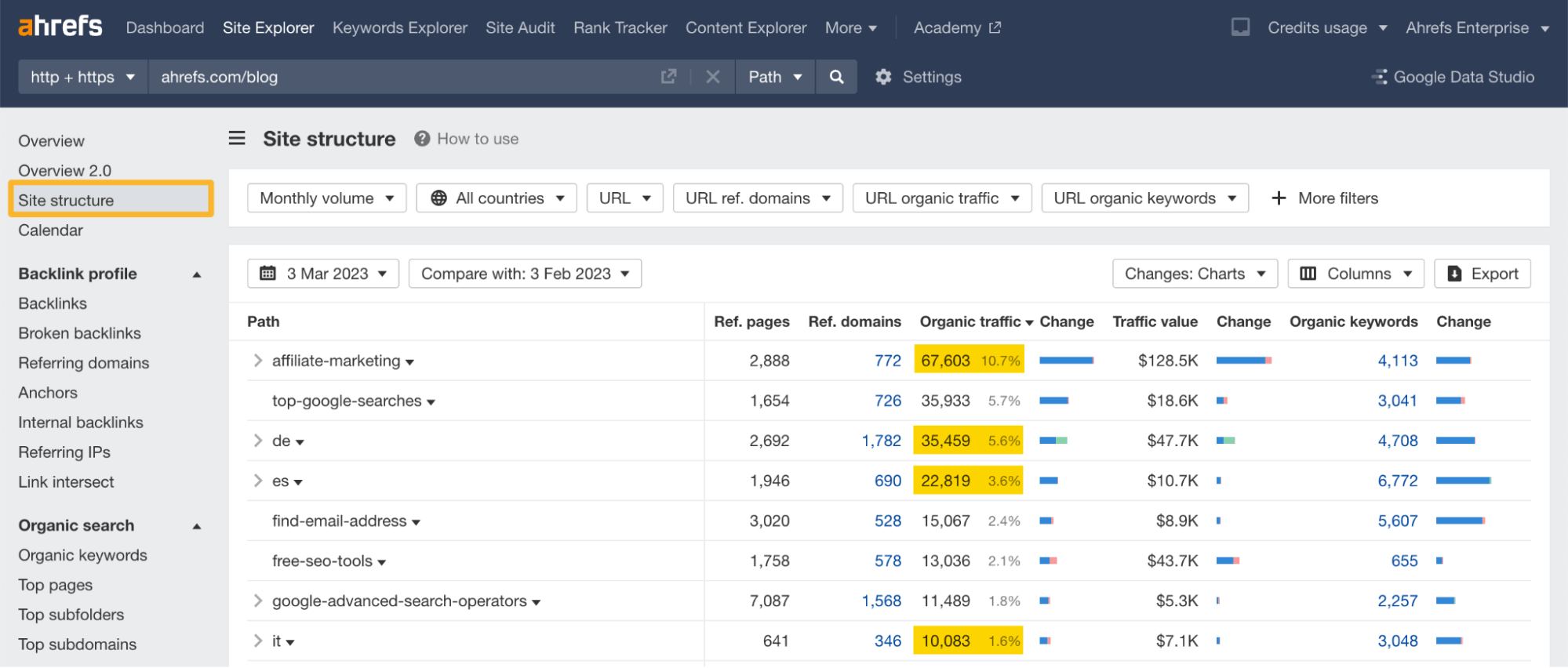 You can go one step further and select the Columns dropdown to include certain metrics, like paid ones, which will lead to further discoveries.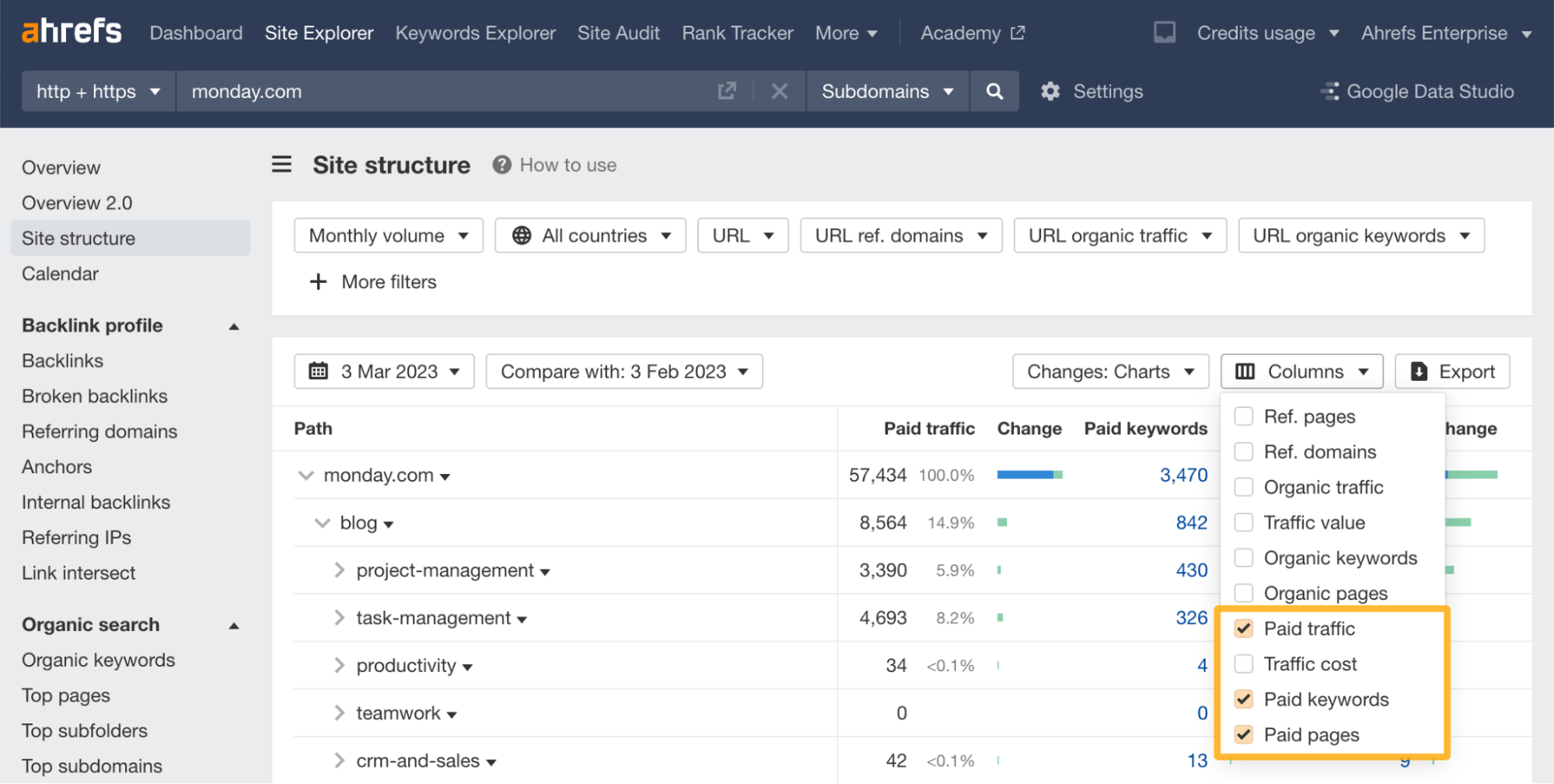 Let's go this time with monday.com. If we compare the paid metrics with those from three months ago, we can actually monitor the ad spend over time for each top folder.
It looks like most of the ad spend went toward the blog, particularly the "task management" subfolder.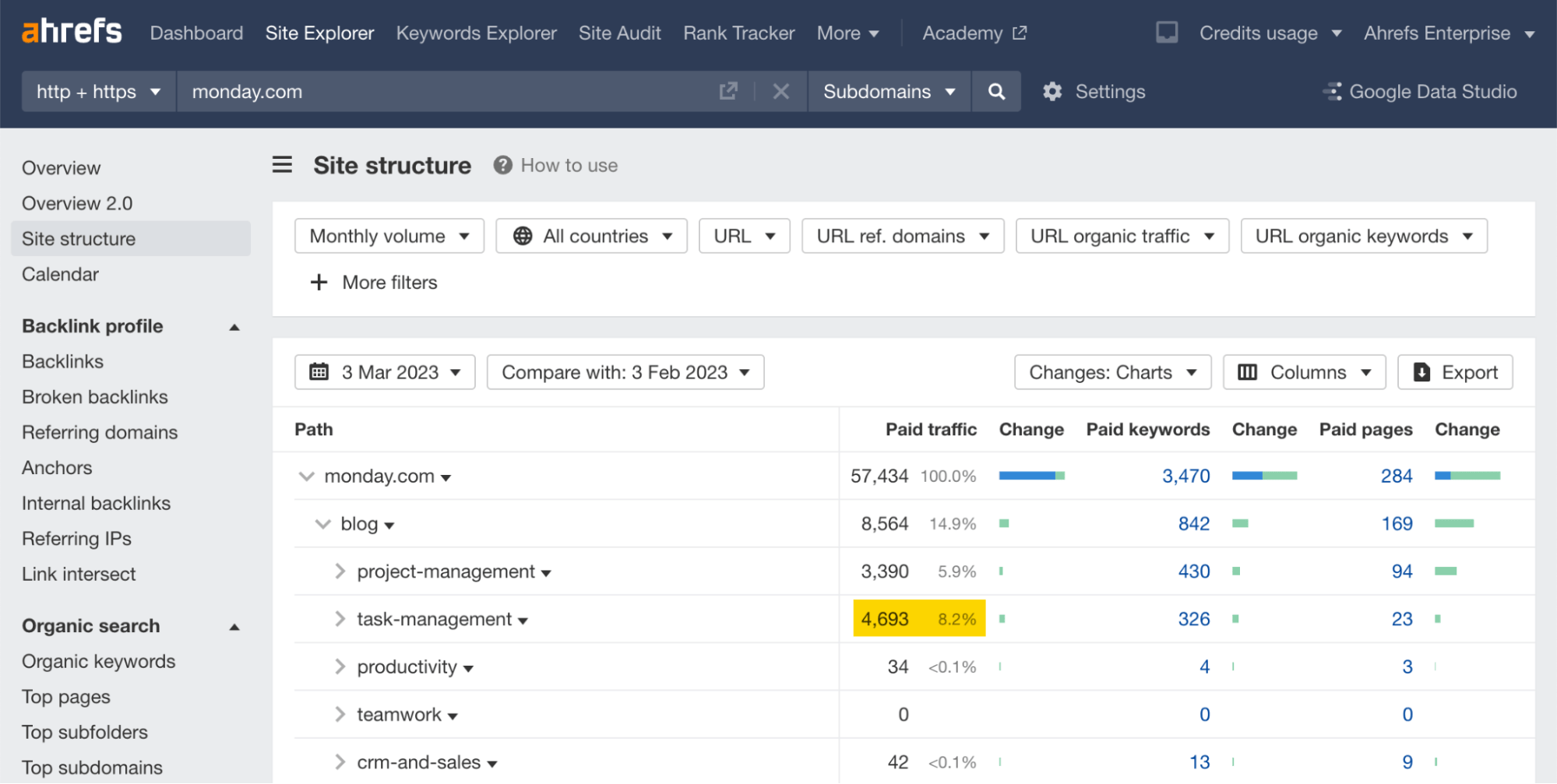 The best way to shortcut your way to the top position in Google without building backlinks is to target featured snippet opportunities.
To increase your chances of ranking for them, open the Organic keywords report under Site Explorer and filter for organic keywords in positions 2–8. Then check the filter "SERP features: where target doesn't rank for."
For the Ahrefs Blog, there are 4,803 keywords with high chances of ranking for a featured snippet—which requires less effort than ranking at position #1.
If you're looking for affiliates, this is for you. This works best when you know the affiliate URL for a product. Most affiliate links have a "?" followed by the vendor's ID, which may or may not be repeatable. 
If you already know it, (1) paste the repeating part of it into Site Explorer in the Path mode, (2) go to the Backlinks report, and (3) sort by Page traffic.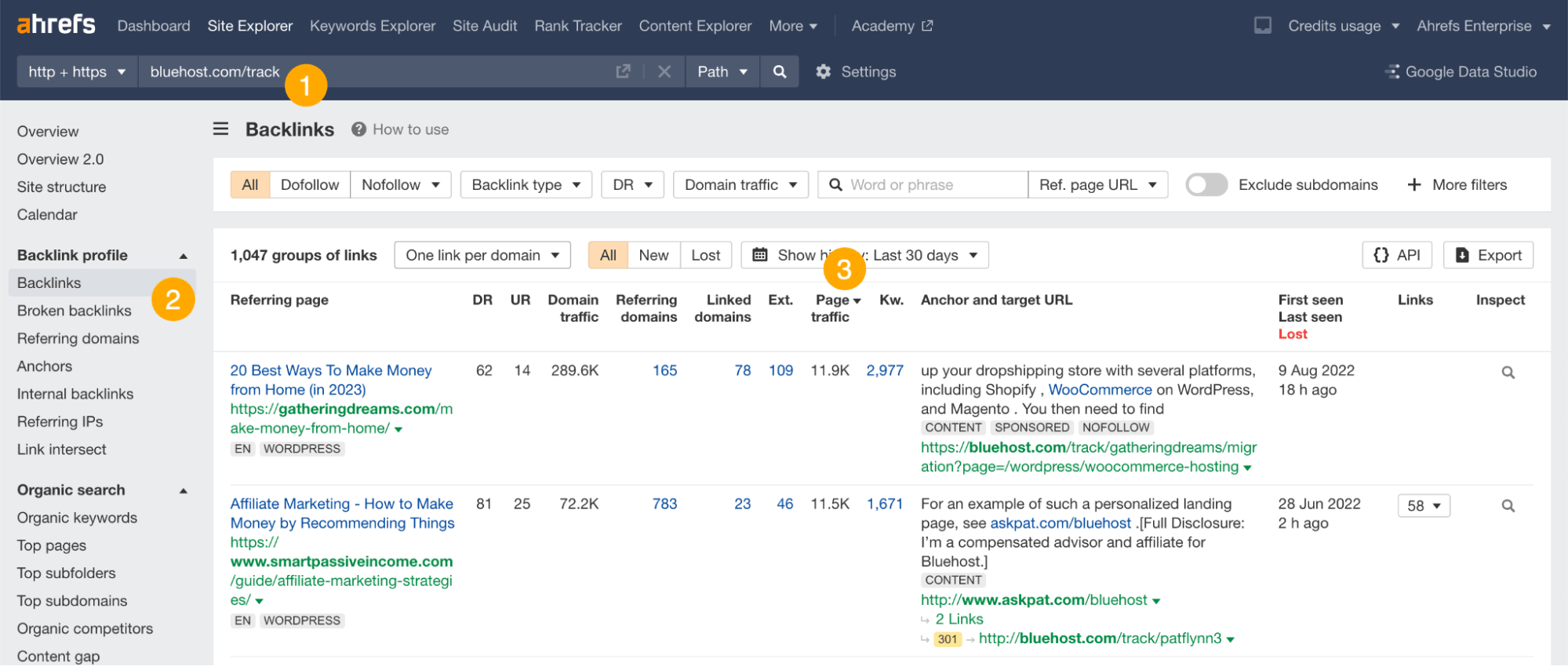 In return, you'll get the top SEO affiliates for a given product. If you were a competitor of this product, you might increase your reach by partnering with them.
A "weak" page is a page that ranks in the top 10 but has a lower authority—aka fewer referring domains.
This means that if you already have a website with higher authority, you can (in theory) easily outrank it.
To find such links, search for a keyword with high business potential in Keywords Explorer and open the Matching terms report. I'll go with "marketing."
Then apply the next filters:
Keyword Difficulty: Minimum 50
Lowest DR: Up to 50 in top 5
With these filters, we're specifically looking for outlier pages that are ranking for a competitive keyword despite a lower website authority.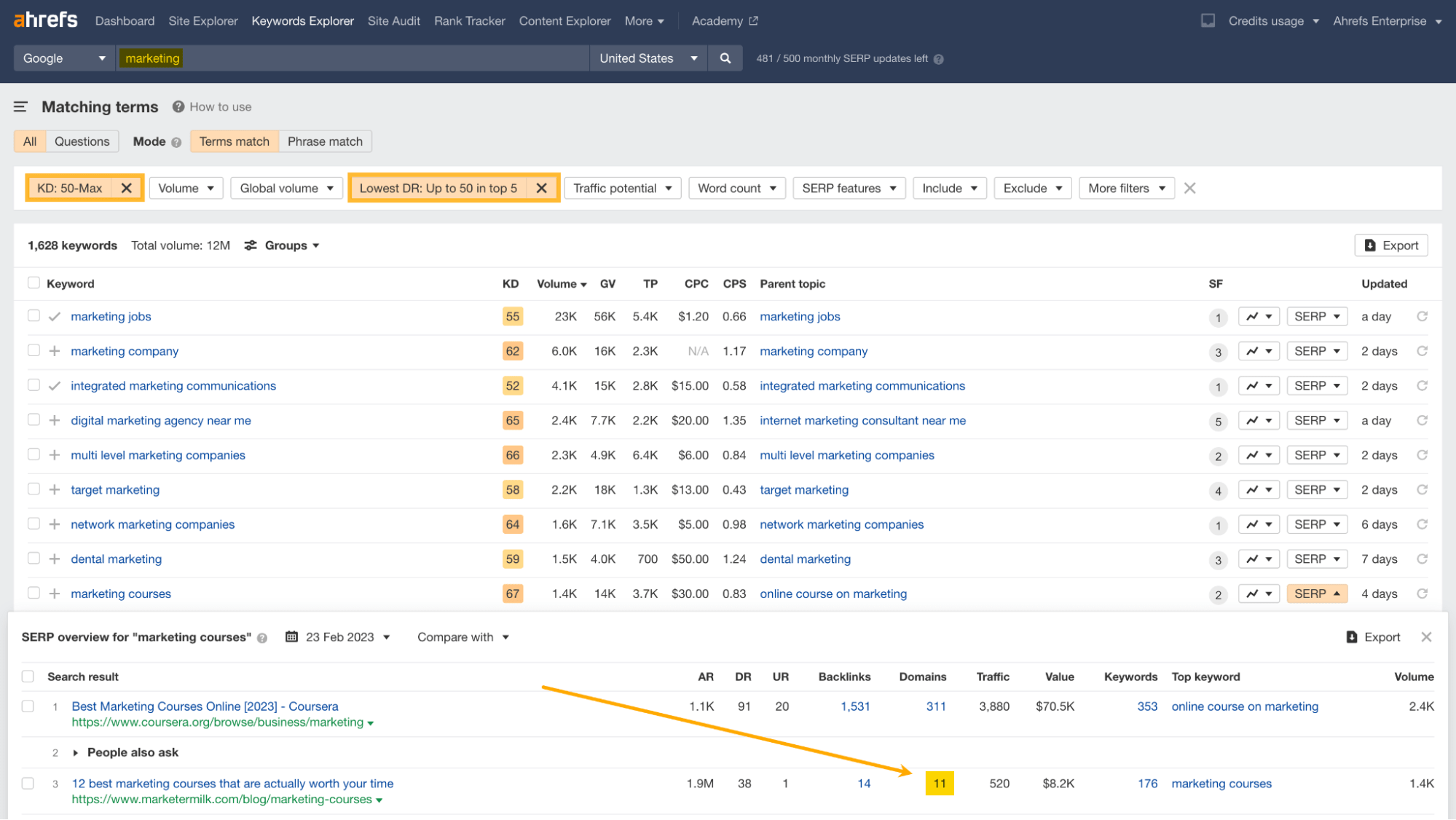 For example, we've found a listicle from mastermilk.com ranking #2 for "marketing courses" with only 11 referring domains.
If you've created unique images for your website (charts, graphs, infographics), chances are people are linking to them and not to the pages where they were initially featured.
To find and claim improper image attributions, enter your website into Site Explorer and head over to the Backlinks report. Then search for .PNG or .JPG in the "Target URL" filter.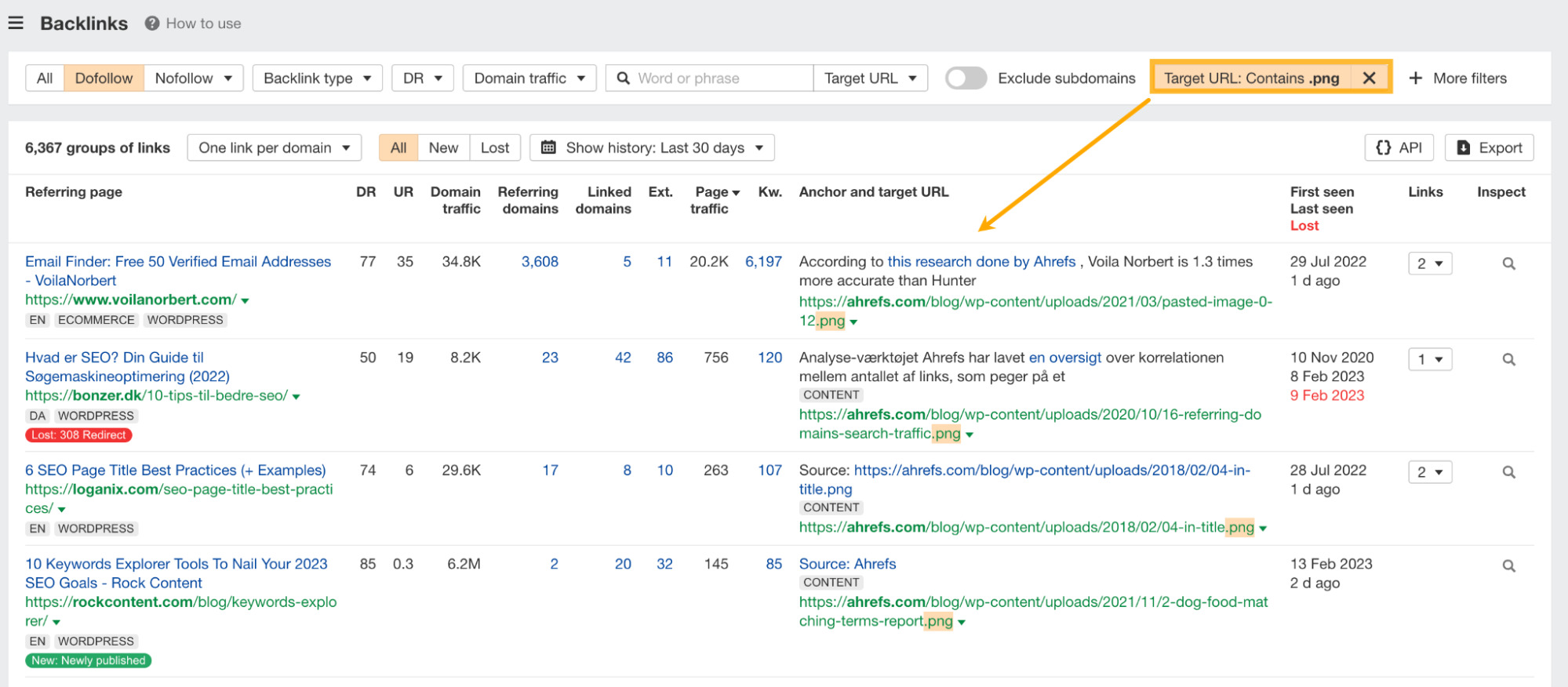 Broken link building involves finding a dead page with lots of backlinks and asking those linking to the page to swap the link to one of your website's pages.
To put this tactic to work:
Check the Best by links report under Site Explorer for your competitor's website
Set the "HTTP code" filter to 404 Not found
Sort by Referring domains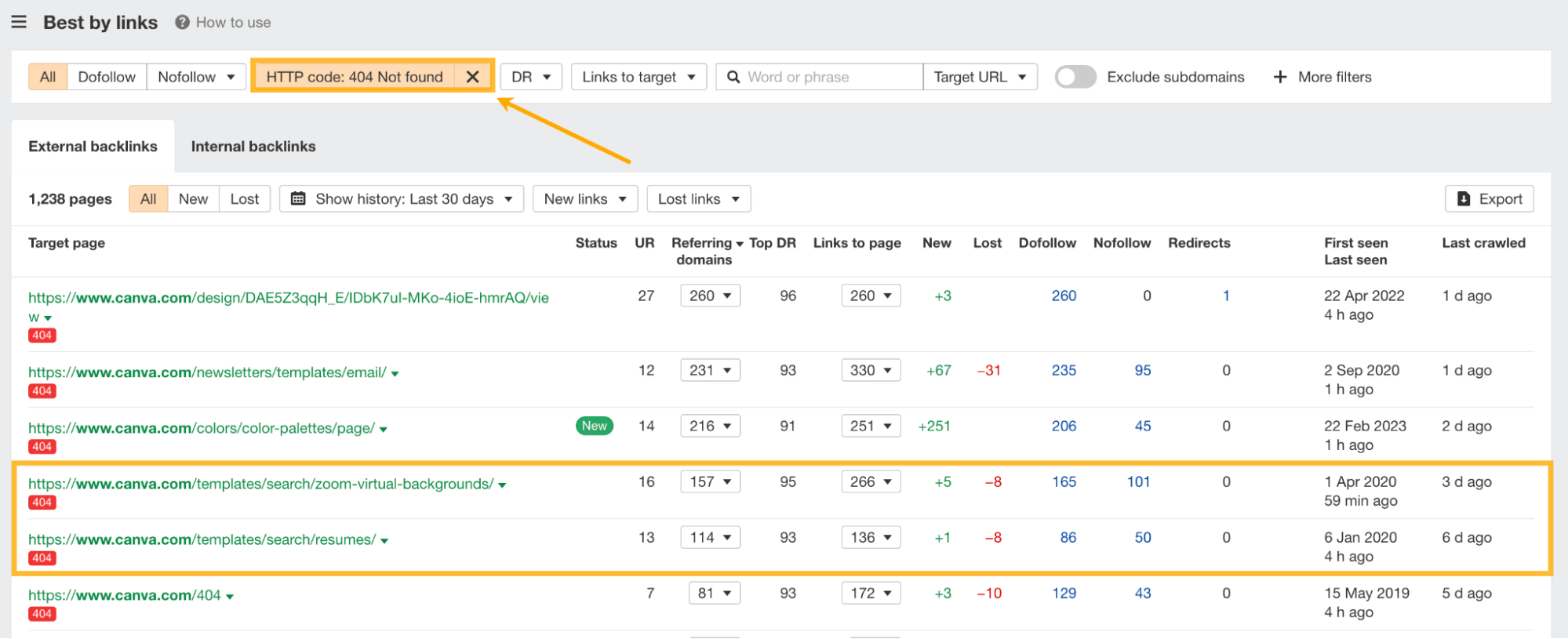 For example, if you are a competitor of Canva (the design tool), you can potentially create a better resource for "zoom virtual backgrounds" or "resumes."
After you've created the content, you can ask linkers to the broken page to link to you instead.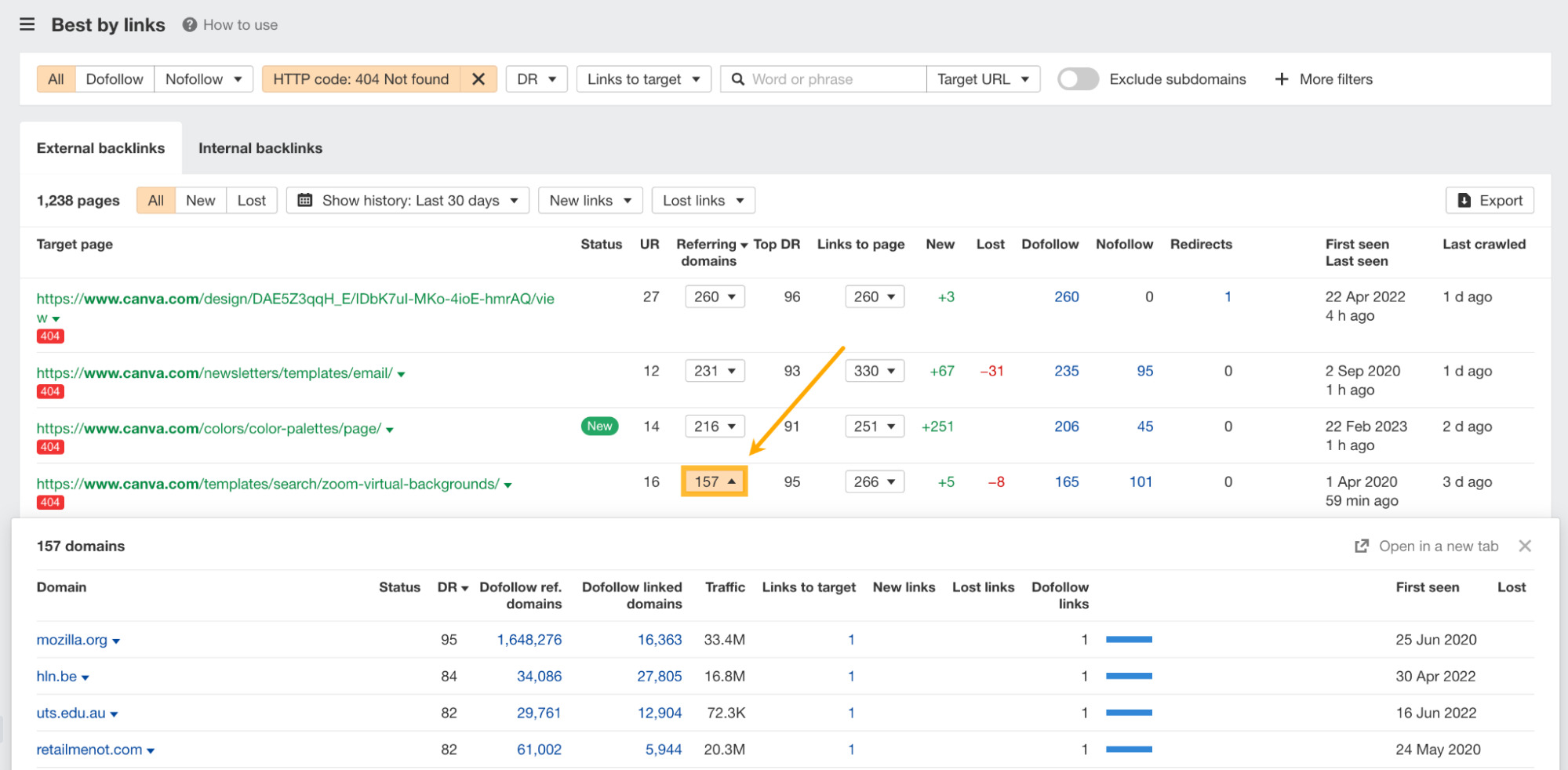 Publishers may favor some solutions or websites, which leads to more visibility (and eventually leads) for them.
Your job is to identify such publishers and build better relationships with them.
To compare how many times a website links to another website, go to the Linked domains report in Site Explorer.
Then add your and your competitor's website URLs under the "Linked domains name" filter.
Example: thedigitalprojectmanager.com, one of the largest resource websites for digital project managers, links to 103 pages from monday.com and only about a third of that to asana.com.

Asana can potentially reach out and work with this website to see if it can increase its visibility on this platform. 
Conceived by SEO Kevin Indig, the True Internal PageRank (TIPR) model is a way to improve internal linking by identifying weak points, specifically: 
PageRank "wasters" – Pages with lots of internal links that don't link out too much.
PageRank "hoarders" – Pages with few internal links that link out a lot.
He then came up with the TIPR lite model that is much easier to execute.
Here's how to set it up in Ahrefs:
1. Crawl your website using Ahrefs' Site Audit. Then head over to the Page explorer report to view all the raw data collected from the past crawl.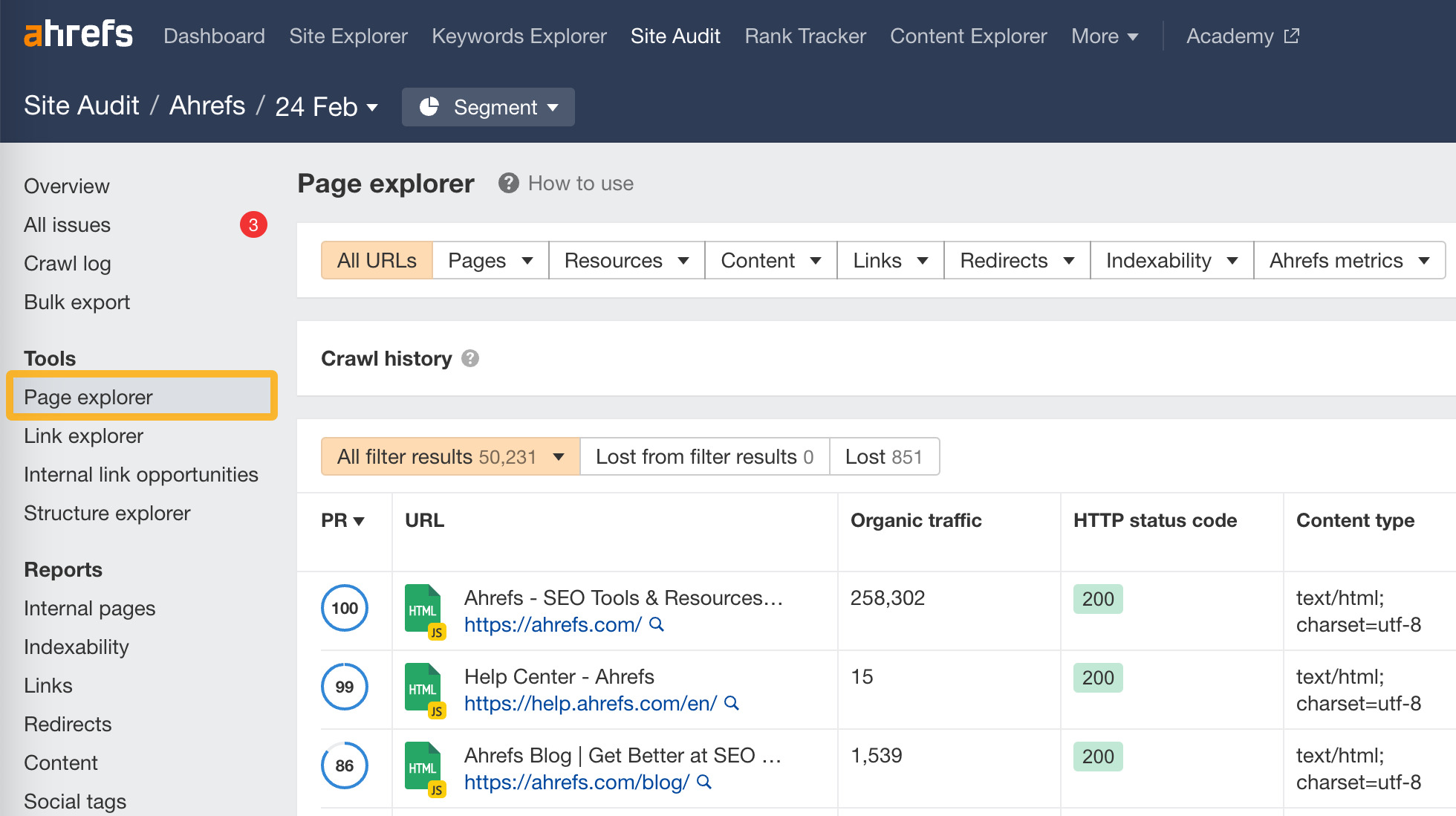 2. Apply a filter Is valid (200) internal HTML page to show only links with 200 (OK) HTTP status codes. This has narrowed down our crawled pages from ~50,000 to ~8,000.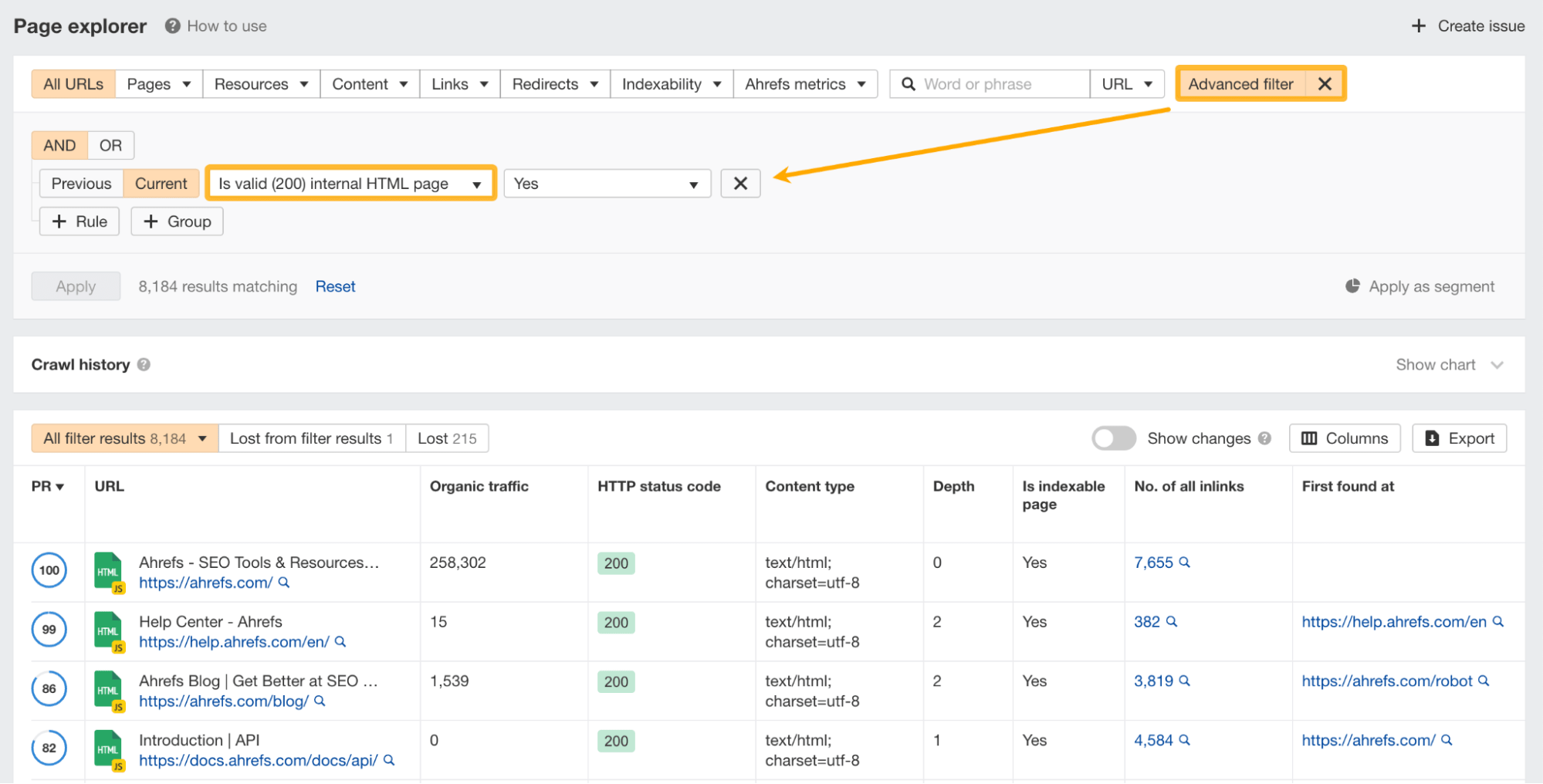 3. Click on Columns to customize the report.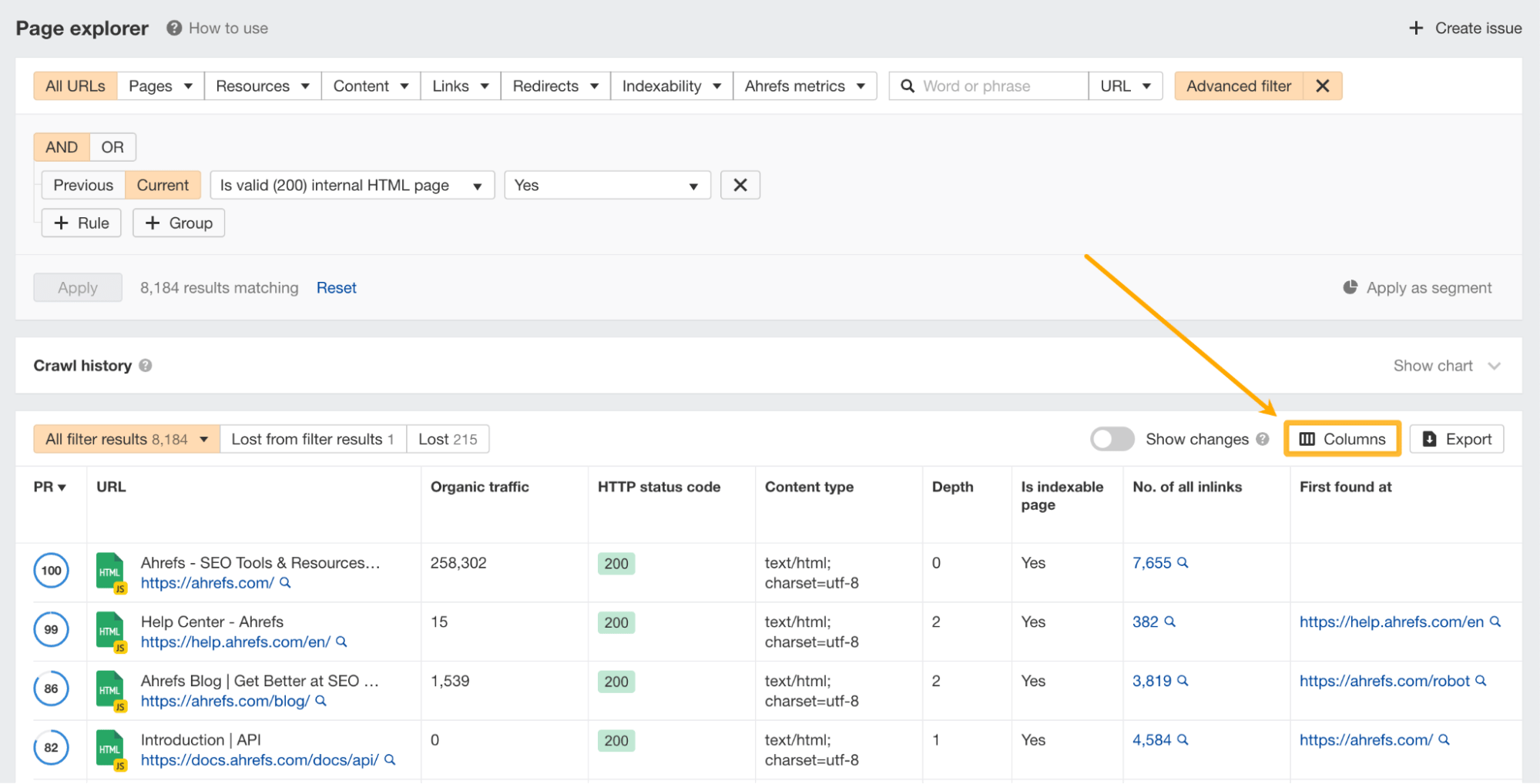 Add the following columns in this order:
No. of inlinks dofollow
No. of internal outlinks dofollow
No. of backlinks dofollow
No. of referring domains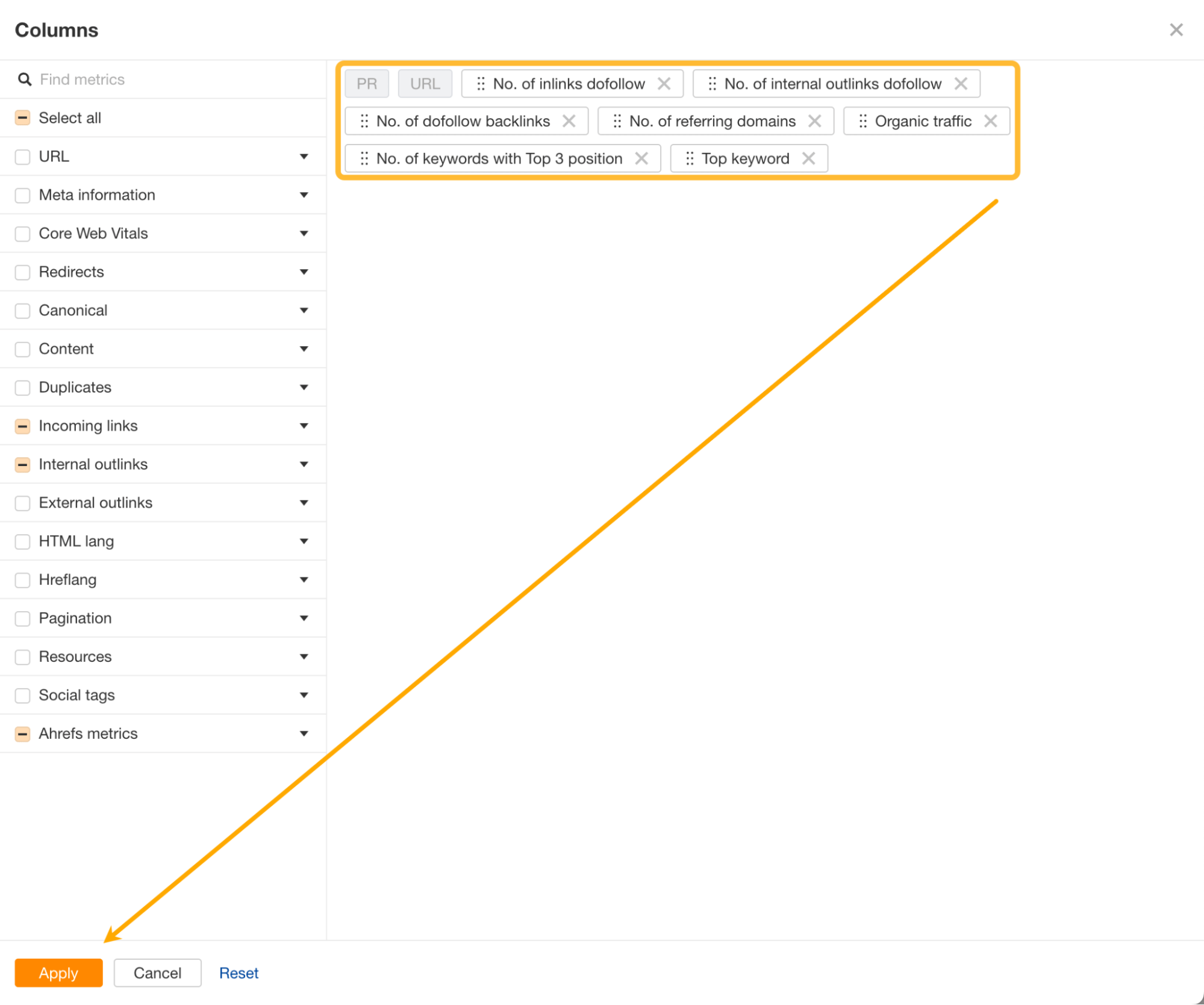 Then hit Apply. The last two mentioned columns are not necessary but useful for filtering out spammy/low-quality links, according to Kevin.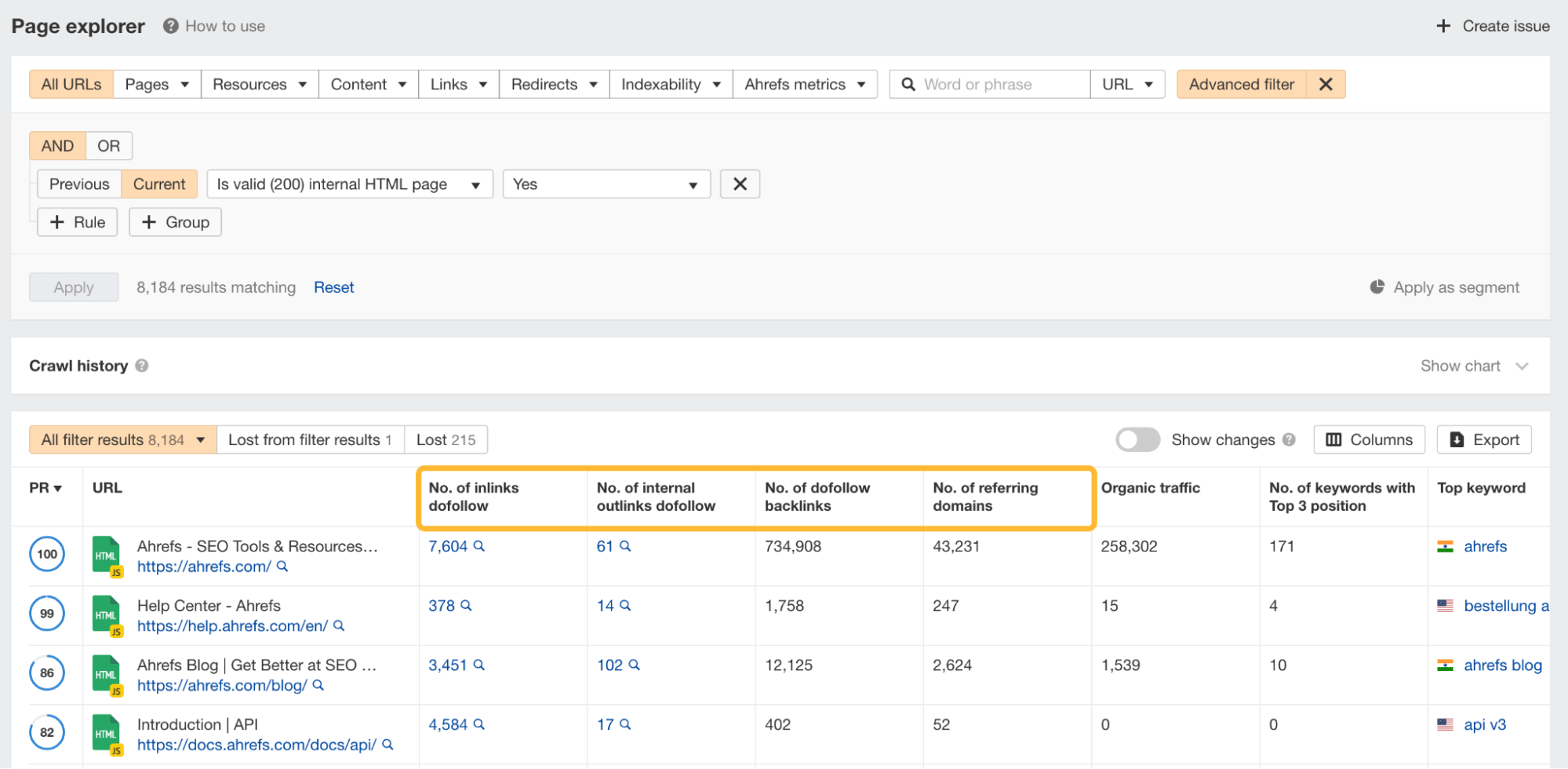 4. What's left is to check for PageRank "wasters" and "hoarders" to either add or remove links.
To do so, export the Page explorer report into a spreadsheet.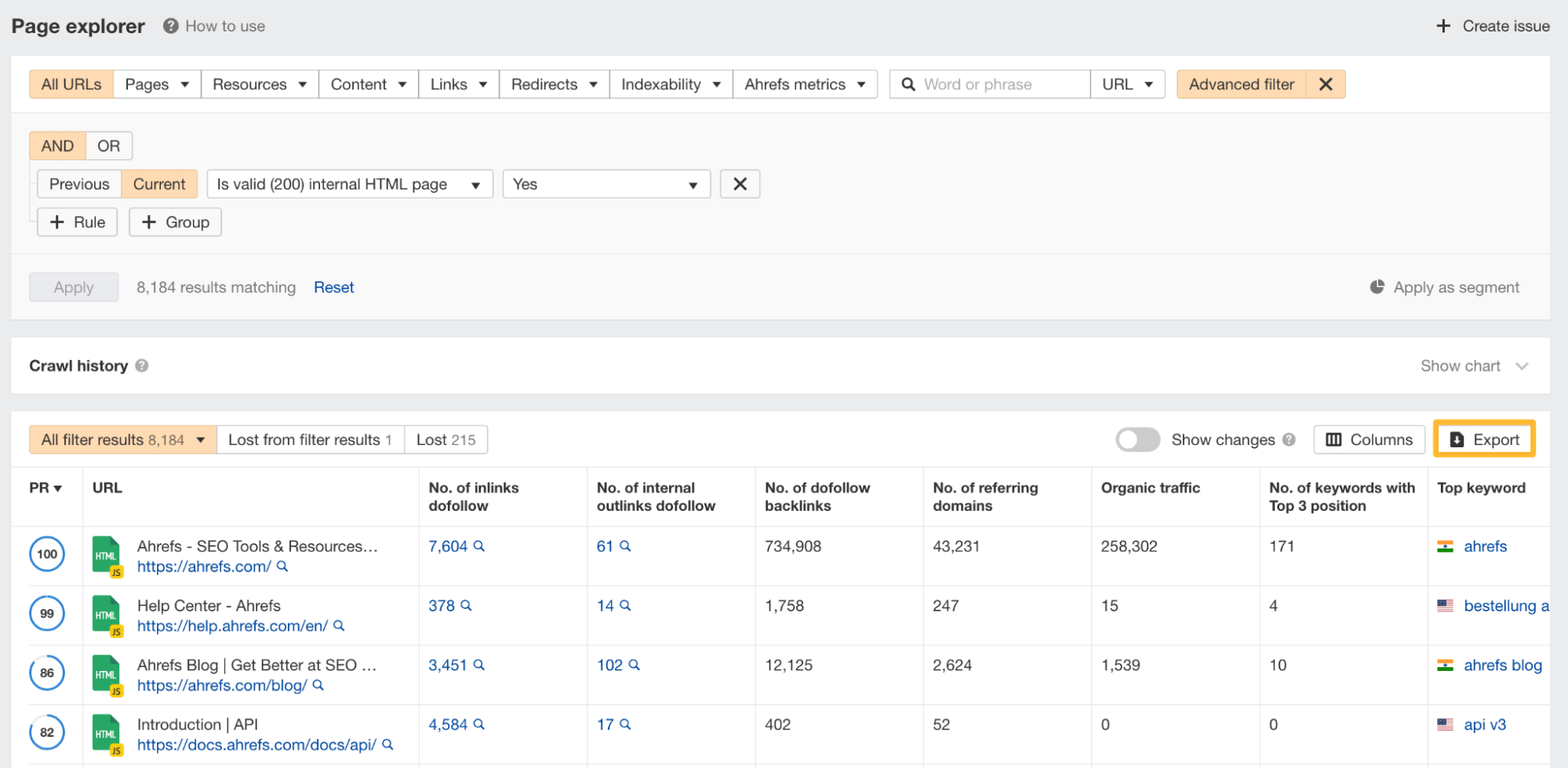 Add an additional column for deltas between inlinks and outlinks. Then sort by the highest or lowest delta.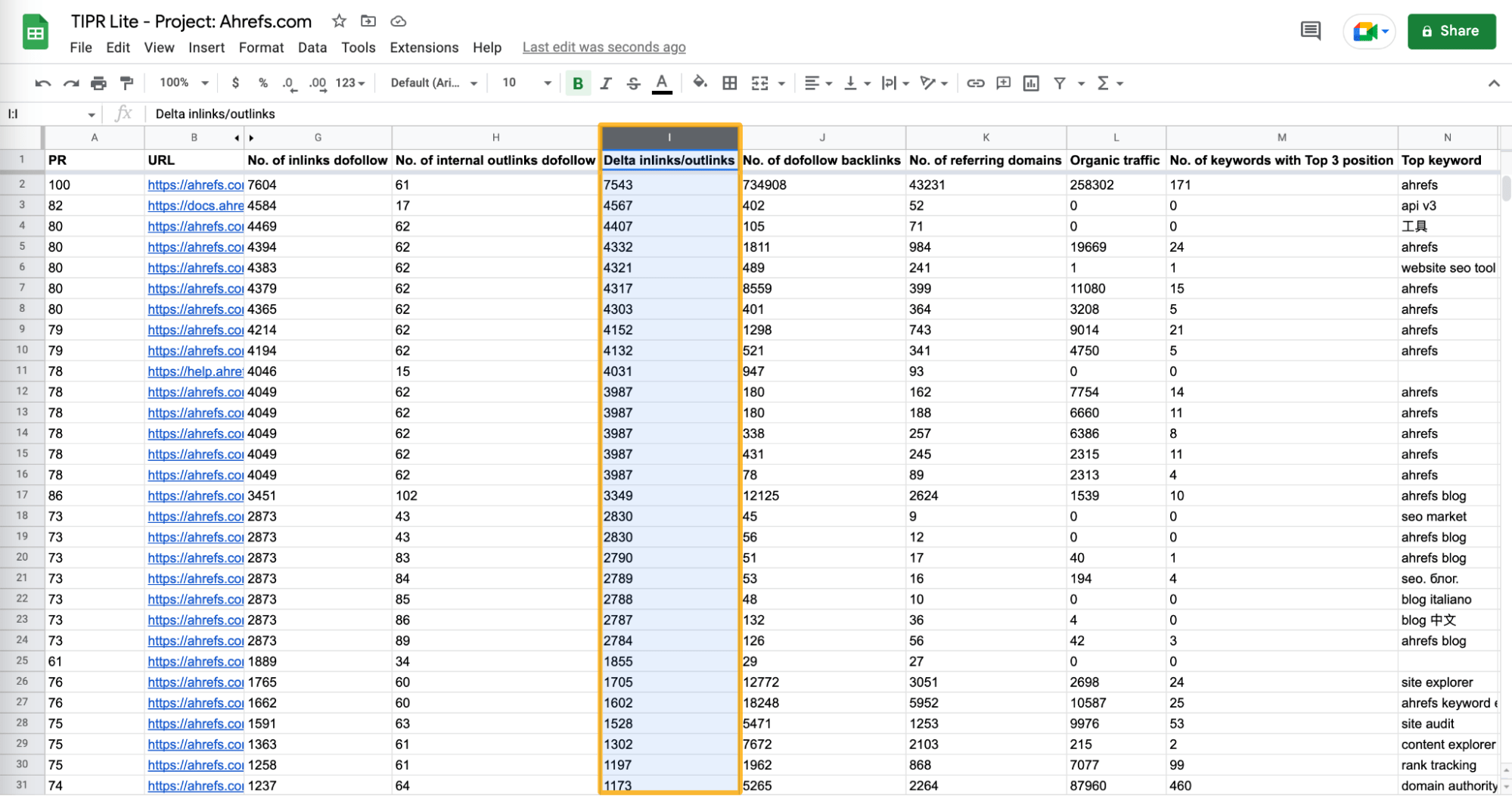 From here, compare the deltas with the number of backlinks.
A page with lots of incoming links and few outgoing links may link to other relevant pages. While a page with few incoming links and few outgoing links that has a lot of backlinks can be a great discovery.
Sidenote.
There are some exceptions to this model, such as the homepage, terms of service, and so on. Just remove or ignore them.
Final thoughts
Without doubt, you can do even more with Ahrefs. But these handy use cases should help you crush your SEO tasks with less effort.
Have more Ahrefs hacks to share with us? Ping me on Twitter. 😊